General Steel is one of the leaders in the steel buildings industry, and the company has been around since 1995. What's more impressive is that the company has worked alongside numerous large clients to provide steel buildings to them, too.
These clients include:
Boeing
Disney
Dollar General
The White House
In total, the company has built over 20,000 steel building projects for clients around the world. When trying to determine who makes the best prefab metal buildings, it's impossible not to talk about General Steel.
We're going to take a long, hard look at this company to see how they set themselves apart from the competition, starting with price.
General Steel Pricing Model
The company offers a free, no-obligation quote feature online to help you better understand their pricing model for all kits and custom projects. The quote feature is the easiest and most robust way to get a clear picture of the cost of your build.
The issue is that no general prices are given.
Delivery of the kit is the main reason for the quote requirement. If the company has to deliver the kit to a remote town in the mountains far from a warehouse, the price will be a reflection of this.
Daily price fluctuations for steel would make any price list obsolete the next day.
But there are some general ideas on how much the cost of standard metal barn kits will be:
15' x 20': $8,600 – $14,600
30' x 40': $14,900 – $20,900
40' x 60': $21,000 – $28,000
50' x 100': $34,000 – $42,000
And there are a lot of factors that go into the cost fluctuations, with the three main factors being:
Building Design: The design of General Steel buildings can be greatly customized, with additional options costing more money.
Steel Prices: Steel is a commodity, and the price can be influenced by a variety of economic factors. When steel prices are higher, the cost of a building will be higher.
Steel Suppliers: The supplier of the steel will play a major role in pricing. Larger suppliers will have better purchasing power, which allows them to buy steel for cheaper and sell it for cheaper, too.
This is why all steel buildings for sale will have a large price range. And when you add delivery costs, this can add to the overall cost of the building.
What General Steel Building Kits Include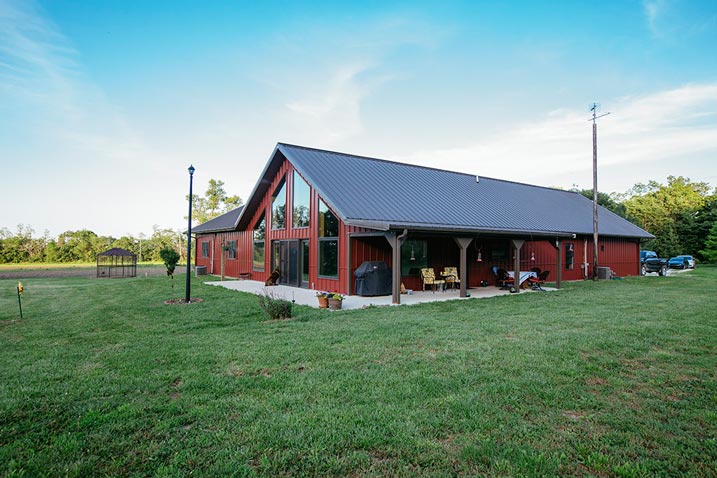 Standard items are included with every kit, and there are some options that can be added to further customize the building. All of the standard inclusions are:
I-beams
All bolts and screws
Secondary framing
Roof panels
Wall sheeting
Keep in mind that the anchor bolts will not be included for you. And if you want to add a few options, you can also add the following at an additional cost:
Horizontal and vertical slide windows
Insulated panels
Gutters and downspouts
Walk, glass or rollup doors
Steel framed openings
You'll also be able to choose a color scheme to customize your building even further. Their metal building kits are just the basics, and they can meet your needs with the help of the company's many add-ons and customization options.
The General Steel Difference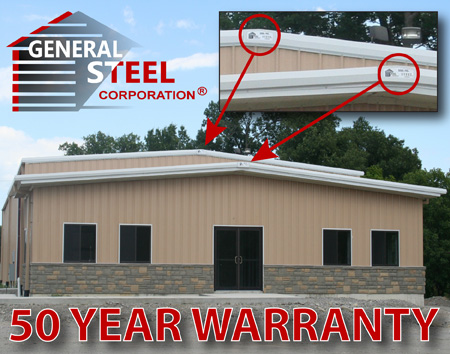 When choosing General Steel, you're working with a company that has decades of experience and offers the best-of-the-best materials. It's different than using a cheaper company that has to cut back on prices and quality.
Every steel building is an investment and not a temporary structure.
What really stands out to me about the company is that they back all of their buildings with a 50-year warranty. This is an exceptional warranty, and it allows you to have peace of mind in knowing that your new building is a long-term investment that will serve you for half a century.
Honest and upfront, the company will not skimp on your building.
If you live in Tornado Alley, they'll tell you that the following buildings won't cut it:
Pole barn
Light gauge
Quonset hut
And if you live in an area with high wind, seismic activity or heavy snow, you'll be told that these building types won't work well for you. It's a level of honesty that most companies don't offer.
Installation instructions are provided, but they're basic. The company does state that a small building, such as a garage, can be erected in as little as one weekend with a small crew of people helping and a forklift.
Heavy equipment is needed for larger, more robust kits due to their larger size.
Buildings can be used for:
Auto repair
Barns
Churches
Carports
Garages
Homes
Storage
Mini storage
Warehouses
Workshops
All of these options are available, and with a simple quote, you can customize a building to meet your specific needs.
Key Advantages of Steel Buildings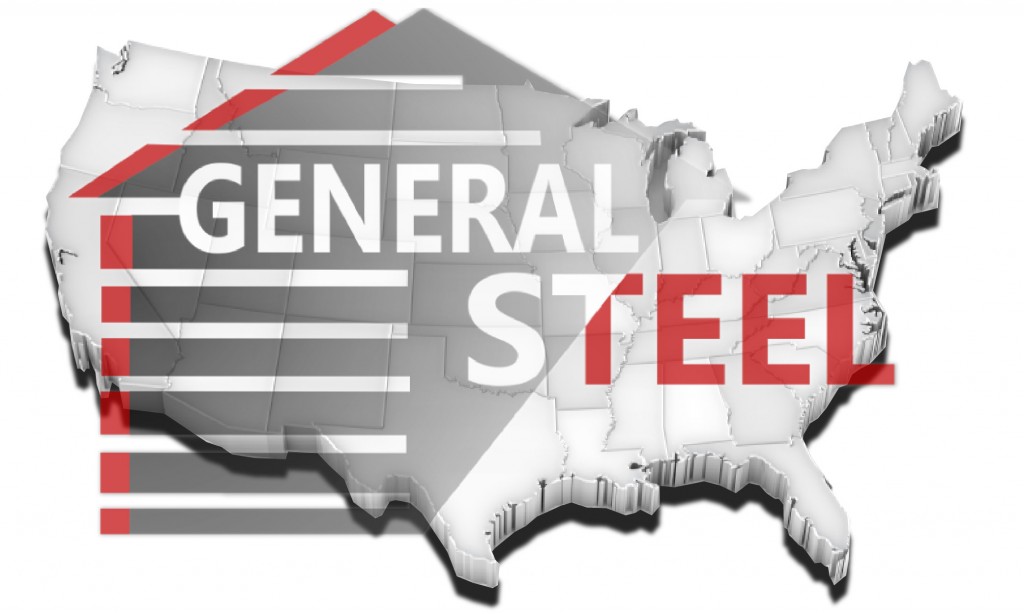 Cost isn't the only reason to choose steel buildings over a traditional wooden structure. These buildings also offer the following advantages that wooden structures cannot offer:
Fire Resistance: Wooden structures catch fire quickly and go up in a blaze, causing you to lose everything in the process. Fires are the biggest threat to a wooden home. All General Steel buildings are fire-resistant so that the loss suffered in a fire is minimal. You'll also be able to receive an insurance premium discount as a result.
Durability: Steel is the strongest building material available. When you choose steel, you don't need to worry about mold or mildew, termites can't eat through the steel, and the metal is resistant to water. Farmers and agricultural usage of these buildings are optimal because they won't decay or be susceptible to pest issues.
Strength: The strength of steel is unmatched, and when you choose steel buildings, you'll be able to enjoy a long-lasting building that was designed from the ground up to withstand high winds, earthquakes and harsh weather conditions.
When choosing prefab metal building kits, you'll also benefit from a quick assembly process. The quick assembly is what allows warehouses and commercial outlets to erect buildings in a matter of weeks.
You'll be able to jumpstart the construction process and get to use your building much faster as a result.
General Steel Doesn't Just Sell Buildings | They Offer Turn-Key Service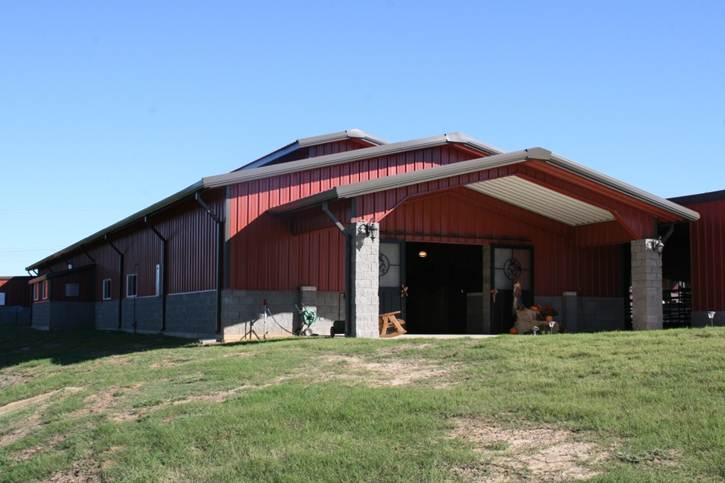 And when choosing General Steel, the benefits go well beyond high-quality buildings and low prices. The company is a one-stop location, and they offer:
Architectural Services: The company doesn't provide traditional architectural services, but they do have sample buildings and will customize projects for you. They also offer unlimited revisions until the final product is exactly what you envision.
3D Rendering: There is 3D rendering offered for your final concept. This rendering will allow you to view your final product before the purchase is complete.
Project Manager: Anyone that buys a building from General Steel will benefit from the company assigning you a Project Coordinator at no additional charge. This is a person that will answer all of your questions and will ensure that your project is done on time.
Design Services: The company offers a robust set of design services aimed to get your project off the ground as effortlessly as possible.
When you choose to work with General Steel, you'll be working with a robust company that offers services that allow you to build your dream building with as little effort as possible.