Traditional homes are expensive. And unlike your ancestors, building your own home with your own two hands simply isn't something you have time to do. With all of the red tape involved with permits and building codes, people often hire expensive builders to do the job for them.
But pole barn homes allow for an easy and affordable way to build a home.
Pole Barn Homes 101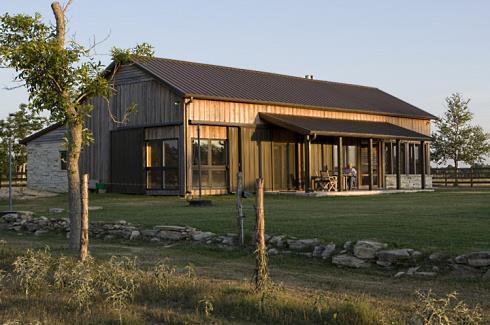 Understanding what a pole barn house is requires you to know about pole barns in general.
Farmers needed a way to have affordable buildings – or barns – to store equipment and other items.
The difference between a "pole barn" and a regular home is that this new post-frame construction building has no foundation, and it consists of steel or aluminum panels that are supported via poles that are driven into the ground.
But the old pole barn has been revitalized.
In the 30s, buildings started to be constructed in the same way as these inexpensive barns, but there are some minor differences, of course. The main differences are that the posts have been pressure-treated and are squared-off.
Clear span pole buildings allow for quicker construction and is often less expensive.
It's important to note that this is just the shell of the home.
Tthe interior of the home can be modified to look just like a traditional home with living quarters. You don't need to live with metal walls. Residential pole barn homes are often indistinguishable from any other home in the neighborhood when constructed properly.
Just look at some pole barn homes pictures online to get an idea of all the possibilities a pole barn house offers.
DIY Pole Barn Home Kits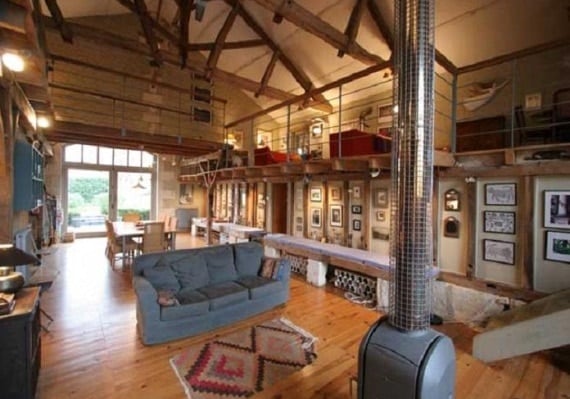 You'll find Home Depot pole barn kits, kits from Lowes, and other traditional outfits.
A kit sounds just like it is spelled: a kit to build a pole barn home. You'll receive all of the plans as well as the materials in a whole kit to build your own home.
This is everything you need to build the home.
But there is a slight drawback: price.
Many construction specialists will balk at the price of the kit because it is not reflective of the price of all of the materials included in the kit. In other words, kits come with a markup that is used to pay for the sorting and planning of the kit.
A person with years of experience building homes can probably buy all of the lumber for cheaper than what the kit itself costs.  Consider this mark up if you are not the do it yourself type.
With that said, when you buy a kit for a pole barn, you'll receive:
The building plans
All of the materials needed to build the home
Everything is provided so that the DIYer can start to build his or her own home using their own two hands. It's an amazing option for someone that wants to save a lot of money on the home building process.  Alternatively, you can work with companies that specialize in post-frame construction to get your floor plans or other modifications complete. Hansen is great for this and their "Pole Barn Guru" is a great resource for the industry.
Keep in mind that there is more that will need to be done, such as running plumbing and electric, which you'll likely need to hire someone to do.
And the home's interior will not be finished with a cheaper kit. This is the shell of the home, with the rest of the interior work needing to be finished by you.
The good news is that a pole barn house is constructed much faster than a conventional home, and doing all of the interior work is much easier than it looks. A person with enough time and patience can do all of the interior work on their own.
How to Build a Pole Barn Home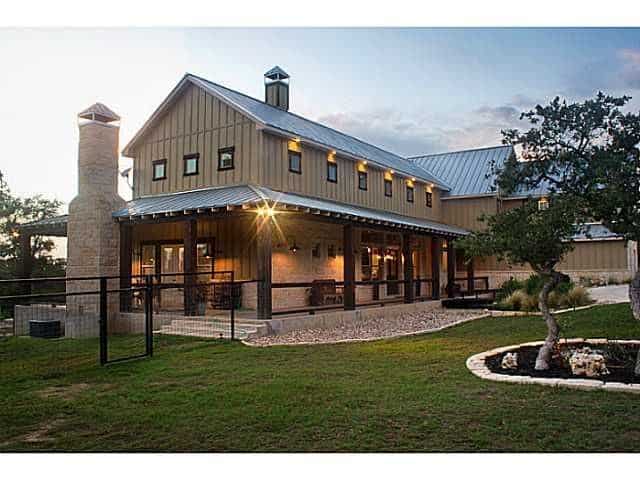 Pole barn homes plans & prices will vary from state to state, and you can choose a private designer or builder that will supply you with a kit that meets all of your specifications and needs. This is a more robust way to have a home built, and you'll receive all of the materials needed to build your home.
And with a customized option, you'll be able to receive the right home for you.
The building process can go a lot of different ways with pole barn homes. And you have complete control over how you choose to have the home constructed.
Do-it-Yourself
Tedious but rewarding, kits allow you to construct your entire home on your own – if you want. It's not an easy process, and you may need the help of a friend or two along the way to help you with roofing or heavier items.
But when you do it yourself, there are a few things to consider:
Concrete flooring. Some people want concrete flooring, which will need to be poured professionally. Not every home will need this but this is not a step we recommend for first timers.
A foundation may be needed, too, and if you have a homeowner's association, you may want to think of relocating.
Interior work. The entire interior work will be up to you.
The utilities, such as plumbing and electric can be done by you, but it's a major risk and concern. A professional will be needed in most cases and you must consider the permitting process for your local building codes.
Professional Build
Maybe you want to save some money over a traditional stick built house but still want to have a professional handle the construction.  A pole barn house definitely provides this advantage.
If you want to buy the kit and have a professional do all of the work, this will allow for the construction process to be completed faster and professionally.  Again, consider reaching out to some local builders before buying any type of kit and get them to price the job.
With a builder, you can have just the exterior done, or you can have the interior, electric and all of the utilities ran to the home, too.  This is completely up to your budget.
The only downside with a professional build is the added cost.
What many people don't understand about pole barn homes is that they've evolved greatly after 80+ years on the market. The steel exterior sheel and the look of living in a barn isn't what these homes look like anymore.  You all know the Fixer Upper barndominium with beautiful modern farmhouse style.  This type of build gives you the best of both worlds.
Many models have exteriors that look like a normal home. Others have custom stone exteriors as well as wrap around porches with the entire works.
Interior spaces can have as many rooms as a person wishes. Bathrooms, electric and every function of a normal home can be enjoyed in a pole barn home. The only difference is that a pole barn is far cheaper to construct than a traditional home – and faster, too.