Honomobo Modern Steel Frame & Shipping Container Homes
All images are courtesy of Honomobo.
Honomobo takes the shipping container home trend to a new level. Meticulously designed, durable, sustainable and easily installed, the company puts a modern twist on a container home design.

Who is Honomobo?
Honomobo is based in Canada, but the company also serves parts of the Northwestern United States. Specifically, the company is certified to serve: British Columbia, Alberta, California and Washington.
But here's what makes Honomobo homes so appealing: you can order them online.
You can tour the homes in person, too, at the company's show homes in San Francisco Bay, California.
All homes are certified under local factory-built modular status, which ensures that the home is engineered to meet the local building code where it will be placed. For all intents and purposes, a Honomobo home is a home.
Honomobo homes are insulated using 2lb polyurethane closed cell foam for their H-Series and Structurally Insulated panels are used in the M-Series. The insulation eliminates air gaps and air transfer to keep the home cool in the summer and warm in the winter.
Honomobo Homes & Pricing
M-Series (Steel Frame Homes)

M-Series homes have a rigid steel frame with insulation that makes the home impervious to water and flame resistant. These aren't shipping container homes, but they're still metal buildings that can stand up to the elements.
There are four models in the M-Series:
M5 (Mstudio): 273 square feet; 12ft wide x 24ft deep – Estimated Cost: $98,318
M1: 419 square feet; 34 ft wide x 14ft deep – Estimated Cost: $129,571
M2: 810 square feet; 34ft wide x 26 ft deep – Estimated Cost: $186,080
M3: 1,201 square feet; 34 ft wide x 40 ft deep – Estimated Cost: $230,028
M-Series Gallery
H-Series (Shipping Container Homes)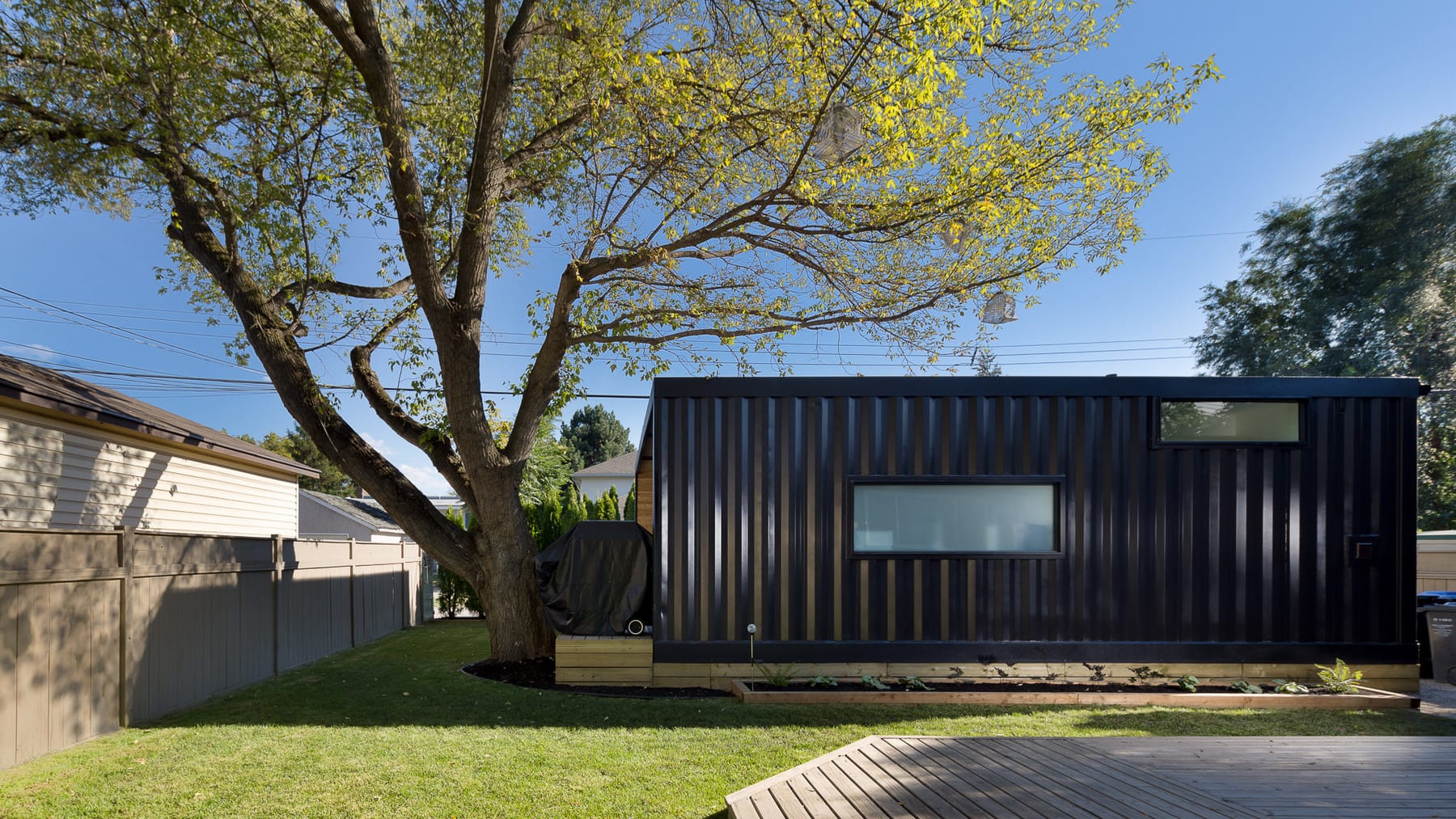 Honomobo's classic shipping container home series.
This series includes the following models:
H03: 24ft wide x 24ft deep; 3 shipping containers knit together; 534 square feet – Estimated Cost: $173,236
H04: 32ft wide x 24ft deep; 710 square feet – Estimated Cost: $193,537
H04+: 32ft wide x 40ft deep; 1,224 square feet – Estimated Cost: $252,207
H05+: 40ft wide x 40ft deep; 1,530 square feet – Estimated Cost: $302,768
All Honomobo homes are solar photovoltaic ready.
H-Series Gallery
Standard Options & Upgrades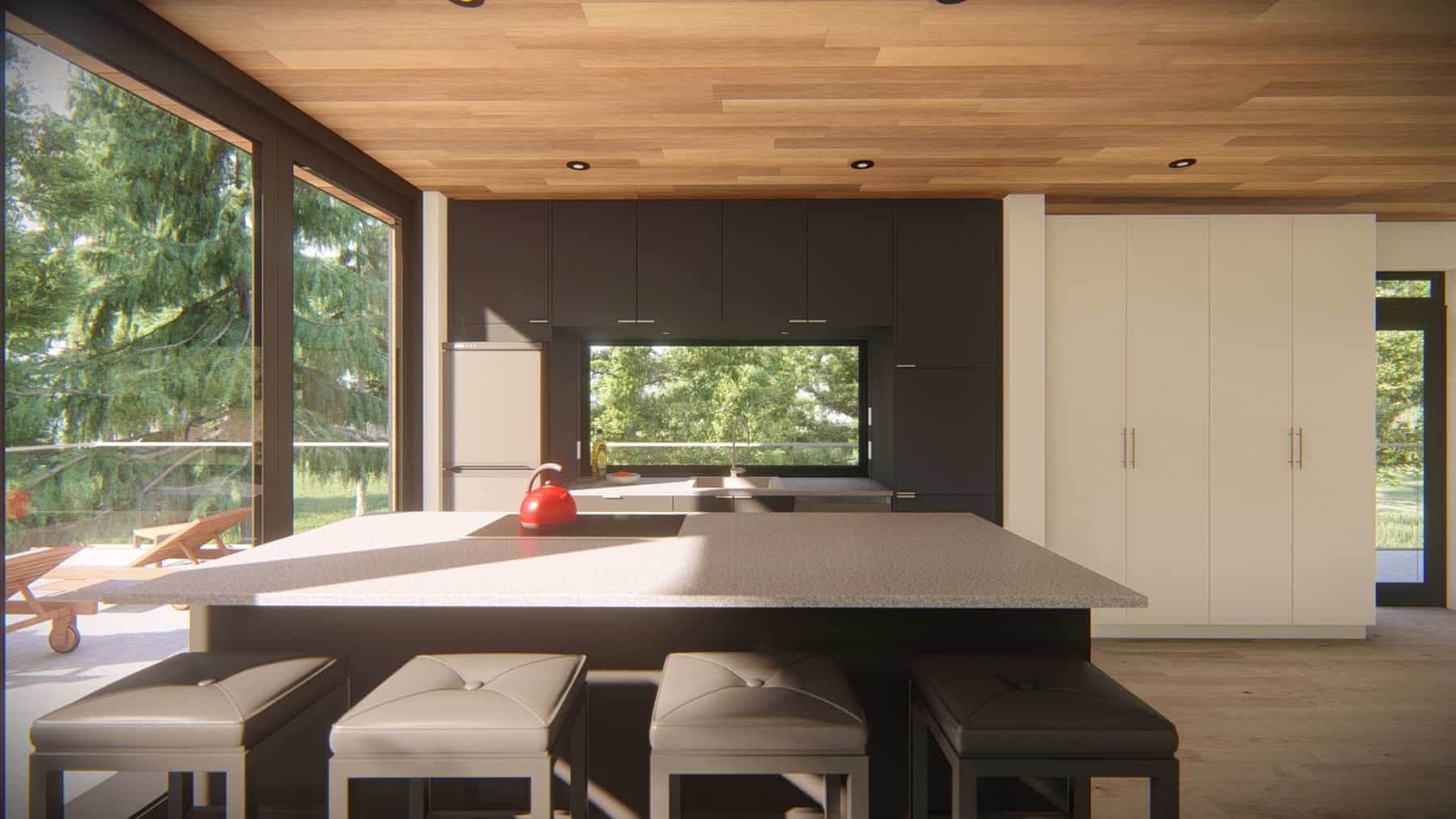 When choosing your Honomobo home, you have the option of selecting a wide range of options and upgrades. But before we get to the upgrades, let's look at the standard specifications.
Standard Options
[one_third]
Exterior
Corrugated steel with marine grade enamel finish (H-Series)
Magnesium structurally insulated panels (M-Series)
Steel accent panel with clear coat for protection
Wood soffits made with Canadian cedar 1×4 T&G micro-bevel – includes UV coating
2% slope roof front-to-back w/white EPDM membrane
[/one_third]
[one_third]
Windows
Double pane insulated with fiberglass reinforced frames
[/one_third]
[one_third_last]
Insulation
M-Series: R24 Walls – EPS insulated panel; R40 roof – EPS insulated panel
H-Series: R24 Walls and R40 roof – 2lb closed cell polyurethane spray foam
[/one_third_last]
[one_third]
Mechanical
Electric hot water tank
Energy recovery ventilator
Air source heat pump
[/one_third]
[one_third]
Cabinets
White melamine boxes
High-gloss white and textured melamine cabinets
Soft close hinges
Soft close metal side drawers
[/one_third]
[one_third_last]
Counters
Quartz solid surface 1-1/4″ thick (bathroom and kitchen)
[/one_third_last]
[one_third]
Flooring
High-durability vinyl planks in light grey or light oak colors
[/one_third]
[one_third]
Electrical
LED recessed lights throughout
White decora switches
[/one_third]
[one_third_last]
Interior
M-Series: 9' ceiling heights 1×4 Cedar T&G ceiling finish
H-Series: 8'8" ceiling heights 1×4 Cedar T&G ceiling finish
Solid core interior doors
Walls painted white
Built-in closets with bypass doors in bedrooms
3" flat stock baseboard trim
These are the standard features that come with a Honomobo home. Let's explore some of the upgrades available in all homes.
[/one_third_last]
[one_third]
Kitchen Cabinets
[/one_third]
[one_third]
Counters
Crystal white quartz
Carbon quartz
[/one_third]
[one_third_last]
Appliance Upgrade Package
Frigidaire stacker washer and dryer
Electrolux 24" fridge
Whirlpool wall oven
Whirlpool microwave
Ikea electric cooktop
Whirlpool dishwasher
[/one_third_last]
[one_third]
Exterior
Colors: White, Charcoal, Grey
Full size patio door (8ft wide)
Insulated floor – R32 polyurethane insulation
[/one_third]
[one_third]
Technology Upgrades
Nest smart thermostat
Nest security camera
Bose built-in wall speakers (living area)
Weiser smart code touch keypad deadbolt
Lutron wireless switches
[/one_third]
[one_third_last]
Mechanical
Air source heat pump hot water tank
High-efficient air source heat pump HVAC system
[/one_third_last]
The Build Process
[youtube id="cz_d1mprtlI" width="1060″ height="440″ position="center"]
Honomobo's prefab structures are built over 10-12 weeks in a controlled environment. The structures meet most building codes, and the company works with local contractors to ensure that the homesite is ready for installation.
Honomobo provides everything you need to make your home move-in ready. The only thing you need to supply is utility hook-ups and a foundation.
The entire process is broken down into six steps:
[one_third]
Step 1: Feasibility Consultation
The first step takes 1-2 weeks and includes:
Phone consultation with a Honomobo expert.
Confirmation site accessibility for truck.
Zoning verification.
Upgrade option pricing.
Overhead crane feasibility.
Detailed estimate.
[/one_third]
[one_third]
Step 2: Permit Drawings and Engineering
Step 2 takes 4-8 weeks and includes:
The creation of architectural drawings that can be submitted for local permit approval.
The plotting of the proposed home on the customer's site plan.
Site reports and engineering.
Finalize options and upgrades.
[/one_third]
[one_third_last]
Step 3: Permit Submission
The third step can take up to six months and includes:
The submission of permit documents to the local municipality for approval.
[/one_third_last]
[one_third]
Step 4: Sales Order – 40% Payment
The fourth step takes 8-10 weeks and includes:
A locked-in production spot
Site construction
8-10-week build time
[/one_third]
[one_third]
Step 5: Factory Construction Complete – 50% Payment
The fifth step takes about one week and includes:
A 50% payment to Honomobo prior to the shipping of the home.
Home delivery.
[/one_third]
[one_third_last]
Step 6: Installation – Final 10% Payment
The final step takes 4-6 weeks and includes:
Installation of the home on the client's foundation.
Utility connections completed by on-site contractor.
Landscaping, landings and decks completed by on-site contractor.
[/one_third_last]
Honomobo's building process cuts the building time down to just a few weeks. The longest part of the process is getting permit approval.
Site Prep & Foundation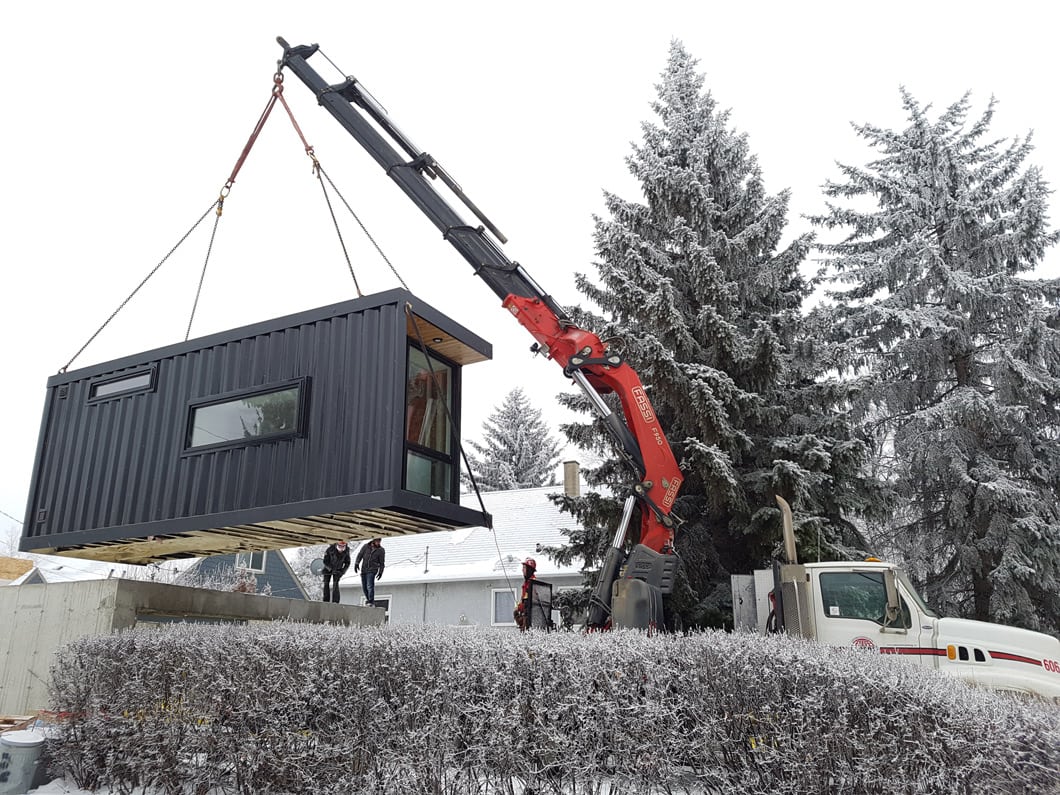 When buying a Honomobo home, there are three things buyers need to take care of: site prep, services and foundation.
Services
Services, or utilities, is typically the easy part of the process. Buyers need to ensure that their site has sewer, water and electric hook-ups. All of these services will connect directly underneath the structure just like any other home.
Honomobo homes can connect to city water and sewer services, or they can connect to a well and septic system. For those who want to go off-grid, all Honomobo homes are solar ready.
Their Process
Before a foundation can be laid, the site has to be cleared and prepped.
Once ready, you can get started with the foundation. There are three standard permanent foundation options that Honomobo recommends, but buyers are free to design their own. The company provides all of the connection details and load requirements.
The three standard permanent foundation options include:
Concrete Perimeter Foundation
A concrete perimeter foundation is a simple and clean option. Choose to have your home close to the ground or slightly raised. Concrete patios and landings can easily be added.
This type of foundation is most popular for ground level homes.
Concrete Garage Assembly
The concrete garage assembly can either be site-built or precast. With a precast system, the footings and foundation come pre-engineered and can be installed within a day.
Choosing to place a Honomobo home on top of the garage allows for more yard space and offers extra storage space.
Screw Pile and Helical Pile Foundation
For remote locations, a screw pile and helical pile foundation may be the better option. These are plug-and-play, which makes it a breeze to build a foundation.
Screw piles act as a footing and have their own auger bits that drill directly into the ground.
This type of foundation is less invasive, but it cannot be used on bedrock applications.
Permits & Financing

When building a Honomobo home, the longest and most complicated part of the process is typically obtaining the financing and proper permits.
The company offers tips and advice on talking to local banks about building their homes.
Using the terms "container home" or "container house" can be misleading and make it more difficult to get approval for a Honomobo home.
Honomobo homes are prefab factory-built homes that meet local building codes. All models are reviewed and sealed by a professional engineer prior to shipping, and they're designed to sit on a permanent foundation. It's important to emphasize the permanence of the home when seeking permit approval.
Honomobo uses materials that are found in conventional residential and commercial construction. All plumbing and electrical fixtures are code compliant.
The company's factory is certified and permitted to label homes with an HCD Label (California) or a CSA-A277 Label (Canada). In other areas of the United States, Honomobo can provide a similar certification, but additional fees may apply.
The cost to obtain permits will vary, depending on the local governing authority. Permit cost information can be found on your city's website.
What is Net Positive Building?
Honomobo talks a lot about net positive potential, but what exactly does that mean? Simply put, the company aims to make a positive impact wherever its structures are placed.
This means:
Densifying urban areas
Increasing transit use
Reviving schools
Creating an overall healthier community
Honomobo structures can be built to generate more solar energy than it uses, and the company aims to create a green and sustainable living space.
How Long Does It Take to Get a Honomobo Home?
If you're ready to buy a Honomobo home, you may be wondering how long it will take to get from design to installation.
Typically, it takes 6-12 months from start to finish. Securing financing and obtaining permits are the longest parts of the process. The time it takes to obtain a permit can range from one to six months, depending on the jurisdiction.
The actual building of the home only takes 10-12 weeks.
The quicker you get started on the pre-construction phase, the sooner you will have your home.
Honomobo's unique homes have been featured on CTV News, inhabitat, Edmonton Journal, the Toronto Sun and other media outlets. The company continues to strive for innovation in an industry that is rapidly growing and changing.
We could not have been more impressed with the company and their approach to building sustainable, high quality container homes. If you in California or Washington state, contact them today to build your dream container home.
All images are courtesy of Honomobo. Visit them online for more info: https://www.honomobo.com/
Compare Metal Building Prices & Save Up To 33%