How to Use Shipping Containers for Your Garage or Shop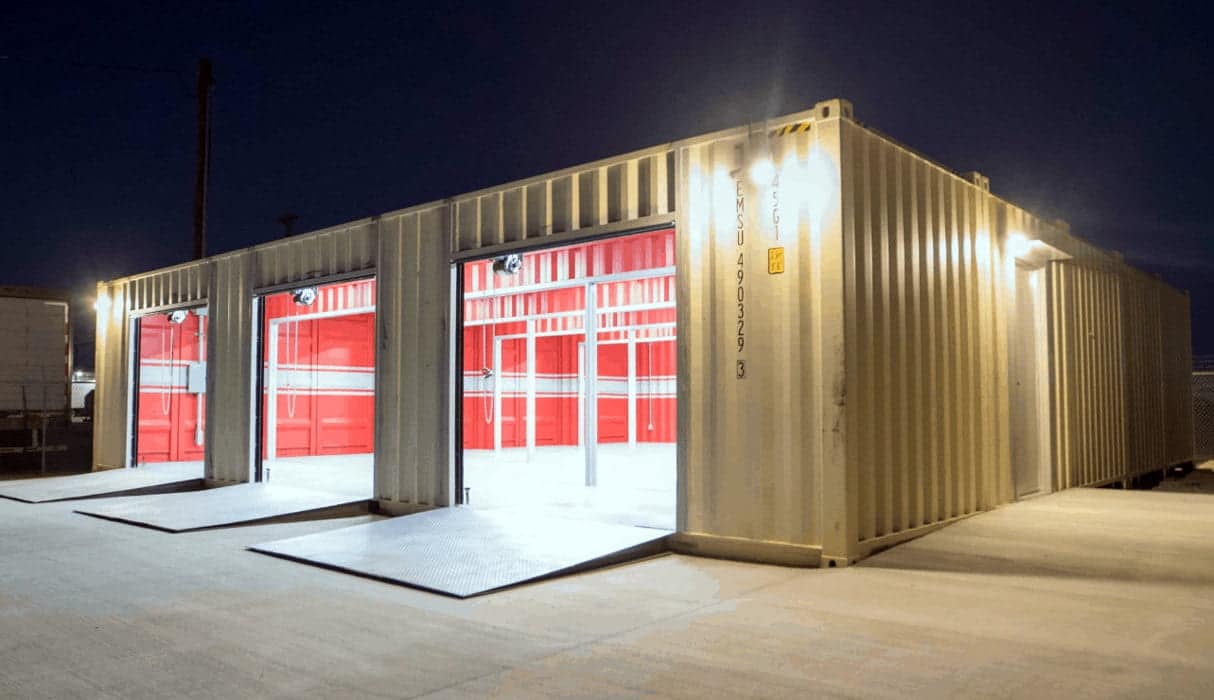 A shipping container garage ticks off a lot of the qualities that people seek when planning out their garage: space, durability, safety and affordability. The problem is that this trend often goes overlooked because consumers don't realize that they can have their perfect garage for less.
over 27,000 kits delivered
Compare Kit Prices & Save Up To 33%
Let us help get you wholesale pricing on your metal kit.
Using A Shipping Container as a Garage Shop
Shipping containers are durable, long-lasting structures in which you can build a garage or shop in less time. Steel panel and special coatings make these containers highly resistant to the elements while also being easily moveable.
Combine multiple containers together or use a single container for your space.
The right setup for you depends on the choices you make from the start. If you don't know where to begin or don't have shipping container garage plans yet, you need to think about a few things first.
6 Things to Think About When Choosing a Shipping Container Garage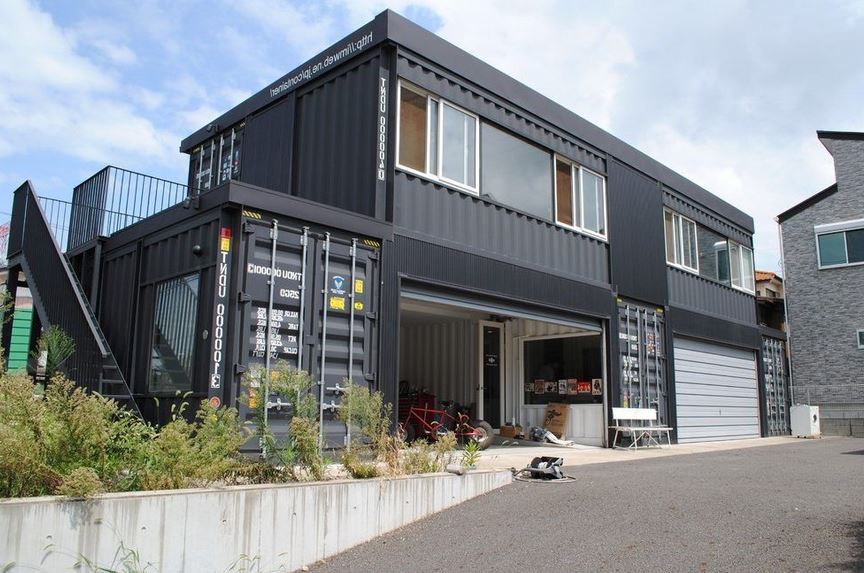 1. Container Size Options
Size matters. If you want a single bay garage, you'll need a different size compared to someone that needs multiple bays. These containers can be used for residential garages, but there are a lot of commercial companies building garages for mechanic shops using a shipping container shop concept.
For residential use, you'll find that there are multiple container sizes to pick from:
10-feet
20-feet
40-feet
45-feet
The most common shipping containers are the 20- and 40-foot options. Height matters, too. If you have a Jeep, SUV, large truck or are planning to get a Cybertruck, you'll want a taller shipping container.
Interior space of a 20' model that's 8.5' in height is 1,165 cubic feet. A 40-foot model offers a staggering 2,350 cubic feet. Both options are impressive, but you need to find a storage space that work best for your needs.
If you find that a single unit won't suffice, that's also fine.
Multiple containers can be put together to expand the space to match your specific needs.
2. Container Type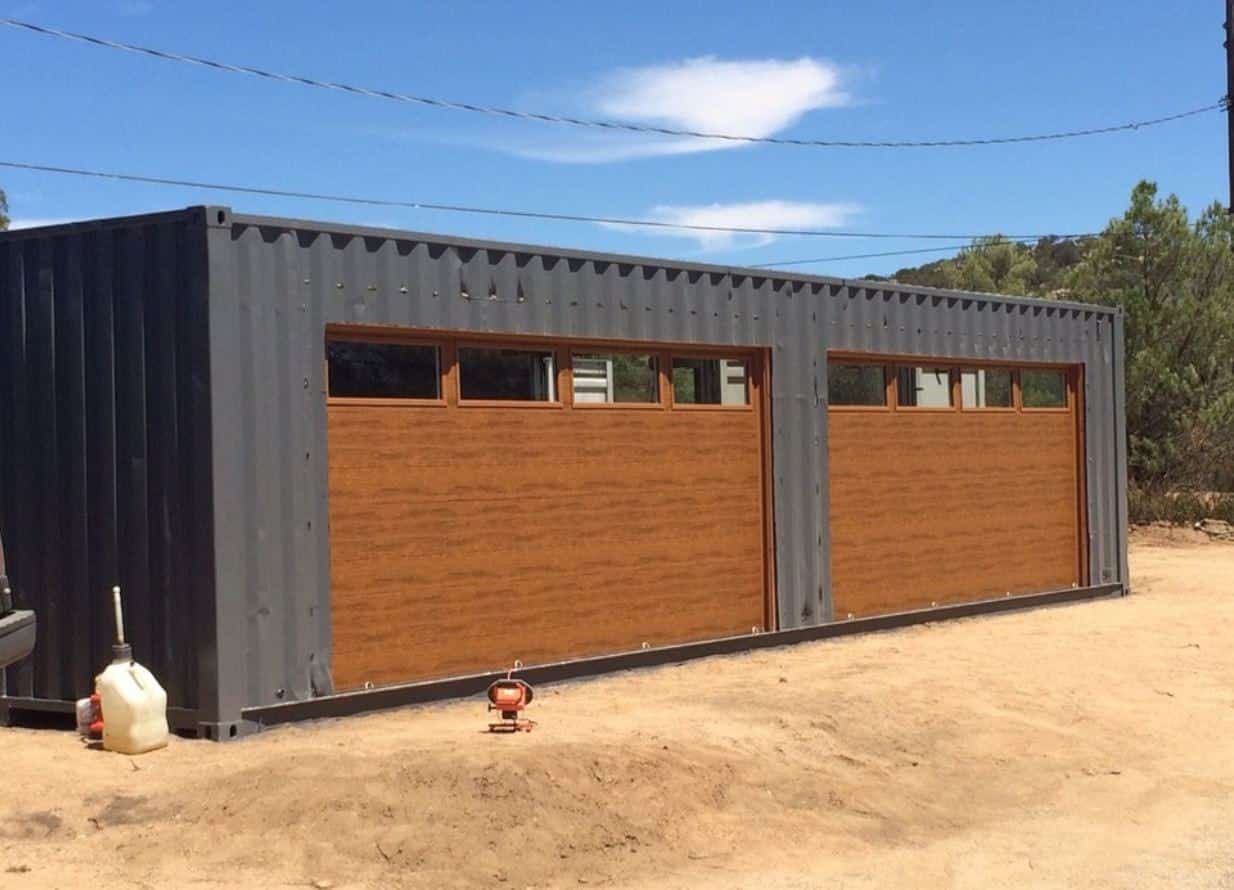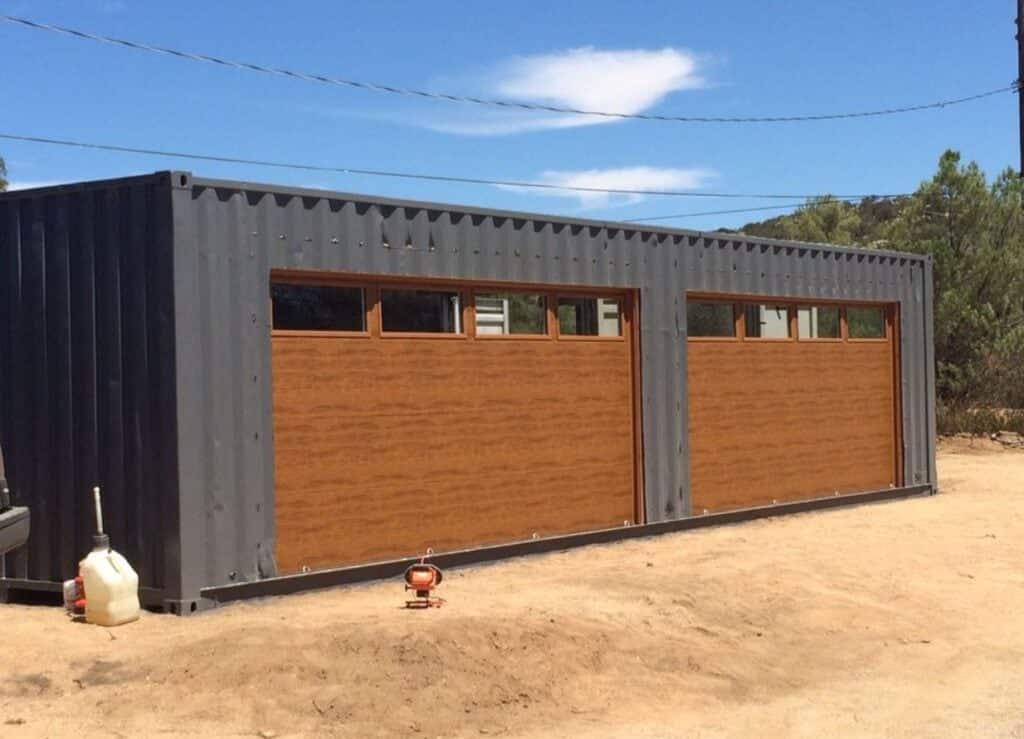 Do you want a new container, or will you be fine with a used container? Due to the steel structure, a shipping container is highly durable even if it has a few dings or dents in it when you make your purchase.
Your budget will determine the type of container that you choose, but you can snag great deals if you're willing to buy a container with:
One-trip containers are different than cargo containers and are designed to only be used for a single trip from China to the United States. These single-use containers are just a strong as their counterparts, but they're often in much better condition.
Used containers are easier to source, and the level of wear and tear will vary from one container to the next.
Spend time sourcing the right container for your space.
3. Shipping Container Garage Style
Shipping container garage plans can help make your garage addition quick and easy. If you've never worked on shipping containers before, plans make the logistics and planning process much easier.
You'll have a lot of options for a garage style.
Some people will place two containers apart and build a roof on top using the containers for storage and as a sort of support system. But the most common options are:
Single containers, which are ideal for single car storage and are best for smaller vehicles. If you want to protect your vehicle from the elements and do it in a way that makes logical sense, a single container may work well. This is a budget-friendly option that works well in smaller spaces.
Container roof options require placing two containers apart and building a roof between the two. This option adds to your space by enabling you to use the roof as a car port or garage while using the containers for storage. The container roof option costs more and will take up more space, but they're quickly becoming a popular choice for residential use.
Multiple containers can be stacked and cut to make unique designs and spaces that meet your usage needs. When you have multiple containers, you can stack them side-by-side or on top of each other like building blocks. Cutting through the exterior allows you to open up spaces, make room for windows and create an expansive space for a garage, shop and storage – or anything that you want.
You should take your time creating and planning your shipping container garage. The space can be made your own, and it's a lot of fun to work through the design process.
4. Land Preparation
A lot of the planning process revolves around choosing the right container and making your plans, but you also need to prepare your land. Ordering the containers is easy, but you don't want to start that process until you're well into preparing your land.
The local government may or may not require you to have permits for the build.
Be sure to call your city's permit or zoning and planning office for more details. A lot of people assume that they can just drop a container on their property, but most permanent structures require some form of a permit.
If you put the container on a foundation, the need for permits are even more likely.
Spend the time necessary to speak to your city officials to find out what avenues you'll need to take to legally be granted a permit. While this is probably the least fun part of the process, the actual land prep is very exciting.
You'll need to:
Mark the land and measure it out to ensure that you have enough space to use you're your garage.
Remove any trees, debris, plants or anything else that is inside of the space that you've diligently marked off.
Lay the foundation or utilities that you need. This should be done with the help of a local contractor that can put in your foundation, piping or anything else that your space needs.
Once you have everything in place, you can finally order and bring the containers to your property to build your garage.
5. Upgrading Plans
Are you going to leave the interior fully steel, or do you want to add in a few upgrades? You should plan out any upgrades that you want ahead of time so that you can be sure the space meets all of your needs.
Upgrades are often an ongoing process where you'll be in the middle of the garage and think "this would be even better if I had XYZ."
But the basic upgrades that you should think about during the planning stage are:
Windows. You're going to need some form of air flow, and windows are the best option. If you plan on working on your vehicle or anything like that, windows can help drastically. Even if you plan on starting your vehicle in your garage to warm up in the winter before driving off, windows or some form of ventilation will keep the interior tolerable.
Insultation. Adding in insulation makes the interior of the garage more comfortable and allows you to store items, your vehicle and work inside of the space with more comfort. If you live in a colder area, insulation is a must-have.
Electric. Want lighting, to use power tools or to run a heater in your space? You're going to need electric. Plan where the electrical will come from and will be ran inside of the container. An electrician may be required for this delicate step.
If you can, budget for these upgrades early on in the planning process so that you don't procrastinate in the future.
6. Additional Items to Add to the Space
Shipping container garages are worth the extra effort because they're a functional part of your space. Additional items, beyond the basics, can be added to the space. The more you plan, the better the garage will be from the start.
A few of the setup options that you'll want to consider are:
Dehumidifier to keep the dampness away from the vehicles or items that you store.
Flooring or a ramp that allows for easier access into and out of the container.
Shelving and workbench options that allow you to store parts and work on your vehicle with greater ease.
Security equipment if you plan on keeping anything expensive inside of your space.
Since you'll be cutting down on costs when compared to having a builder come out and build a garage, you can put this extra savings into outfitting your garage with great extras from the start.
You have so many options when building a shipping container garage or shipping container shop. Whether you want to build a single space garage or shop or your own compound with multiple garage bays and a workshop, you'll have more than enough options with a shipping container.
When choosing the right container, you'll save money compared to having a garage built out of wood and can do almost anything you can with a stick-built build that you can with shipping containers.