Is Reflectix Insulation A Smart Choice For Metal Construction?
Reflectix is a very popular choice of insulation, and you'll find this product in Lowes, Home Depot and on Amazon – most major outlets selling insulation sell this brand. But is Reflectix better than standard insulation? Is the material good for metal construction? Why choose this insulation over other brands?
over 27,000 kits delivered
Compare Kit Prices & Save Up To 33%
Let us help get you wholesale pricing on your metal kit.
What is Reflectix?
Reflectix isn't your standard insulation. You'll find the typical 48 in x 10 ft options of insulation, but this isn't your typical foil insulation. Instead, Reflectix aims to be different than:
Fiberglass
Rigid foam
Denim
You can find this insulation in a .3125-inch thickness and in lengths of 25 ft to 100 ft. Standard width size is 48," but there are also 16" and 24" product widths available.
Reflectix is different than traditional insulating foil because it's double-sided and isn't just a normal foil insulation. This material has an install temperature of:
-60F at the lowest
180F at the highest
Reflective insulation will not only provide a great temperature range, but the product will also allow for heat and light to be reflected.
the heat or light will keep spaces cooler or warmer, depending on the usage.
When used on walls, the insulation is stapled against the edge of the stud cavity to ensure that heating and cooling are sufficient. Different than foil insulation board or foil insulation bunnings, this insulation can cover a large square foot area.
Reflective can be placed on one or both sides. A double-sided reflective product is ideal for roofs and walls where heat or cold air enters and seeps out most often. One-sided reflective material is also available, allowing for greater overall control of your insulation and building's energy efficiency.
A negative F 60 to 180 allows the material to be used for virtually any application.
Reflective insulation, like Reflectix, provides ample heating and cooling benefits. When installed, the product can reduce the building's energy consumption for cooling by 10% or higher.
The 48 in x 100-foot product allows you to cover a large interior area with energy efficient Reflectix insulation.
Reflectix Benefits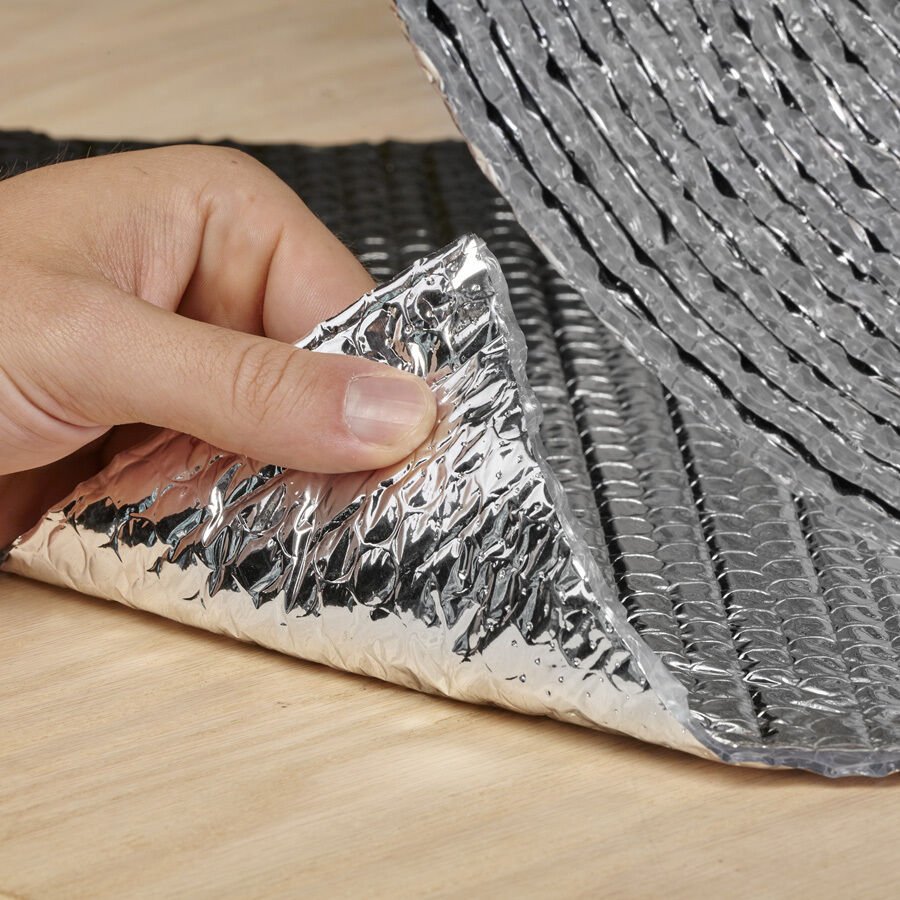 Reflectix is a popular choice and found on sites that sell reflective insulation, such as www.homedepot.com, although the best price is almost always found on Amazon. The product has several key benefits, including:
R-values that change by application and range from R-3.7 to R-21
Class A fire rating to reduce the risks of fire
No itchy fibers that require protective gear to install and a massive cleaning afterwards
97%+ radiant energy reflection to keep radiant energy from altering interior heating and cooling efforts
No nesting promotion to keep animals and rodents from living inside your building's wall or roof
Moisture and humidity do not have an impact on the material thanks to the vapor and radon retarder properties
Eco-friendly approved
Mold and mildew growth are kept at bay, allowing for less worry in older metal buildings
Install on key appliances, such as water pipes, water heaters, HVAC ducts and others where heat may escape
No risk of the product collapsing or compressing over time
A 48" x 100-foot roll will have a coverage area of 400 ft2. Installing this type of reflective insulation in metal buildings is ideal, especially on garage doors or bay doors where heat will seep out of the space.
When installed, a lot of consumers will use this product because Reflectix will seal and augment the insulation already installed. With proper installation, which is simple and easy, the benefits are immediately experienced.
The center of the product has a polyethylene layer wrapped with two outer layers of aluminum foil. The product's design allows the material to be strong and reliable while also providing high reflective properties.
Since there is no adhesive, this is a temporary product that you can continue to reuse for as long as you want. All you need is a razor blade or scissors, and you can cut the product to fit anything from walls to RV windows.
Reflectix FAQ
How to Install Reflectix Insulation?
Reflectix provides their own do-it-yourself videos and guides that cover the company's installation process. Local construction methods should be followed, but a basic exterior wall install may follow these simple instructions:
Install unfaced with R-13
Place the edge on a stud cavity in the corner
Staple the product to the edge of the stud
Proceed downwards
Follow the same process on the other stud
Staples should be spaced every 2" to 3" for best results. Installation is similar to installing competing materials and should follow the manufacturer's guidelines. If all guidelines are followed, you'll be able to provide added energy efficiency to your metal building.
What Is Reflectix Insulation Used For?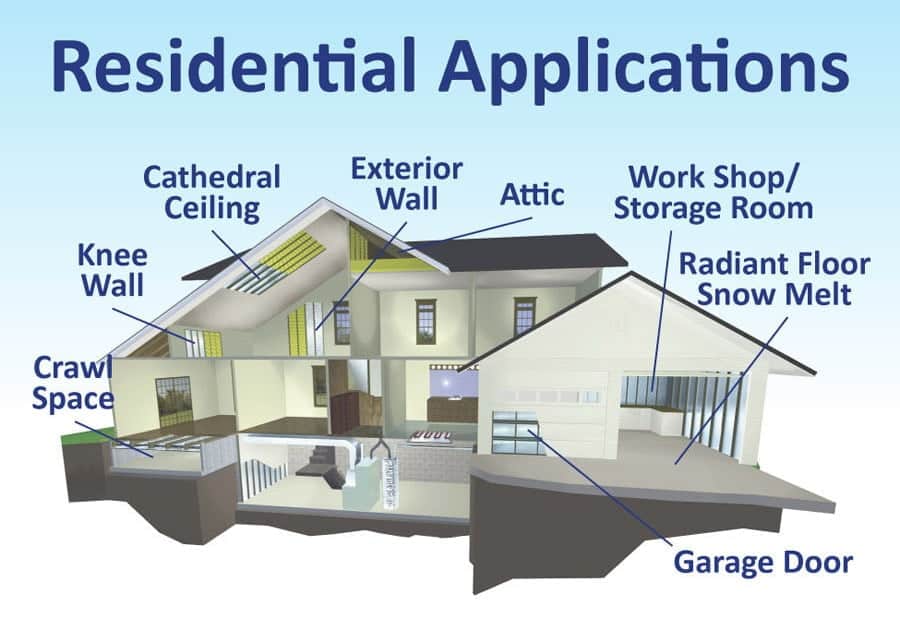 You'll find applications include but are not limited to:
Radiant floor in wood joists
Wall insulation on furring
Wine room
Pipe wrap
Water heater
Duct insulation
Roof
Walls
Garage doors
Water heater
Crawl space
Attic
Workshop
When working on metal building applications, double reflective insulation can be used on retro walls and roofs as well as new walls and roofs.
Reflectix does two things very well:
Reflects light and heat
Insulates
In a metal building, shop, garage or other space, the material allows you to keep the space warm or cool, with minimal heating and cooling.
Does Reflectix Keep Heat In?
Yes. The material contains two layers, with a 96% reflective layer and heavy gauge polyethylene bubbles. These layers will keep heat inside and allow you to use small space heaters in a garage, for example, that will be sufficient enough to heat the space.
What Is the R Value of Reflectix?
This insulation is different from your standard insulation. R-value is important for a lot of construction and insulation because it allows you to know just how much insulation protection you'll have.
And while Reflectix insulation does use the standard R-value, you must read the fine print.
R-value only applies when you follow the company's insulation guidelines.
Two main factors go into determining the product's R-value:
Heat flow direction
Air space in a closed cavity
When insulation has higher R-value this simply means that the insulation is a more resistant material.
If you view the company's fact sheet, you'll find that air space thickness and location will dictate the R-value of the material. For example, a basement ceiling with a 9.5" air space will have an R-16 value, while a radiant floor in a sub floor may have an R-4.6 value.
You'll have to look for your specific use to determine the actual R-Value.
Does Reflective Insulation Work?
Yes. The insulation can be used for multiple residential applications, and you'll find a wide range of sizes, from 48" x 10 ft to 48" x 100 ft and a lot in-between. Insulation rolls are affordable, compact and are perfect for metal construction.
Where to Buy Reflectix?
You can go to Home Depot or Lowes to purchase your insulation, but you'll have to have a truck big enough to stack it up inside. You'll also have to lug the insulation into your home, which can be tedious and very difficult.
Amazon is the best place to order Reflectix insulation because you'll have the insulation delivered to your door.
No lugging. No fuss. No cramming insulation into a truck. No worrying about size constraints.
Compare Metal Building Prices & Save Up To 33%