Olson Kundig Rolling Huts Glamping House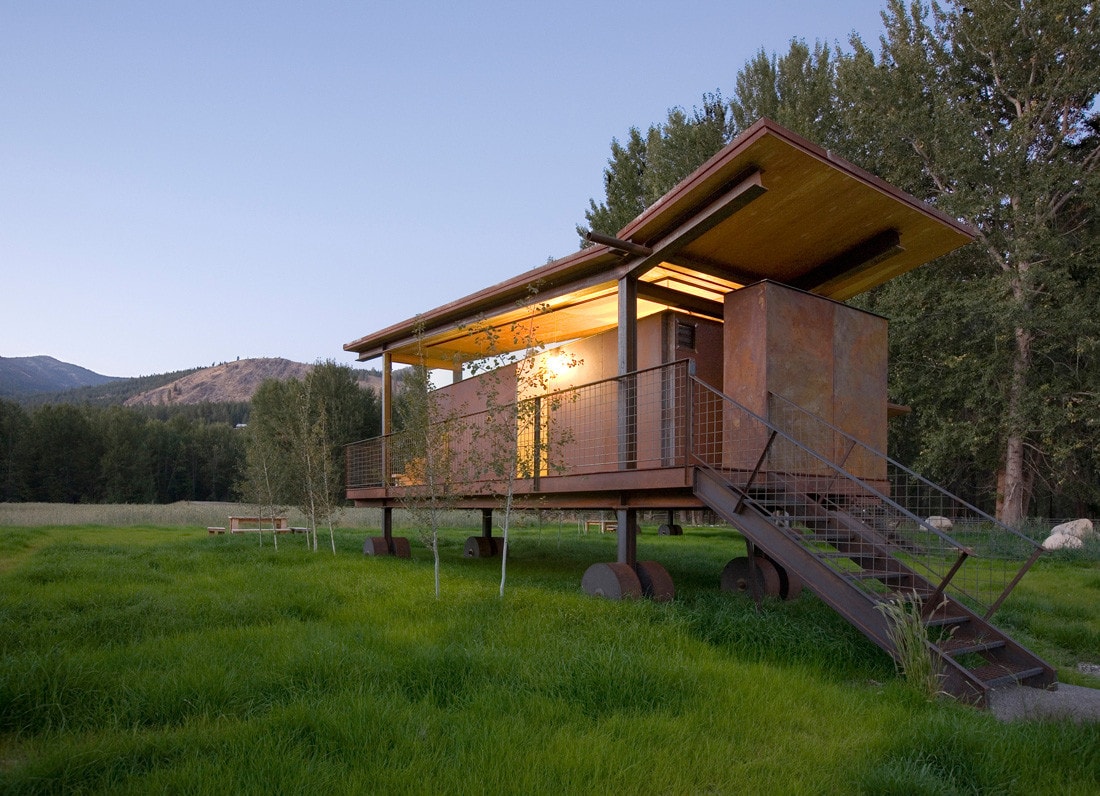 Situated in Washington's picturesque Methow Valley, Rolling Huts is a glamping destination that's unlike others. Rather than the typical tent glamping people are used to, the resort offers a modern alternative to camping. Individual huts provide peace and quiet and privacy with the creature comforts you normally leave behind when you go camping.
over 27,000 kits delivered
Compare Kit Prices & Save Up To 33%
Let us help get you wholesale pricing on your metal kit.
In total, there are six huts at this Mazama campground, each with stunning views of the mountains.
What are the Rolling House Camping Houses?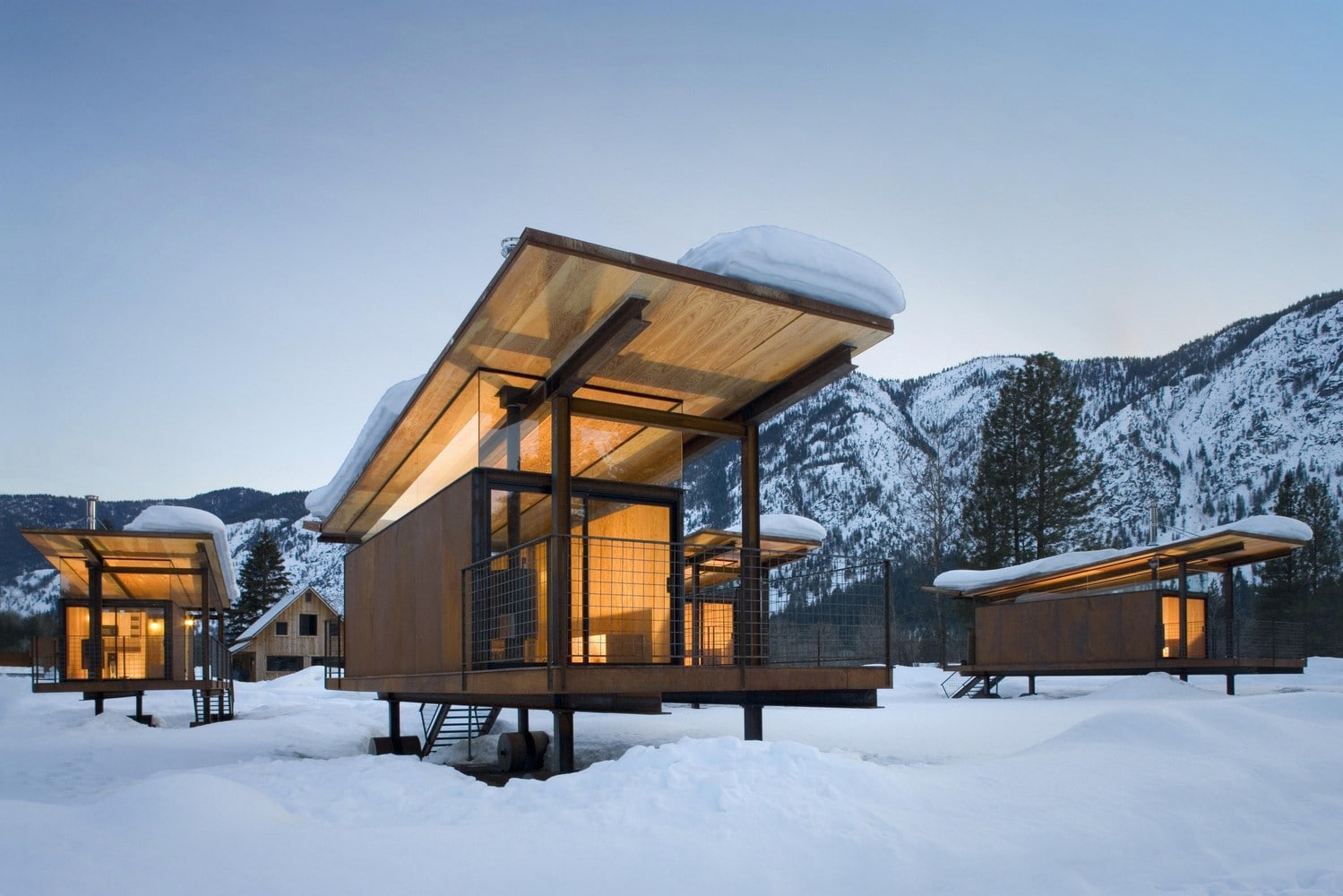 The Rolling Houses huts are, essentially, steel movable huts that come equipped with modern comforts. Each hut offers 200 square feet of space and 240 square feet of decking outdoors.
The site sits on a former RV campground, making it ideal for its new purpose. However, the owner's goal was to allow the site to return to its natural state. Huts are lifted off the ground to help make this goal a reality.
Guests enter their huts through double-paned glass doors lined with plywood and cork. The side walls of the huts feature clerestory-style windows to allow in natural light while maintaining privacy.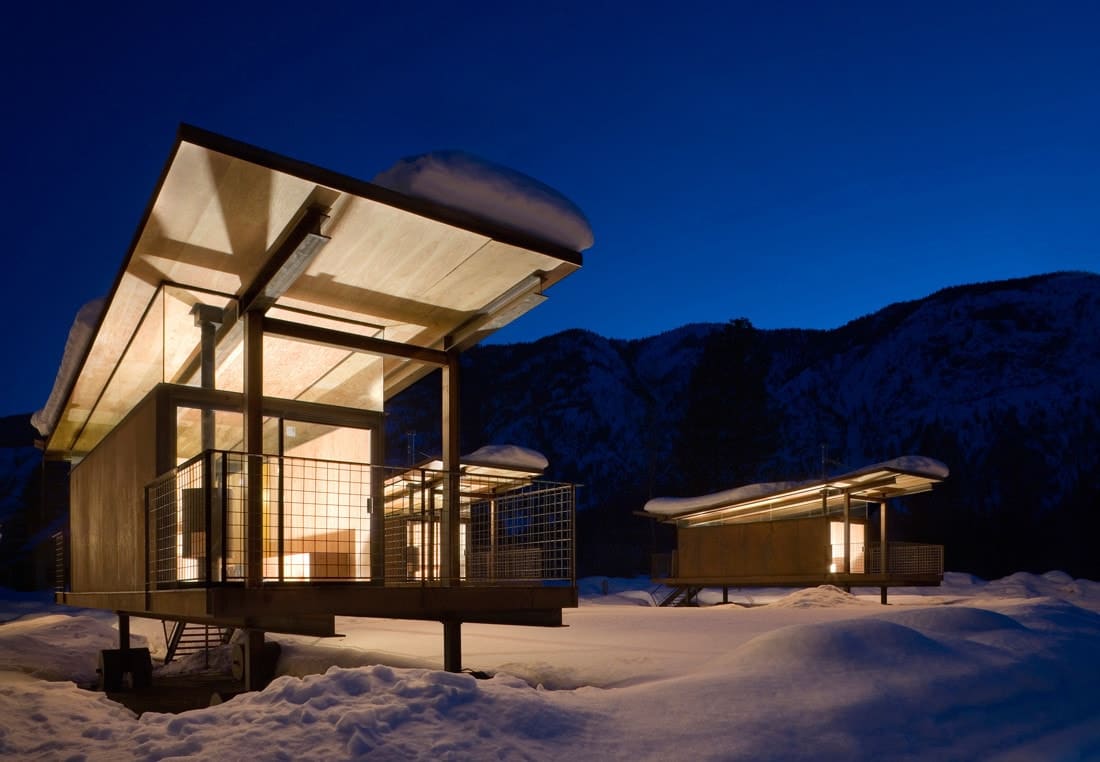 All huts face towards the mountains and away from one another to allow for privacy while still creating a community-like atmosphere. The far end of the hut, which faces the mountains, is the only area to have a full wall of windows.
To protect against weather, the huts have an inverted V-shaped panel. In addition, the roof's design allows the huts to be rented all throughout the year, including winter.
Inside, you'll find a sleeping platform with mats and a modular sleeping platform with additional mats to accommodate more guests. Huts also come equipped with:
Refrigerators
Fireplaces
Microwaves
Coffee pots
Portable toilets and water faucets outside of the huts
Wi-Fi connectivity
Silverware and dishware
Showers and toilets can be found in the nearby barn. Both the barn and parking are just a short walk from the huts. Along with showers and bathrooms, the barn area also has a firepit and BBQ station.
Just a short walk from the barn is the on-site restaurant. The site offers everything guests could need, allowing them to truly relax and immerse themselves in nature.
Hut Construction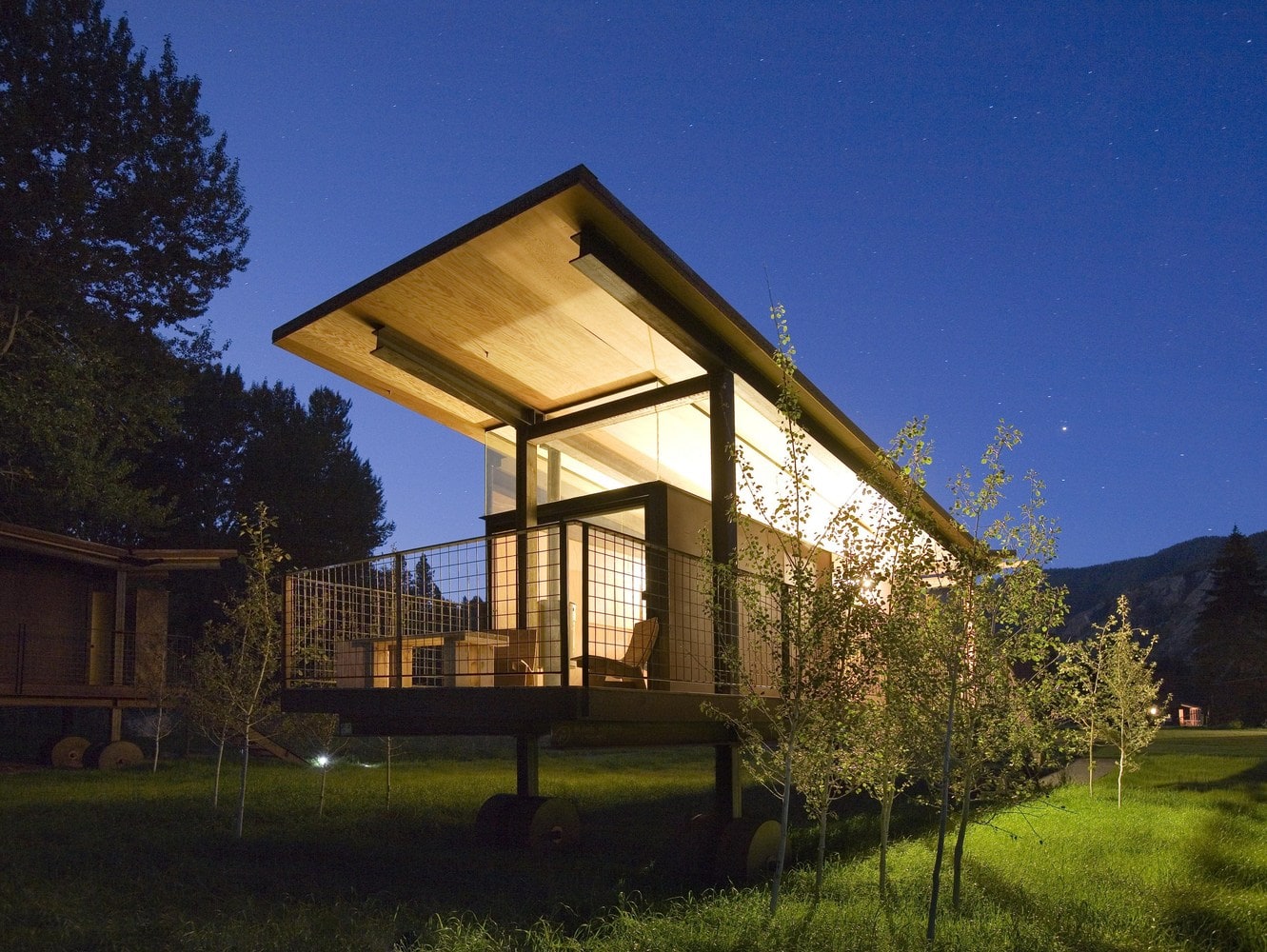 Rolling Houses lower environmental impact by using sustainable materials and minimal site disturbance.
Each hut sits on a set of wheels, which lift the structure above the meadow. Because they are lifted up off the ground, nearby grasses in the meadows can grow naturally without disturbing guests. Their height also allows for unobstructed views of the surrounding mountains.
The construction of each hut is surprisingly simple. Essentially, they're steel clad boxes that sit on a wood and steel platform.
The Rolling Huts project has received great recognition in the industry, earning the following awards:
2009 AIA Northwest and Pacific Region Honor Awards, Honor Award
2008 Architectural Record: Record Houses, Record House
2009 Residential Architect Design Awards, Grand Award: Outbuilding
The project has also been featured in many industry publications.
Modern Glamping in Washington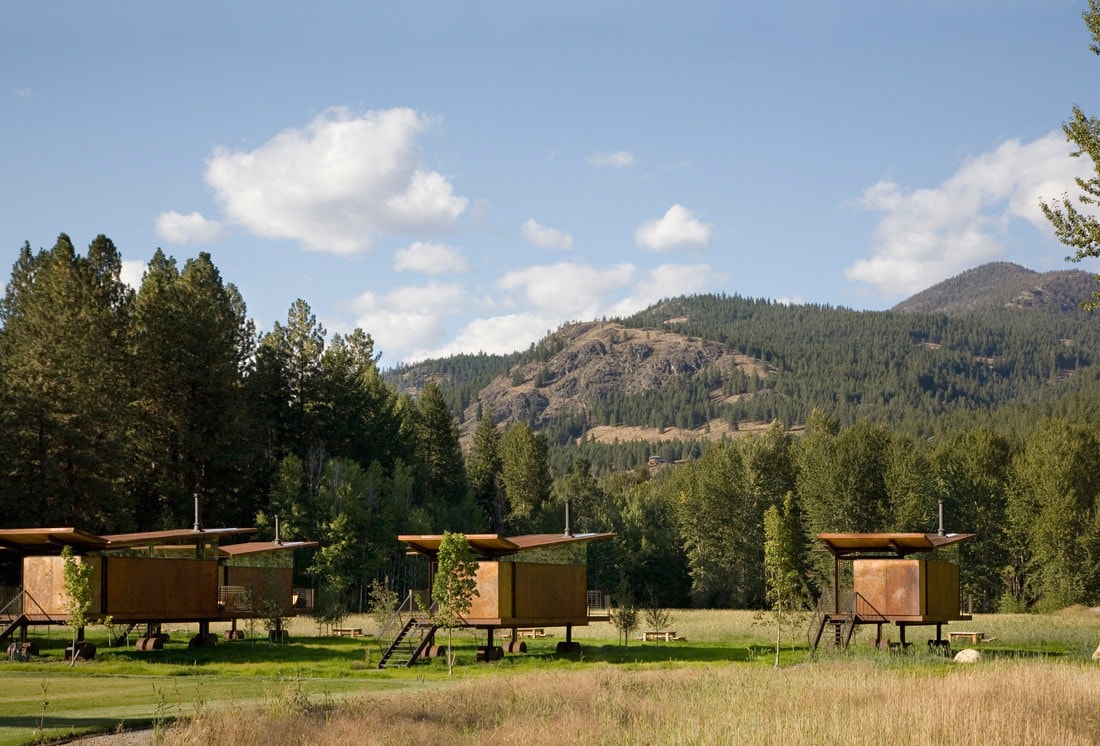 For travelers looking for unique Mazama cabins, Rolling Huts fits the bill. Guests enjoy modern comforts as well as the quiet and seclusion that comes with camping.
Interiors are comfortable and surprisingly cozy. A small kitchenette station serves as a divider between the living and sleeping areas. The living room area features modular furniture that allows you to use it as seating or a bed. Just past the living room fireplace is a balcony with sliding glass doors.
All six of the Rolling Huts are grouped as a herd, but facing away from one another to provide guests with privacy.
The huts are designed to provide comfort without taking away from the natural beauty of the site. They blend with the landscape rather than trying to work against it.
For more information visit Olson Kundig
Compare Prices & Save Up To 33%