Porte Cochere House Plans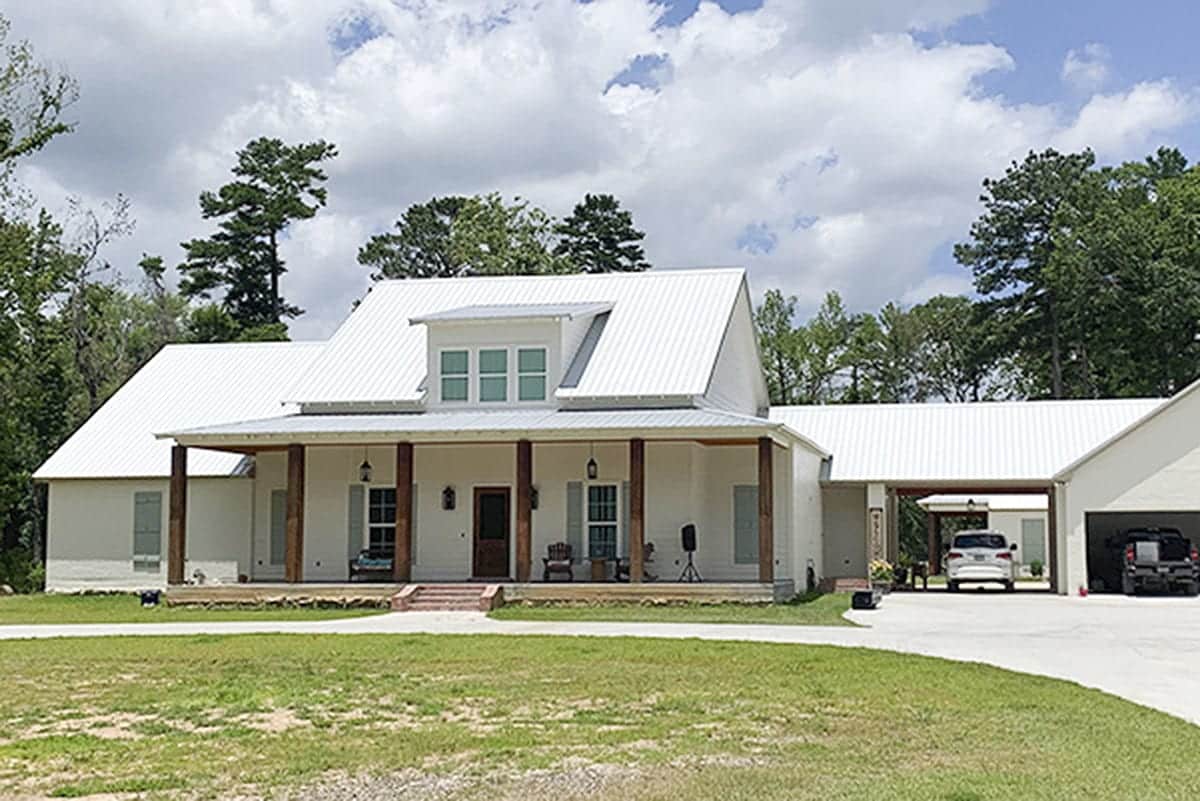 Architectural Designs' Porte Cochere house plan offers a brilliant design concept, often seen in luxury mansions and buildings in the late 17th century through the 19th century. This metal house plan with Porte Cochere is ready for any modern family to move into.
over 27,000 kits delivered
Compare Kit Prices & Save Up To 33%
Let us help get you wholesale pricing on your metal kit.
What Is Porte Cochere?
Porte Cochere, often spelled as porte-cochère, first appeared in the late 17th century and is a doorway that opens to a building or courtyard. However, these doorways are often large, massive archways that were very ornate and seen on the most upscale buildings at the time.
Originally, horses and carriages would enter into these doorways, and automobiles easily fit through these doorways when they were invented, too.
You'll still find these design concepts used today in:
Private homes of the wealthy
Public buildings, such as hotels
It's crucial to note that vehicles pass through the porte cochere opening rather than park underneath it.
Porte Cochere Metal House Plan 14190KB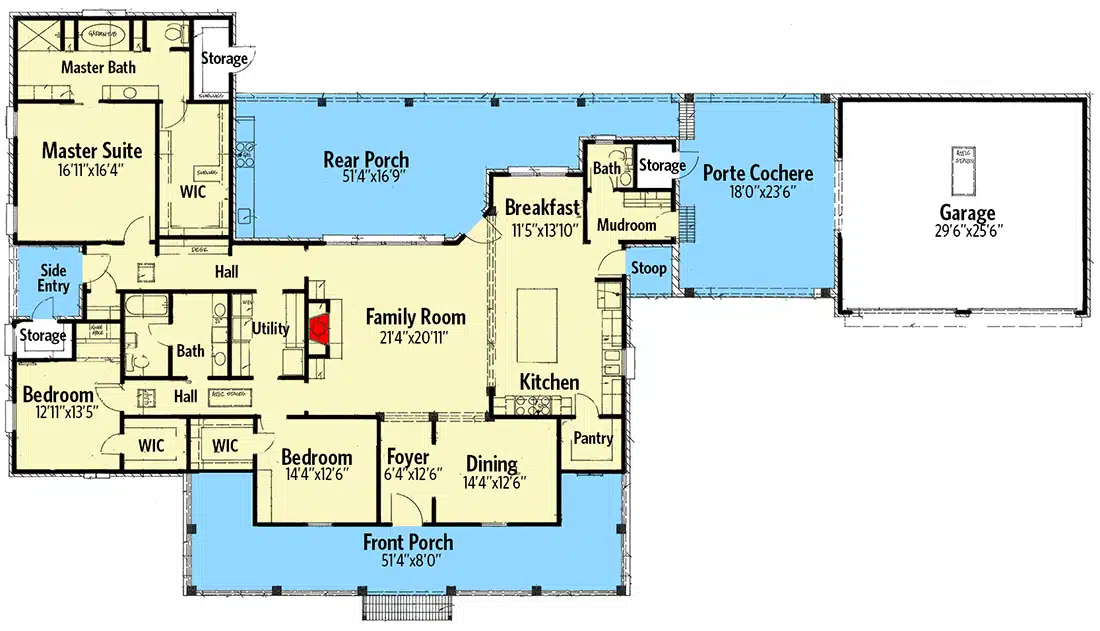 The allure and appeal of a porte cochere home is coming back, but there are few plans that support them. Thankfully, Architectural Designs' metal house plan with Porte Cochere offers the opportunity for anyone building a home to have one of these stunning doorways built for their estates.
Metal House Plan with Porte Cochere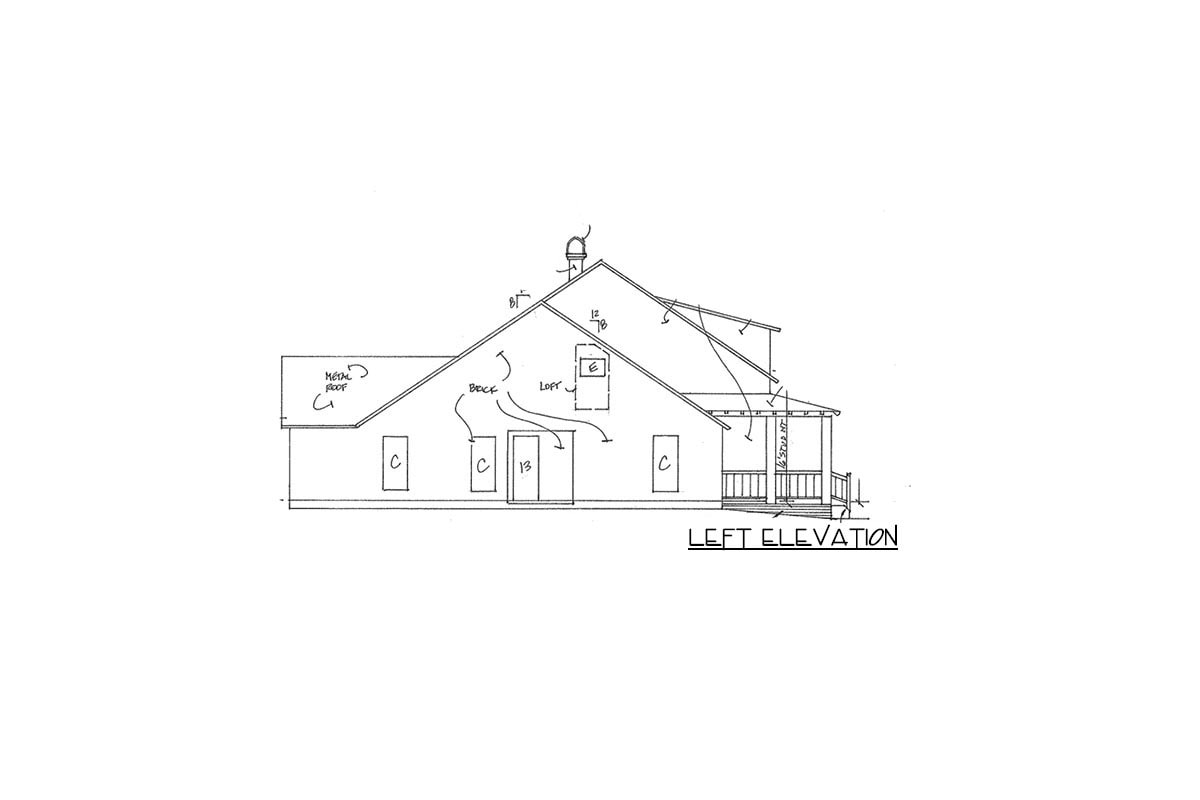 Plan 14190KB is a beautiful country house that boasts a porte cochere design and comes with a single shed former. You can purchase this plan directly and give it to a builder to construct if you would like.
The plan boasts:
2,908 square feet of heated space
3 bedrooms
2.5 bathrooms
One-story design
2-car garage (featuring 752 square feet of space)
Perfect for small and large families, this home's single-story concept means that as you age (or for older homeowners), you won't have to worry about climbing stairs to get into the home. And with 2,900+ square feet of living space, it's a home that's large enough for families, too.
A few of the porte cochere house plans key elements include:
Porches. Large, sprawling porches are on the front and back of the home, offering a true country home design. When placed on the right land, homeowners will have stunning views.
Single shed dormer. A single shed dormer above your main entryway improves the home's appeal and provides an abundance of natural light for the interior of the home.
Garage. The porte cochere connects the garage and home, allowing you to enter a mudroom that also has a half bath. You'll also find an abundance of storage space on the outside of the home, which is perfect for lawn and garden equipment.
Walking into the home, you'll find a formal dining room right near the foyer. Keep on walking, and you'll enter the "heart" of your home with a spectacular open floor plan design. The open floor plan allows you to focus on the fireplace while being able to see into the:
Family room
Kitchen
Breakfast nook
Your master suite is nestled in the home's rear corner to maximize privacy. A sprawling walk-in closet and 5-fixture bathroom will greet you. Walk down the hallway, and you'll find another bathroom and the home's additional bedrooms.
The plan allows you privacy in the home's rear corner, yet you're still connected to the other two bedrooms of the home.
Additionally, you'll find that the laundry room has a pass-through design and is in the center of the home. A central location was chosen to make it easy to bring clothes to either end of the home without having to carry them for long distances.
Each bedroom has its own walk-in closet, but the master suite's closet is the largest of the three.
Right off of the kitchen is a walk-in pantry, and the kitchen connects to both the mudroom and an additional half-bath. If you have guests over or entertain a lot, there's a side entry into the home, which leads to the master bedroom and is located right near the hallway to the family room.
You can access the porte cochere from the mudroom if you like.
Adding a porte cochere to your home provides functionality and a special, rich look. With this plan, the porte cochere perfectly connects the garage space to the home. The home features a slab design and has dimensions of 51'4″ width and 77'9″ depth.
Compare Prices & Save Up To 33%