A Guide to Building Your Own Airplane Hangar

Airplane hangars take time and a lot of consideration when building. Not only do you have to worry about current storage requirements, but you'll also need to worry about any future needs you may have.
over 27,000 kits delivered
Compare Kit Prices & Save Up To 33%
Let us help get you wholesale pricing on your metal kit.
What if you need more storage room in the future? What if you purchase another aircraft that's larger?
Will your aircraft hangar have this wiggle room?
Or will you have a plane hangar that meets your current plane's needs and worry about the future when it arrives? These are all questions you need to ask yourself before designing and constructing your hangar. This is especially important when you are considering going the DIY route with a custom airplane hangar kit. Can you future proof your own build?
With that in mind, there are also prefab aircraft hangars which make more economical sense.
Prefab models are more cost-effective, can be customized in the future and offer a lot of benefits which we'll be discussing below.
Metal Airplane Hangar Gallery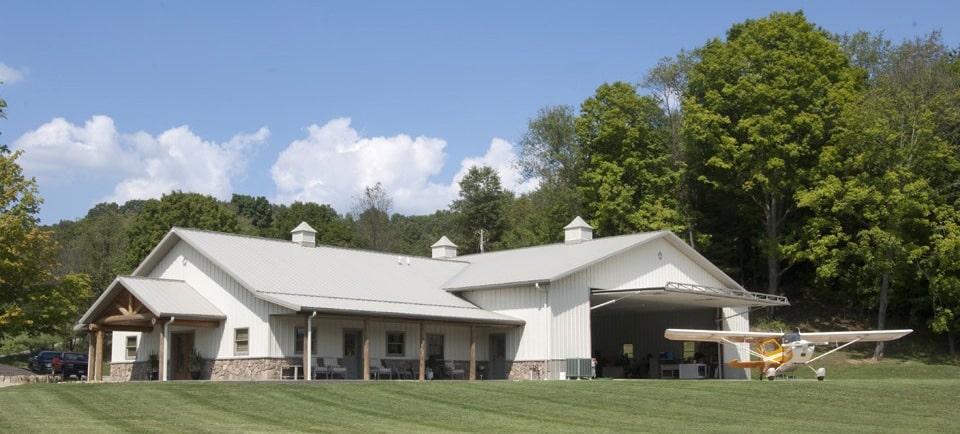 All images courtesy of MortonBuildings.com
Aircraft Hangar Design and Construction Considerations?
When having an aircraft hangar constructed, there are a few things that you need to consider beforehand. This is not a small project by any means, so you'll need to take your time and really consider all of your options.
A few of the things you'll want to consider are:
Local Code Requirements
Airplanes are a lot different than automobiles. You can't just drive an aircraft down the street and fly into the air. You need to have a runway, and there are strict zoning and building laws that need to be followed before you consider building your own aircraft hangar.
Each city, state and jurisdiction will have its own rules, so you'll want to contact your local city hall to determine what you need to do to meet local building standards.
International Building Codes may need to be followed, too,
Once you determine what local code requirements are, you'll be able to discuss your needs further with officials.
These officials will make sure that your aircraft hangar builders meet all the appropriate codes.
Types of Space Requirements
There are five main spaces that may or may not be found in an steel airplane hangar. The scale of the hangar and its function will determine what types of space you may need. Spaces that exist, and some of these are more commercial than residential, include:
Hangar area. The hangar area is the most important space and will be where you store your aircraft.
Warehouse area. A warehouse area may be used for repairs or other items that need to be stored.
Utilities area. An area that controls the hangar's utilities.
Office area. You may or may not want an area for an office. This is especially important if you'll be offering rides or renting the space out.
Shops. A potential space when using the hangar for commercial reasons, the shops will be used for selling items to anyone renting out the aircraft hangar. Steel buildings make the most sense for your aviation building when a larger shop is required.
When trying to determine the size of the aircraft area, you'll also want to consider the following:
What type of aircraft will be placed in the hangar?
Will the private hangar have a different aircraft type placed in it?
Will you need extra space for maintenance operations? Aircraft storage has unique requirements for equipment. Especially the type of doors you might need. Do you need bi-fold doors?
Will you have a restroom or locker facilities?
You need to take all of these questions seriously because you want to have everything your hangar needs now, but you also want to consider what you may need in the future.
Leasehold Land Ownership Agreements For Airplane Hangars
The aircraft owner or leasehold land owner will need to be contacted and a lease needs to be secured. You may own the airport, so these agreements may not apply, but in most cases, an aircraft owner will have a lease in place.
The lease should be secured through a lawyer that will examine and analyze all of the lease terms.
Lease terms are a typical 25 – 30 years.
Lawyers that have experience with the process will also be able to work with the FAA to ensure that the sale of the property, if a sale is made, is approved according to the law.
When leasing, the owner of the airport will need to be involved in the development of the airplane hangar, so it's important that the agreement in place allows and ensures that the owner will be involved in the process.
It's an important part of development because it allows you to go through the construction phase with fewer hiccups along the way.
After your agreement is in place, you'll want to go to your municipal building authority to start securing any permits you need. This is the source of information that will provide you with access to the required building codes as well as inspection requirements.
There will be a final inspection of the building, too.
Additional Items That Need Consideration
The scope of your hangar will determine what additional items may or may not need to be considered. A few of the many items that need to be considered at some point during the design and construction process are:
Security. What security will need to be in place? There may need to be fences, gates or other security measures that the hangar, or the hangar's property, should maintain. This is something to consider in your budget.
Parking. You need to get to the hangar somehow, so there will need to be a space for parking or at least a walkway to the hangar.
Foundation. Concrete foundation is a must-have for a hangar, and this foundation will be installed before the hangar is placed. You'll need to have permits in place, and you'll often need to find a third party to lay the foundation.
There needs to be drainage considerations, and this means underground drainage and runoff control.
Utilities. What utilities, if any, are in place? You may need to have sewer, gas, water, electric, phone lines and other utilities placed, which will also add to the cost of the budget.
What type of prep work will need to be done to the space? There will need to be some grading done, contouring is also going to be required along with excavation. Consider all of this prep work when choosing a site for your airplane hangar.
Treatments. Special treatments may be required, but most of these treatments will be applied by the builder.
Paving may need to be done, and this means a taxiway or ramp.
Aircraft metrics are getting larger, and this is something to consider. There have been reports that aircraft will be larger and heavier, and as a result, this means that the aircraft hangars of tomorrow will need to be larger.
Why does this matter?
If you're considering building a hangar that is just big enough for your current aircraft needs, it may be a wise choice to extend your budget a little further. The aircrafts of tomorrow will be larger, so the aircraft hangars of today will become obsolete if not properly planned for now.
Facilities that will house multiple aircraft will also want to consider separation distances. There are minimums that will need to be in place, and these minimums will lower the risk of accidents in the hangar.
Tail heights also need to be considered so that the height and width of the door openings will be able to accommodate the aircraft.
Project managers should be consulted, at the very least, to ensure that your aircraft hangar has ample space and meets all of your needs. Working with a manager or a company that has experience will allow you to avoid any design and construction mishaps that are common, especially when building your first hangar.
Why Choose Steel For Your Aircraft Hangar Building?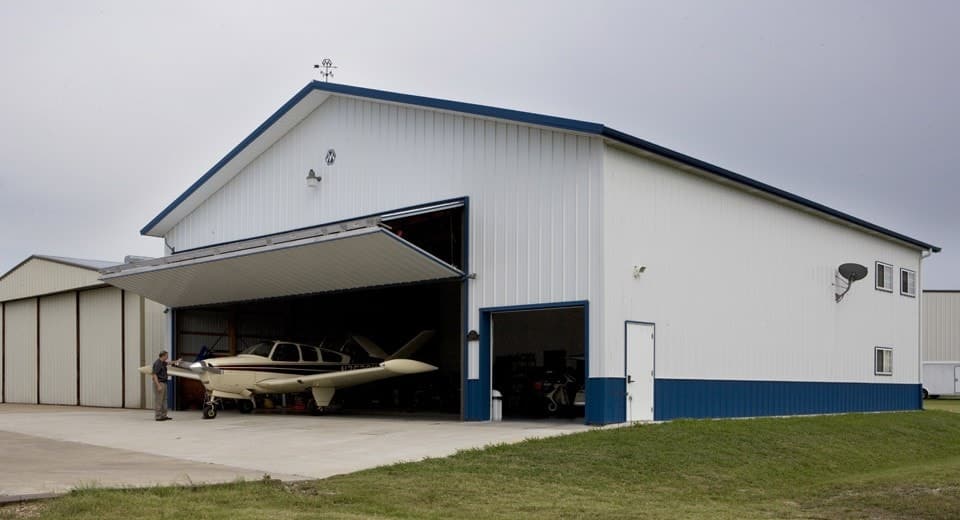 Steel buildings help lower aircraft hangar costs and future proof your build. But when you choose a commercial metal building over a traditional stick built hangar, you're choosing a building that offers:
Durability. Steel is the superb building material because you don't have to worry about cracks, warps, mold, termites or mildew. There's less maintenance required with steel because the material is far more durable than any other building material.
Strength. In terms of strength, steel can withstand high winds and is a resilient material. Steel and premium joists and studs will secure the hangar to a concrete foundation, ensuring that the building can withstand the elements, and in particular, the building will be able to withstand high winds.
Speed. A prefab airplane hangar, or a custom-built model, will both be faster to construct. Laser-cut, these hangars are designed for rapid construction, and they have pre-drilled parts and welds so that the structure can be erected easily.
Fire resistant. The structure is fire resistant, so there's never a concern that a fire will cause the building to fail or reach the aircraft.
Steel buildings, while prefab options do exist for built in savings, also offer customizable designs. A common misconception is that you pretty much have to deal with the design that's already in place. You'll find that you can customize everything, from the doors to the trim and finishes.
You have one main obstacle when designing your ideal hangar: cost.
Opting to have a steel hangar building built means you can save up to 50% compared to traditional construction.
Oftentimes, the hangar has added features that will make the savings less, but the owner will have a building constructed that better meets their building requirements.
You'll also save a lot of time on the construction process.
Working with a local steel builder will allow you to discuss all of your options and find what fits into your budget.
Custom doors are a major consideration, too. Hangar doors vary greatly, and you'll find that this is one of the largest design elements of the entire project. When dealing with hangar doors, you'll find that the door can be:
Sliding
Bi-folding
Vertical lift
Each door has its own benefits and drawbacks, but there are custom options available to meet your hangar's needs.
Steel hangars are also designed to meet local, state and federal building codes. You won't have to worry about being out of code as you will with a wood building. There's also the advantage that steel structures come with long warranties: 40 – 50 years are common.
Metal hangars will need to have a concrete foundation in all cases, and costs will be higher, as unique roof elevations are required.
DIY kits are available, too. While these kits take more work, you'll also save a lot in costs over the long-term.
And you'll find that metal airplane hangars are not only durable, but they look great, too.
Airplane Hangar Homes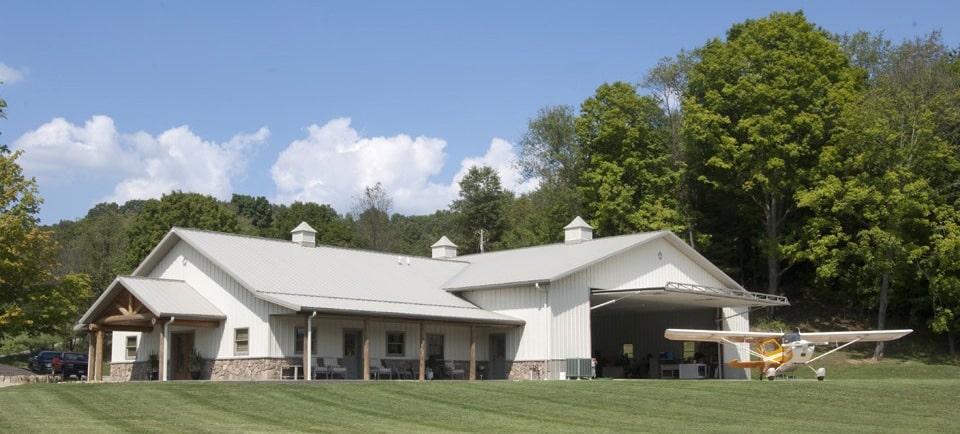 Airplane hangar homes are also a thing. This is a great option for owners because the hangar will have living quarters inside Aircraft hangar homes are ideal with larger buildings because you'll be able to have a sleeping quarter.
When using a hangar for commercial purposes, the living quarters can help make the operation more fluid.
These interiors can have everything from living rooms to bathrooms and kitchens. A lot of living quarters will have direct access to the interior of the hangar.
Aircraft Hangar Manufacturers
Who makes these metal aircraft hangars?
Some of the largest names in metal and steel buildings will be able to help you create or purchase a prefab kit that meets your needs, including:
Morton Buildings: Morton is known for constructing high-end hangars, and they have options that will fit any aircraft: biplane, helicopter, crop duster, military. The company has been in the building industry for 110 years, and they have a variety of customizable options. They are one of our top rated brands for commercial buildings.
MBMI: MBMI is a trusted name in the steel building industry, and they offer warranties for everything, from the roof to seams and I-beam structures. The company provides a project coordinator for free, and they claim that savings can be up to 50% compared to building a traditional hangar.
Olympia Buildings: Olympia Steel Buildings offers hangars of all sizes for everything, from helicopters to military and commercial needs. The company works closely with customers, customizing their building needs along the way. The company offers a 40-year warranty and also offers prices that save consumers up to 50%
We can put you in touch with local airplane hangar manufacturers and contractors to discuss your hangar needs today.
Compare Prices & Save Up To 33%