While the company offers a variety of shipping container solutions, the Xcaliber container cabins are some of its most popular products.
over 27,000 kits delivered
Compare Kit Prices & Save Up To 33%
Let us help get you wholesale pricing on your metal kit.
Xcaliber is the top supplier of shipping containers in New Mexico, Texas and Oklahoma. The company has been in business for more than 15 years, thanks to its commitment to providing the highest-quality products and service.
Custom Container Cabins for Sale from Xcaliber
Xcaliber has three primary container cabin models: Retreat, Bunkhouse and Hunting Cabin. Each model has different options available.
40' Retreat, 53' Retreat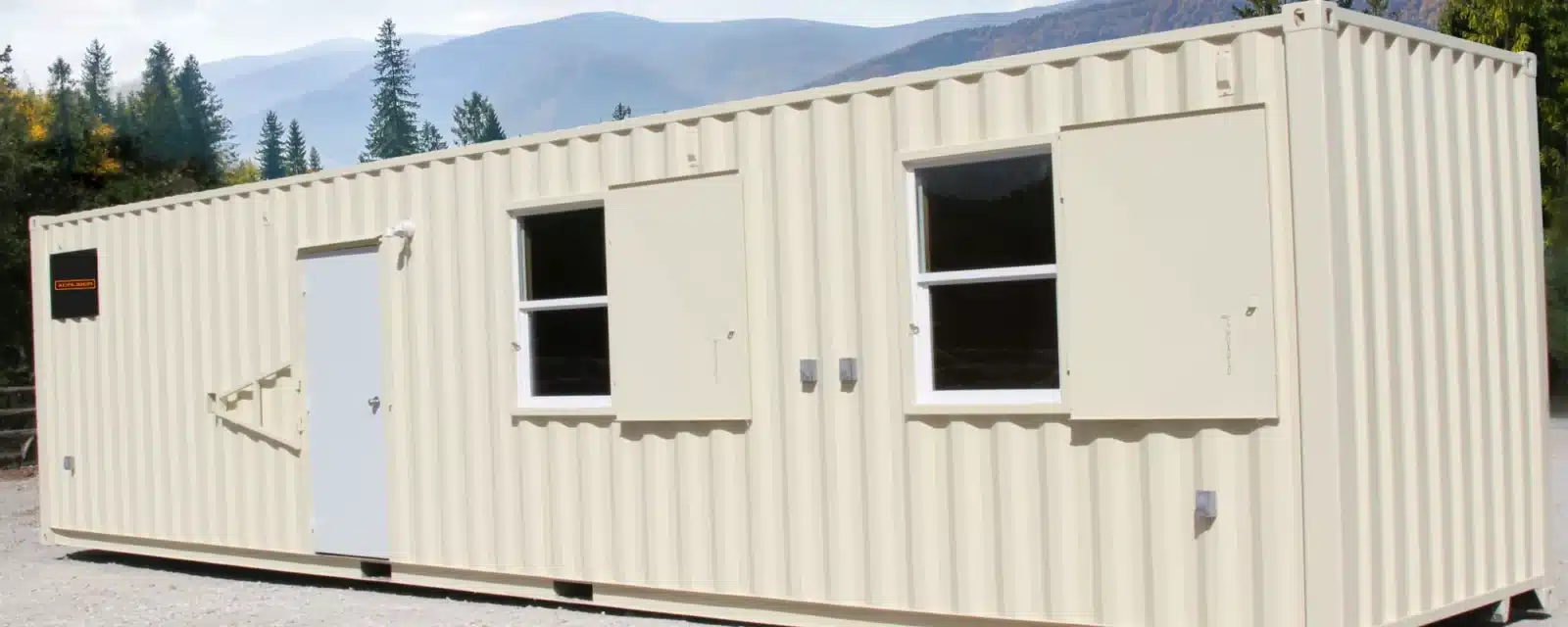 The Retreat model comes in three sizes:
It's the perfect size and option for a weekend retreat or even a lakeside lot. Xcaliber container cabins come fully ready for use. All you have to do is add furniture and connect utilities.
The interior of the cabin features:
Vinyl flooring
Premium pine siding
Cedar trim
Full bathroom with a tankless water heater
A full kitchen, complete with appliances and hickory cabinets
36" x 48" windows with shutters
Heating and cooling system
The Retreat is the most versatile of Xcaliber cabins. With three size options, you can use this cabin for a solo retreat, a hunting cabin or a vacation home for the whole family.
40' Bunkhouse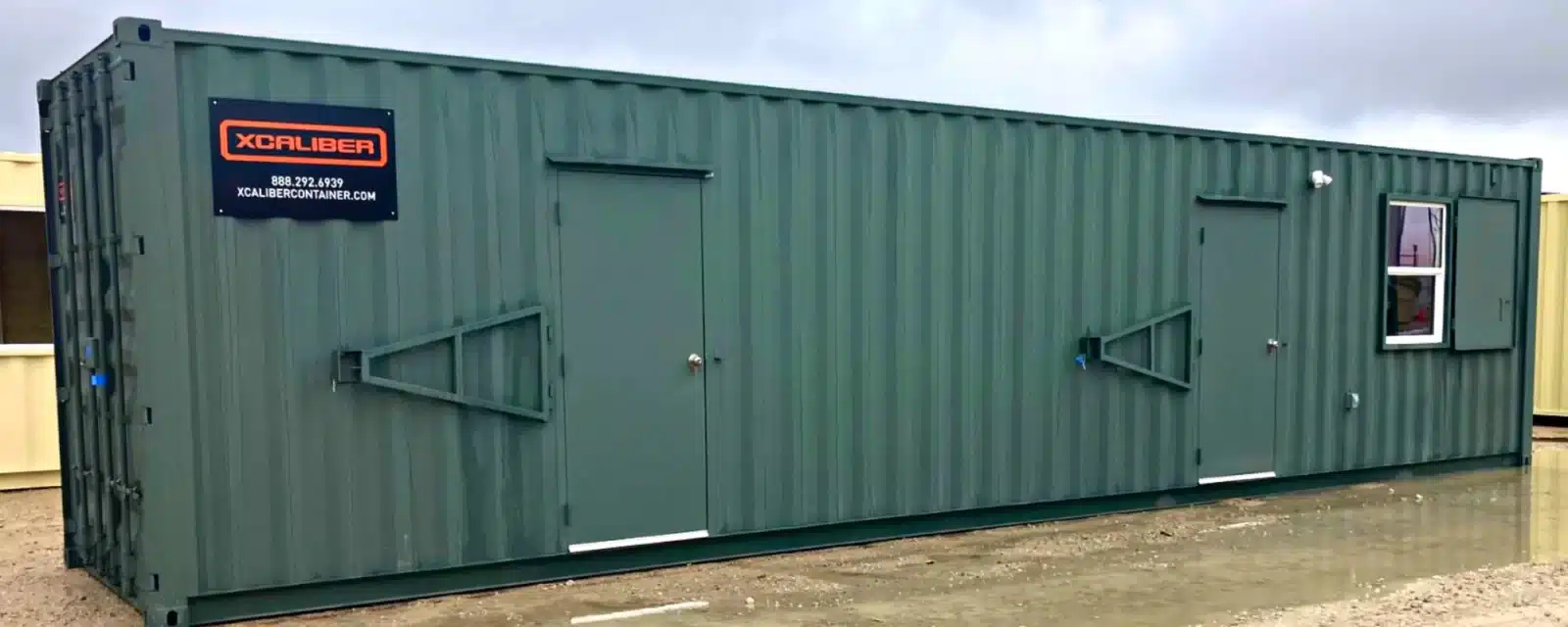 The Bunkhouse cabin can accommodate up to four people comfortably, making it a great option for a hunting retreat or family vacation home.
The Bunkhouse only comes in one size: 40 feet. Inside, the container home features:
A kitchen area
Cabinet space
Large sink
Full bathroom with tankless water heater
Like other units from Xcaliber, the Bunkhouse arrives as a turnkey product. Just move in your furniture and hook up utilities, and you're ready to start using it.
The cabin features two steel entrance doors and one 36" x 48" window. It also comes outfitted with two AC/heating units to keep the cabin comfortable year-round.
Hunting Cabins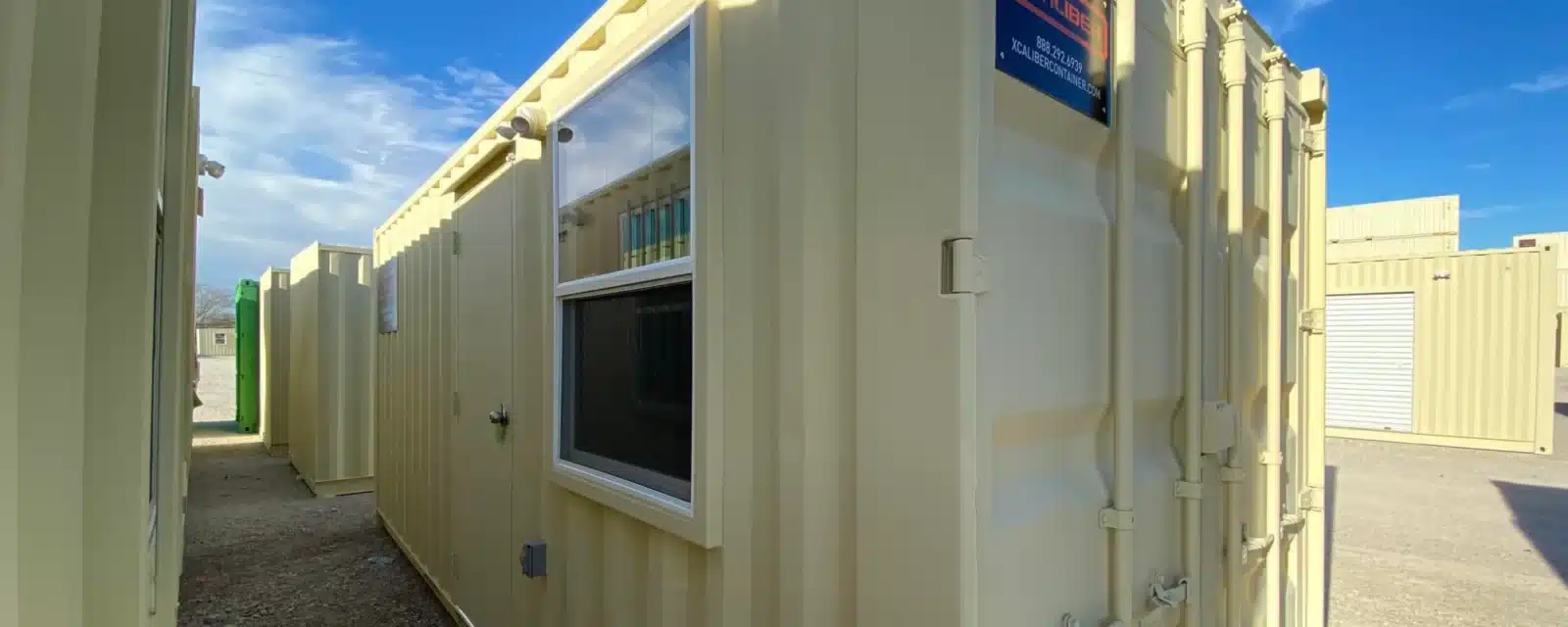 Are you an avid hunter who wants a comfortable, affordable cabin retreat? Xcaliber has you covered. The company has two size options for its Hunting Cabin:
Both models come equipped with a kitchenette and bath. They also feature:
AC/heating units
Electrical wiring with interior and exterior lighting
Full bathroom with shower, sink, toilet and tankless water heater
Kitchenette with shaker cabinets, stainless steel sink and Formica countertops
36" x 48" windows
The cabin provides a comfortable place to relax and sleep while on hunting trips. The open living area has more than ample space for beds and seating.
Backyard Office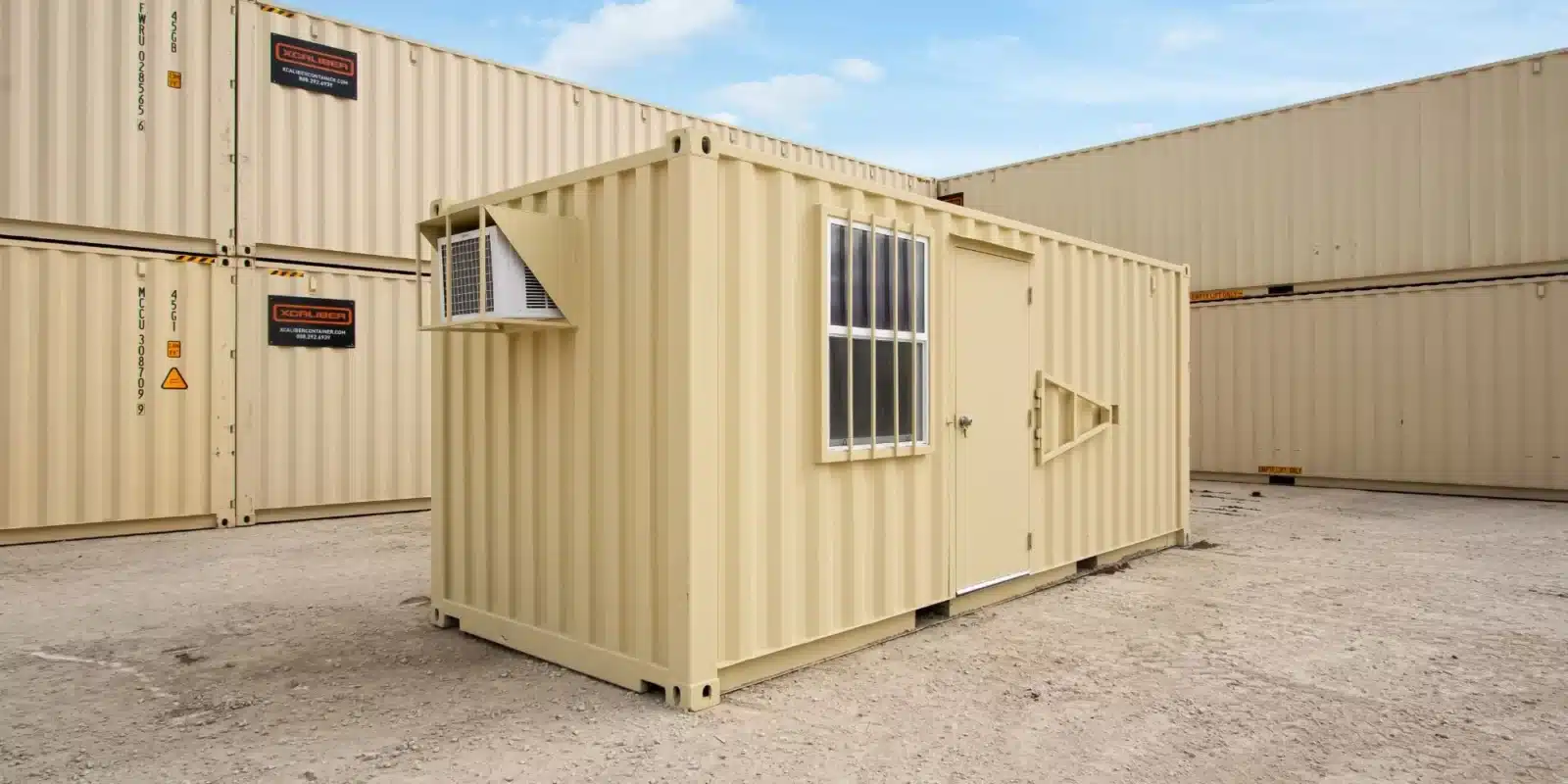 If you're looking for a container-style backyard office, Xcaliber offers two mobile office options:
Both models have simple layouts and interiors, which allows you to fully customize the space. They include:
50-AMP generator inlet
AC/heating units
Smart interior wall siding
100-AMP electric package with outlets and lighting (interior and exterior)
Xcaliber also has a number of add-ons that you can include with any of these units.
Add-Ons for Xcaliber Container Cabins
Xcaliber offers a number of add-ons for their cabins, including:
Top deck to give you some outdoor entertaining space
Foldable awning to provide shade
Custom paint
Game hoist for hunting cabins
Bunk beds in twin XL or full-size options
Security packages
Window bars
50-amp gen inlet
Spray foam undercoating
How Does the Xcaliber Purchase Process Work?
Buying a container cabin or office with Xcaliber is a simple and straightforward process. In fact, the process is as easy as adding a unit to your cart and checking out online. Of course, you can also call the company to place your order.
Once a work order has been approved, you will be required to pay 50% of the invoice amount. The remainder of the balance will be due just before delivery.
Production times can vary, depending on whether your container cabin has custom features or add-ons. However, it typically takes 4-16 weeks to produce a cabin.
All shipping containers from Xcaliber are delivered via truck and tilt-bed trailer.
All of the container cabins, offices and other structures from Xcaliber are backed by the following warranties:
Basic and Premium Refurbished: 1-year against leaks
Cabins and offices: 1-year warranty against leaks from steel walls and roof; 90-days for craftsmanship; 30-days for appliances
Rentals and Show Yards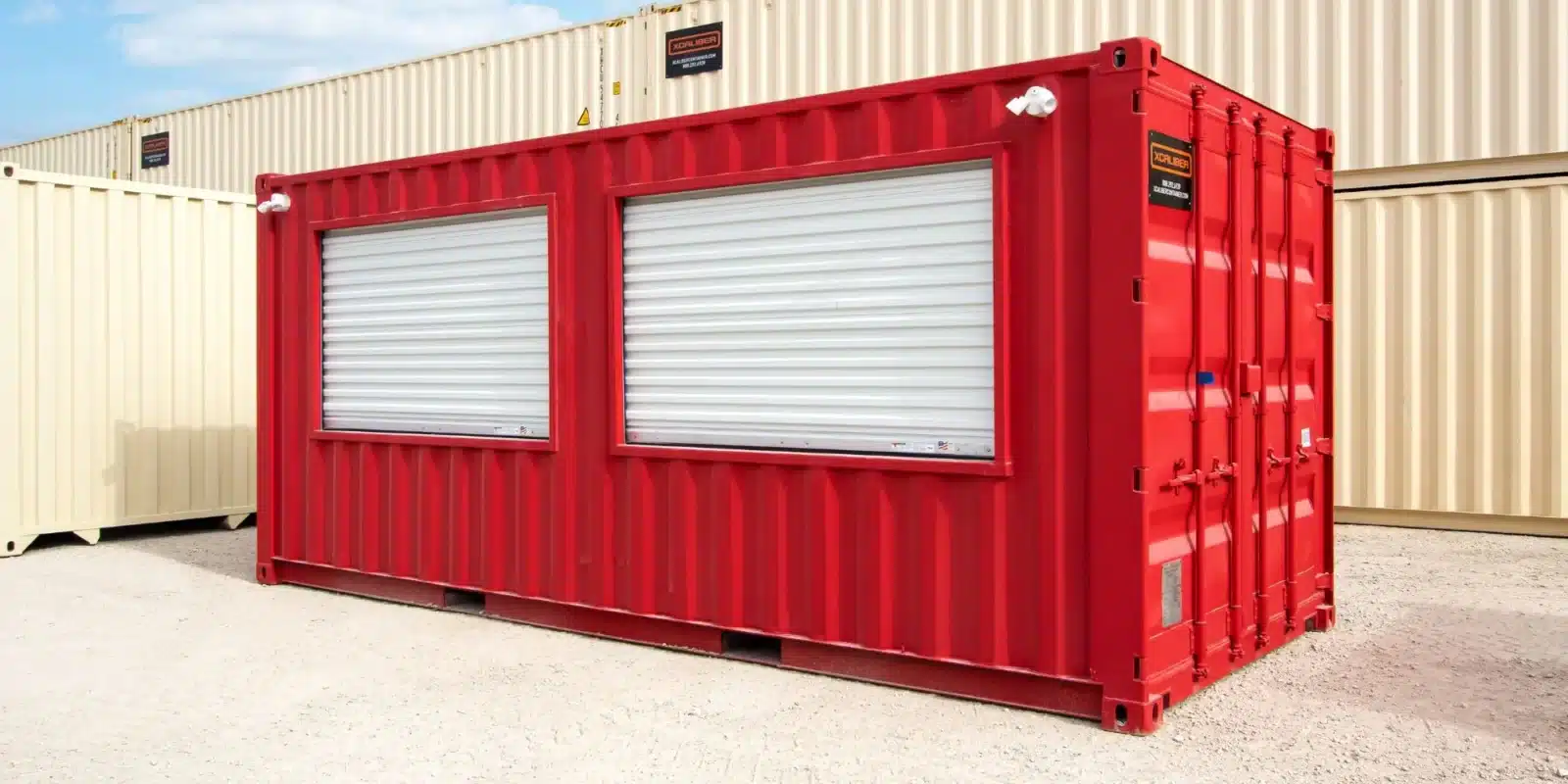 For those who are interested in Xcaliber containers but aren't quite ready to take the dive, the company offers rentals and show yards to give you a taste of their products.
Xcaliber's rental shipping containers:
Are 8' x 40'
Have 320 square feet of storage
However, you must commit to renting the unit for a minimum of three months.
If you want to view the company's shipping containers in person, you can visit one of its many show yards in Texas:
Abilene
Claude
Canyon
Fort Worth
Graham
Hamilton
Lubbock
Pecos
Midland
Quanah
Snyder
Santa Anna
Bowie
What About Costs?
The cost of your shipping container from Xcaliber will depend on a number of factors, most importantly, your location. Your location may also limit your selection of shipping containers.
For example, here's a comparison of starting prices for the 20' Hunting Cabin:
$30,175 for delivery to North Carolina
$22,965 for delivery to Dallas County in Texas
$32,800 for delivery to California
$31,750 for delivery to New York
If you're located in Texas, your costs will naturally be lower because the shipping distance is much shorter.
Still, Xcaliber offers an affordable option for anyone wanting a retreat, cabin, office or any other type of shipping container living space.
To get started visit https://www.xcalibercontainer.com/
Compare Metal Building Prices & Save Up To 33%