The Wander Asheville Meadows Metal & Glass House Rental
Wander Asheville Meadows is a picturesque metal and glass house that's been featured in GQ, CondeNast and Architectural Digest. Mountain views, stunning interior and exterior, walled windows and modern design features are integral to the space's notoriety.
over 27,000 kits delivered
Compare Kit Prices & Save Up To 33%
Let us help get you wholesale pricing on your metal kit.
Guests can rent the home from North Carolina Wander Rentals to enjoy the peace and quiet of the Blue Ridge mountains, nature-filled landscapes, rolling hills and mountain scenery that is strategically framed with every window and sliding glass door.
Stepping into the home is an experience in itself.
Metal & Glass House Interior
The Asheville Meadows from Wander Homes offers 1,662 square feet of fun. Inside, you'll find all of the creature comforts you crave but on a luxurious level.
This home features:
Two bedrooms
Two bathrooms
Laundry room
Spacious closets
Open living
Top-tier amenities are also included to make your stay unforgettable.
Ultra-fast Wi-Fi keeps you connected.
The hot tub lets you escape and relax in the great outdoors with breathtaking views.
Cooking basics, snacks and soft drinks.
Two workstations and smart home technology.
For remote workers, this house is perfect.
The workstations even have a 4K camera, high-quality microphone and a luxury ergonomic desk chair to help you conduct meetings.
Plus, Wander gives you a Tesla Model 3 to use during your stay – included in the price. An EV charger ensures that you're charged up and ready to go.
The home itself is a work of art, with accordion doors that open up to the outdoors. A wraparound patio space allows you to sit outdoors and take in the view whenever you want. The home is nestled in the mountains, allowing for complete privacy.
The open living space features large picture windows, a comfortable couch and reclining chairs perched right in front of the breathtaking views outdoors. There's even a wood-burning fireplace in the living room and dining space for a cozy ambiance.
The modern kitchen has a large center island with a built-in cooktop, so you can cook and entertain. The kitchen is fully stocked with everything you need to cook. A Nespresso coffee maker will keep you fueled in the morning as you gaze out the windows at the view outdoors.
Each bedroom has a luxurious workstation, comfortable bed, television and sliding glass door that gives access to the patio.
There's even a fully stocked laundry room available for use during your stay.
The beautifully landscaped yard and private outdoor space make this home a true getaway from the hustle and bustle of life.
3-Day Minimum Stay Periods
All Wander homes, including the Asheville Meadows, have a 3-night minimum stay requirement. One or two-night bookings are only accepted if there's a gap in between bookings.
Wander offers free cancellation if you have more than 14 days until your check-in date. You can also move your stay or get credit for the full value of your trip that you can put toward a future stay.
Creature Comforts in the Stunning Blue Ridge Mountains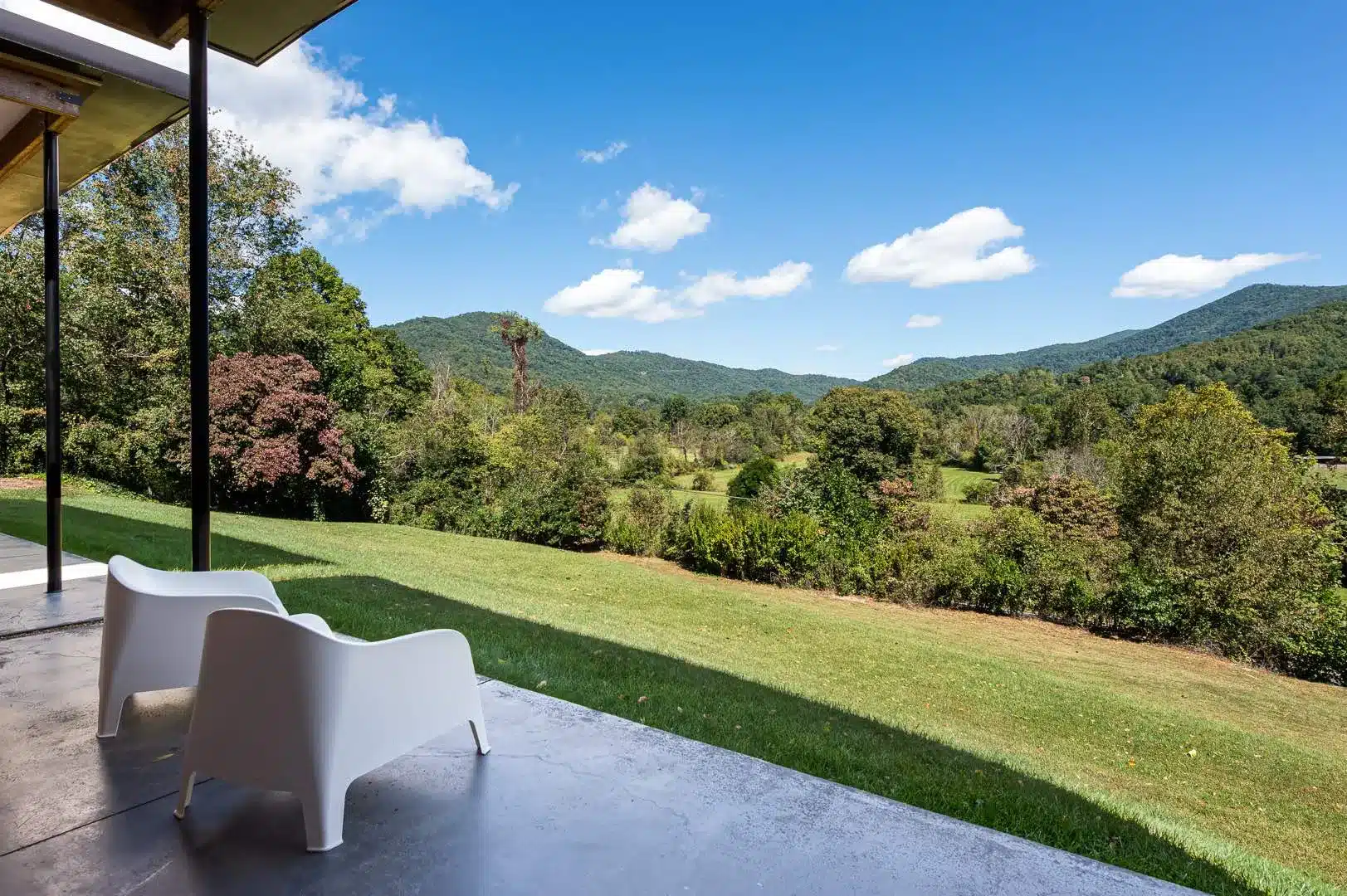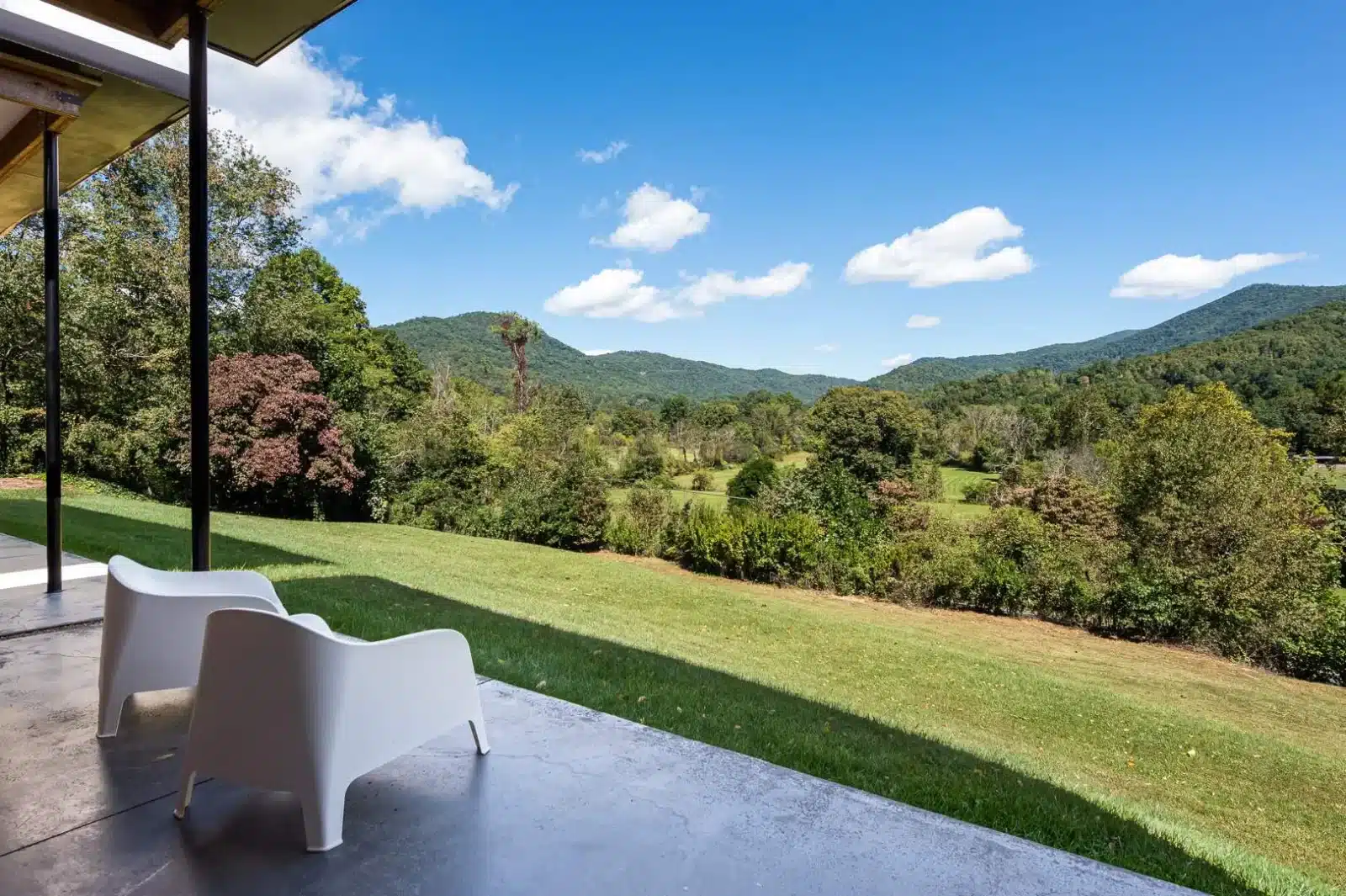 If you're looking for Asheville luxury home rentals, it doesn't get any better than the Asheville Meadows. This luxurious home offers every creature comfort you could ever want, all while being nestled in the mountains away from the city.
Stay connected with ultra-fast Wi-Fi and work remotely in complete luxury. When you need a change of scenery, step outside to explore all that Asheville and Western North Carolina have to offer.
Close to the Biltmore, Amazing Breweries and Upscale Dining Areas
North Carolina Wander Rentals may have chosen the home's location for its natural landscape and mountain views, but it's also strategically located near Asheville's:
Biltmore Estate: A mere 15-minute drive to the country's largest private home offering a view into the Vanderbilt family home with its 250 rooms and 8,000-acre estate.
Blue Ridge Parkway: Zoom through the Blue Ridge Parkway with the included Tesla and experience one of America's most famous drives. You can enter the parkway just five minutes from Wander Asheville Meadows.
Breweries: Asheville has more breweries per capita than anywhere in the US. Take a tour or drive to one of the area's many breweries.
Eateries: The area's eclectic atmosphere is also home to award-winning restaurants.
Western North Carolina still maintains its rural charm with urban areas, such as downtown Asheville. Explore everything the area has to offer, from great food to local attractions and the mystique of the Blue Ridge Mountains.
Click here to experience Wander Asheville Meadows for yourself.
Compare Metal Building Prices & Save Up To 33%