Modern Quonset Pool House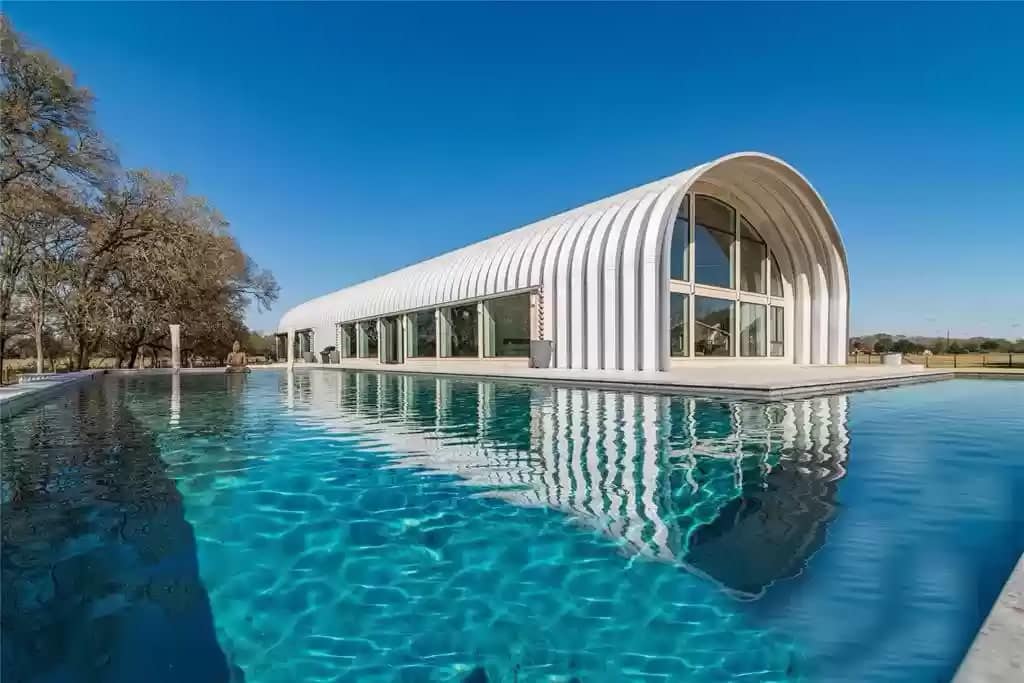 Situated on 62 acres near Texas A&M University sits a modern Quonset hut surrounded by a sparkling swimming pool. It's just one of many structures on the property, but it gets the most attention. The property is now up for grabs and is a great example of how a Quonset hut metal home can work on a larger scale for comfortable living and entertaining.
over 27,000 kits delivered
Compare Kit Prices & Save Up To 33%
Let us help get you wholesale pricing on your metal kit.
A Sprawling Metal Pool House
The Texas Quonset hut pool house was constructed in 2017 and served as the main residence of the owners who commissioned its building.
Along with being energy efficient, this home is ideal for entertaining and has plenty of space for guests. The tile-covered patio and outdoor entertaining area allow owners to host guests for an evening.
It's impressively spacious, too, sitting at 5,200 square feet. The home has just one bedroom and 1.5 bathrooms.
The spacious curved kitchen features a mixture of gray and beige stone and wood elements to create an earthy, organic feel. These colors are found throughout the home along with large windows that really marries the indoors to the outdoors.
The living and dining areas are open and roomy.
The far end of the Quonset hut features a windowed end and a large fireplace that separates the two areas.
On the other side of the fireplace is a more formal sitting area as well as four dining tables.
The towering windowed wall gives you a breathtaking view of the surrounding landscape.
The entertaining and lounge area features a wet bar, wine chiller and beverage chiller. Beyond the wet bar area is a cooking space that features a refrigerator, stove, sink and plenty of counter space. The cooking area sits behind a half wall and is hidden from view from the rest of the lounge space. A breakfast nook sits adjacent to the kitchen.
The interior boasts some advanced features, like a central vacuum system and an adjustable LED lighting system with more than 17,000 lights.
Some areas of the home have industrial elements, like the corrugated metal on the ceiling. But these areas are softened by the wood and earthy elements found elsewhere in the home.
The bedroom is surrounded by a mezzanine area above. Wooden doors provide privacy in an otherwise open space. The bedroom also has plenty of seating, allowing it to double as a lounge area.
The spacious bathroom features windowed walls that allow you to enjoy views of nature while bathing. Because the home sits on 62 acres, privacy isn't a concern.
In addition, the unconventional layout of the bathroom provides more space for dressing and getting ready.
A large walk-in shower stands at the bathroom's center, with a circular stone soaking tub adjacent to the shower. Above the soaking tub is a stunning chandelier.
There's more lounge space in the mezzanine area and impressive views of the landscape below. This area provides plenty of additional space as well as areas for storage that's above and out of sight.
Outdoors, the 9-foot-deep pool wraps around most of the home, giving you a nice place to cool off from the Texas heat.
One of Many Structures on This Texas Property
The property also includes multiple outbuildings for feed, storage and livestock. In addition, there's a foreman's quarters ranch with a concrete driveway, pastures, a windmill, two water wells, a pond and a propane tank.
An additional 4,000 square foot Quonset hut barn is onsite, which has a tool room, feed room, washroom and equipment area. That area provides plenty of space for working.
This impressive property was built with the intention of entertaining lots of guests. And it certainly serves that purpose. The foreman's quarters ranch is a more traditional style home, and it's used to house guests who stay for a while.
Although the property is very private and tranquil, it's conveniently located near the cities of Bryan and College Station. The owners made great use of the Quonset hut design to create living and working spaces that are both spacious and energy-efficient. In addition, because these structures are made of metal, they're virtually maintenance-free.
Compare Prices & Save Up To 33%