9 Off-Grid Houses Built With Metal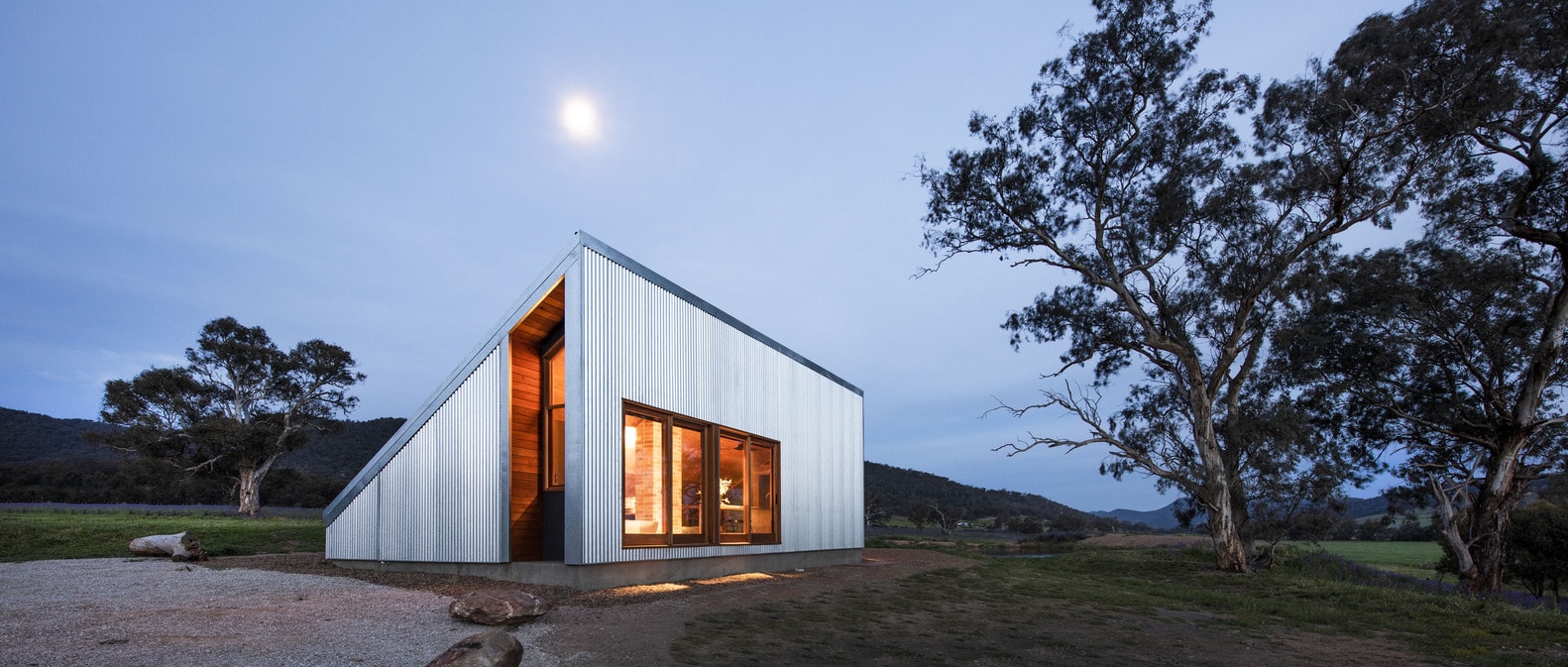 If you want to reduce your dependency on the electrical grid and lead a more self-contained life, building an off-grid house is one way to do it.
A metal off-grid home offers additional benefits that go beyond disconnecting from the energy grid. The strength and durability of metal add to your ability to live self-sufficiently.
In this post, we will share some of the most amazing off-grid houses built with metal. But first, let's explain briefly what an off-grid home is, and why metal is such a great building material for one.
What Are Off-Grid Homes?
An off-grid house is simply one that does not need to rely on public utilities.
It can include the option to do so, but it must be able to generate and rely on its own power. Additionally, it will need its own source of water.
Instead of drawing power from the grid, an off-grid home uses solar panels or wind turbines to collect energy. A generator on-site could provide supplemental power as needed as well.
In lieu of city water, an off-grid house can collect water using a well or catchment system.
Rather than dispose of waste through a city sewage line, an off-grid home uses its own septic system.
Since an off-grid home will not be hooked up to cable or telephone lines, you will need satellite internet or a data plan on your cell phone.
Why Choose Metal for an Off-Grid Housing?
Live anywhere. One of the reasons why people choose off-grid homes is because they desire the freedom to live anywhere, even in remote locations. Building a home out of metal is conducive to this purpose as well, since metal can withstand harsh weather and even earthquakes if the right construction methods are used. So, no matter what Mother Earth has to throw at you in your chosen location, an off-grid metal home can help you handle it.
Reduce your need for maintenance. Metal does not require much in the way of care, so you will spend less time and money on maintenance. You are also less likely to have to call on a professional. If your off-grid home is located somewhere far away from most services, this can be very important.
Build out of eco-friendly materials. Many people who are interested in off-the-grid living also care about the environment. When you choose metal as a building material for an off-grid home, you can shop for recycled materials for your project. If you ever demolish the house in the future, you can then recycle the metal again.
Your off-grid home will last. Metal homes can outlast those built out of wood. It you desire, you should be able to pass your metal home down to your heirs.
Our Favorite Off-the-Grid Homes Built With Metal
Now that you know more about off-grid homes and why metal makes a great building material for them, we can take a look at a few inspiring examples.
1. Gawthorne's Hut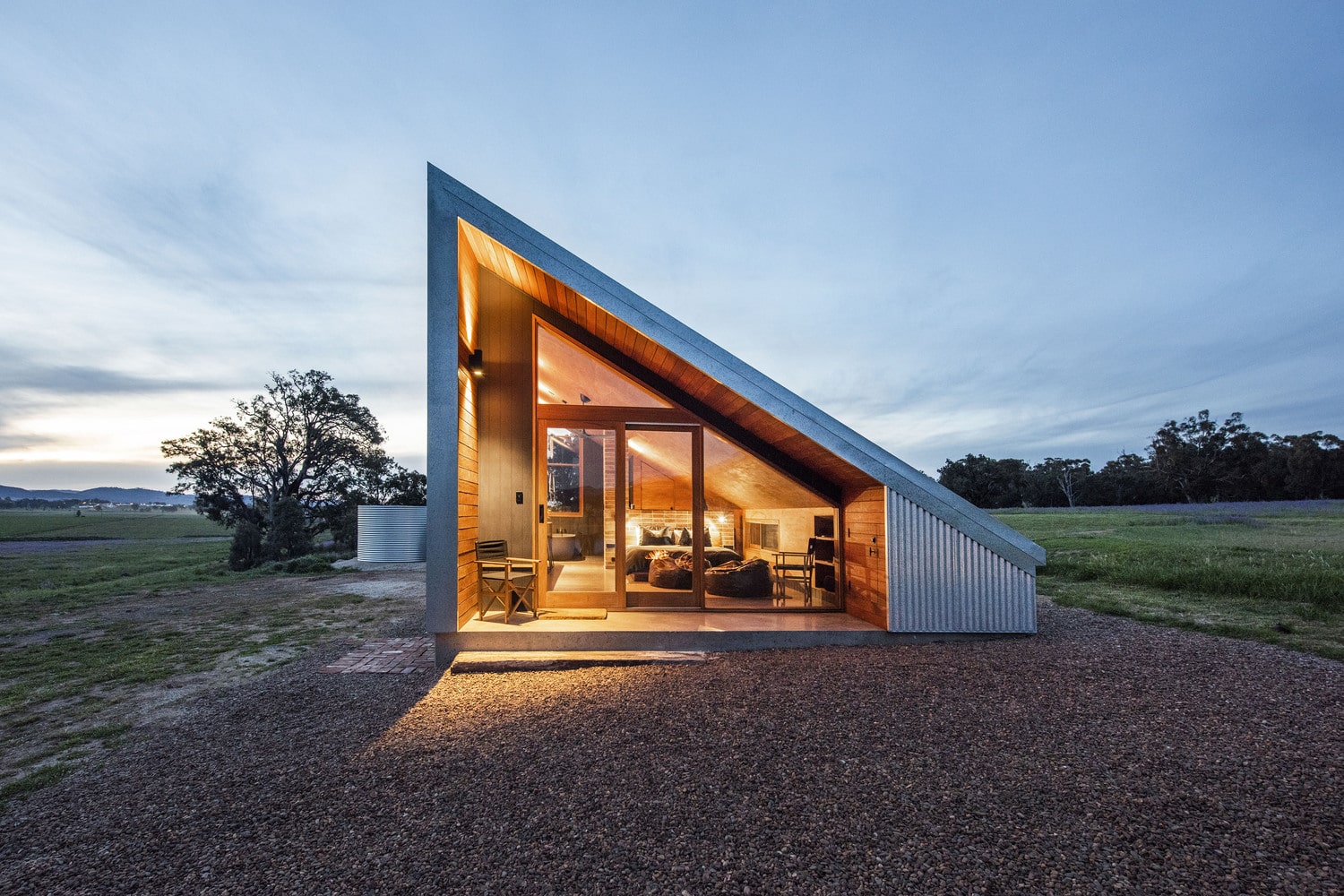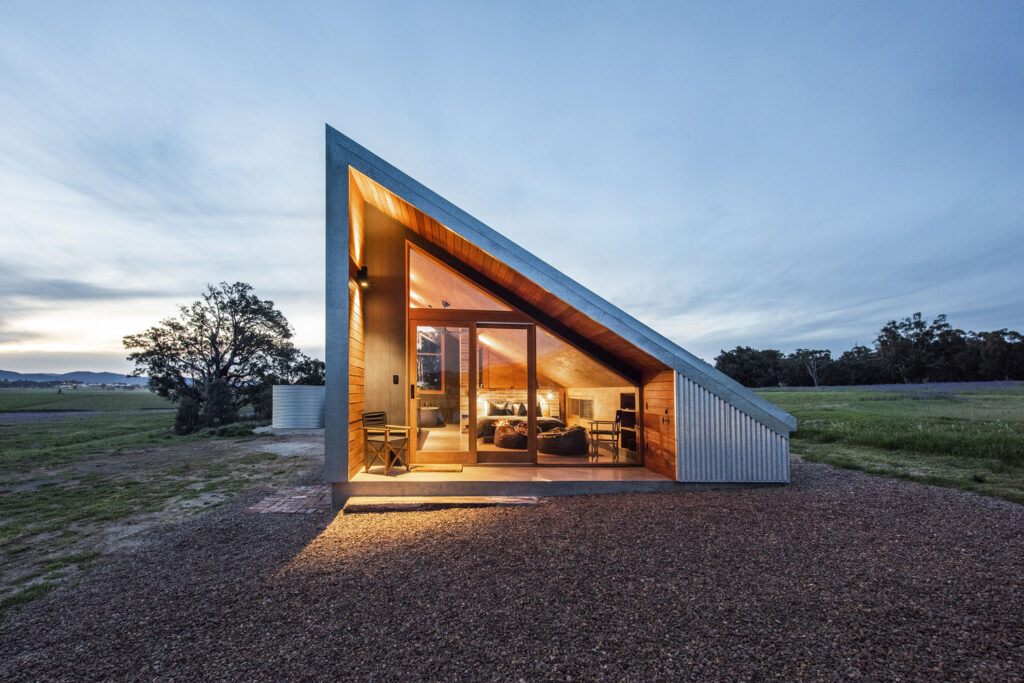 To start out we want to share the wonderful Gawthorne's Hut with you, a 430-square foot house that is in Mudgee, Australia. This is one of our all time favorite "tiny house" builds.
While the home's design is modern, architectural firm Caarch was mindful of its rural setting when choosing design elements.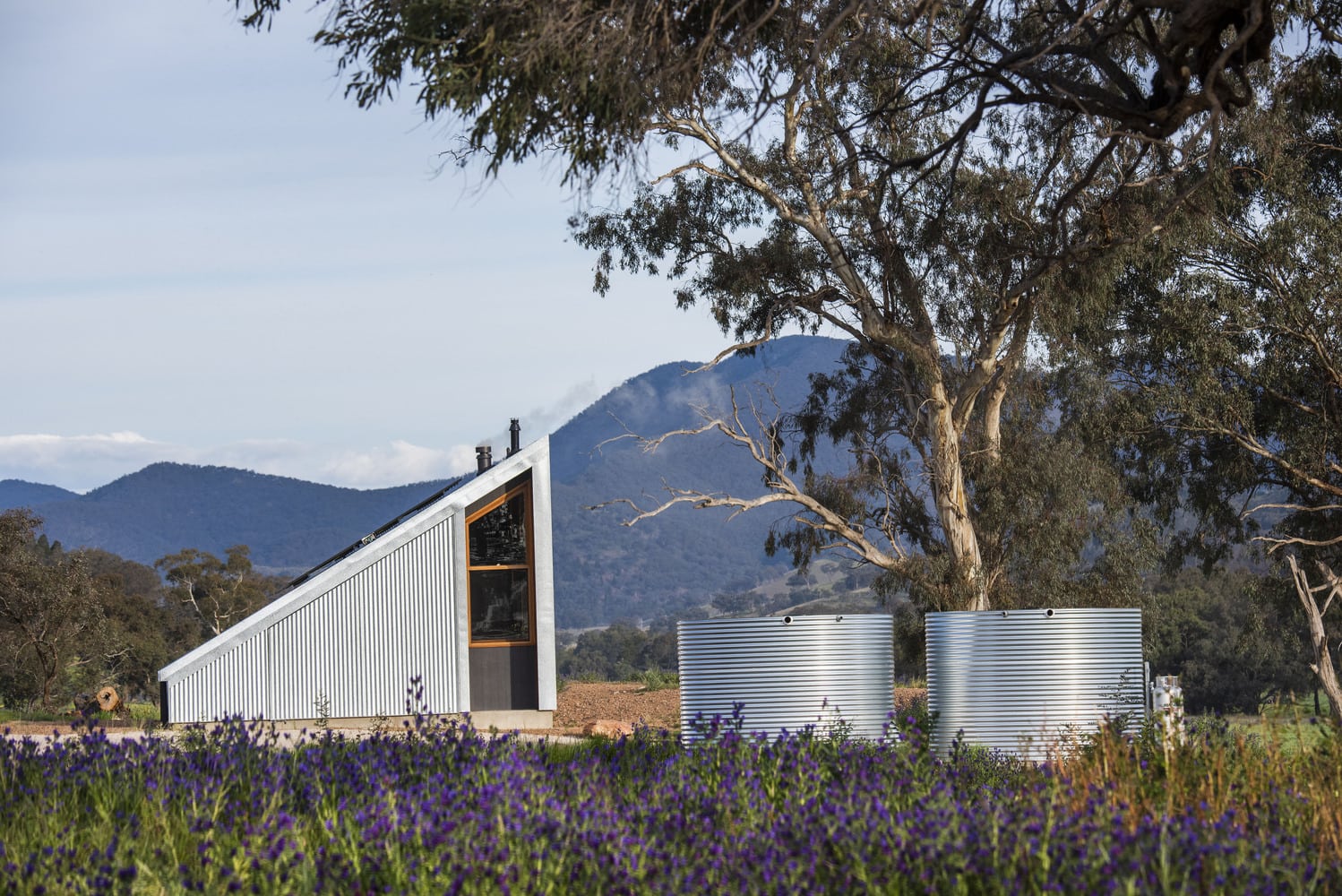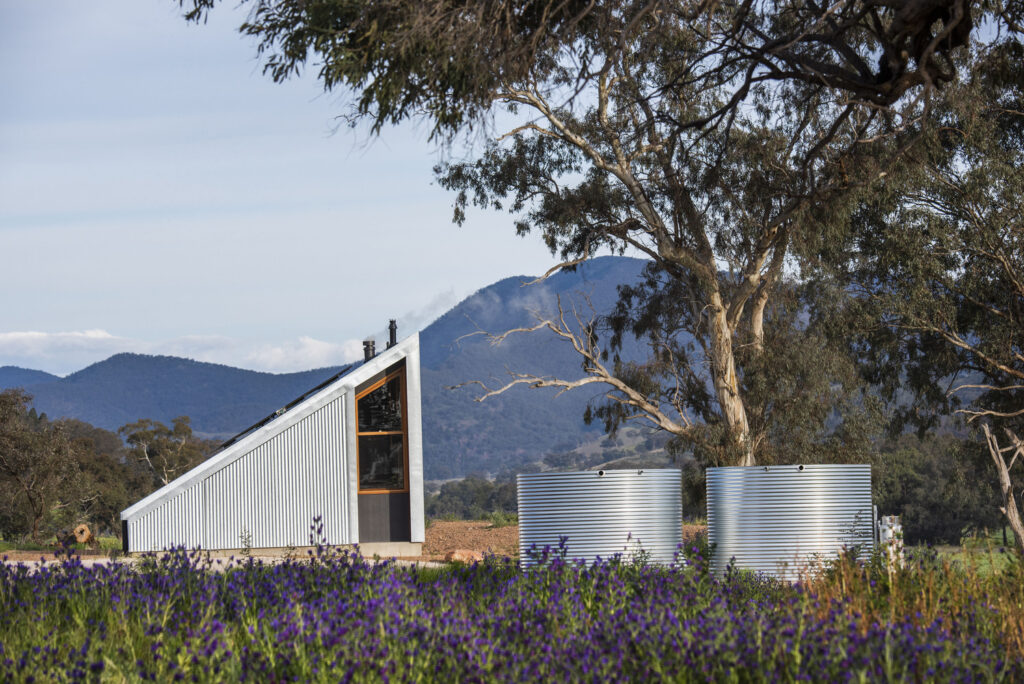 Off-grid features incorporated into the home include solar panels and storage for rain water. Additionally, the structure's entire design is energy-efficient, making use of passive solar shading and an optimized thermal mass.
While the metal siding and the distinctive wedge shape give the building a rather utilitarian look from the outside, the warm tones and beautiful grain of the angled wood ceiling makes for an inviting, homey interior space. The use of brick further adds textural interest and warmth to the interior.
2. Jesse Garlick's Sky House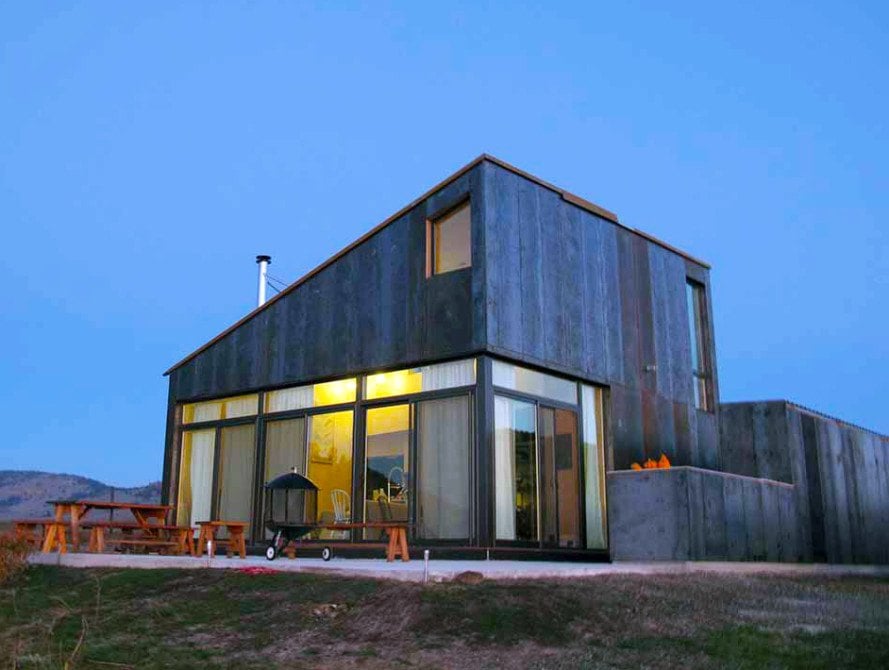 The Sky House's formal name is "White Rock Cabin." It measures 850 square feet, and is located in a remote part of Washington State.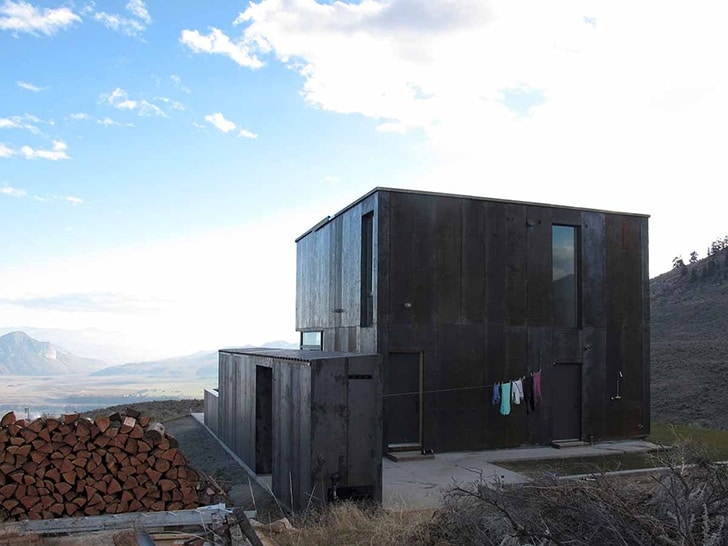 Astonishingly, it only took two and a half days to assemble this prefab structure on the site. Materials used for the exterior include steel and cross-laminated timber.
Large windows bring natural light into the minimalist home while allowing occupants to enjoy the breathtaking views from its hillside location.
3. Criehaven Cottage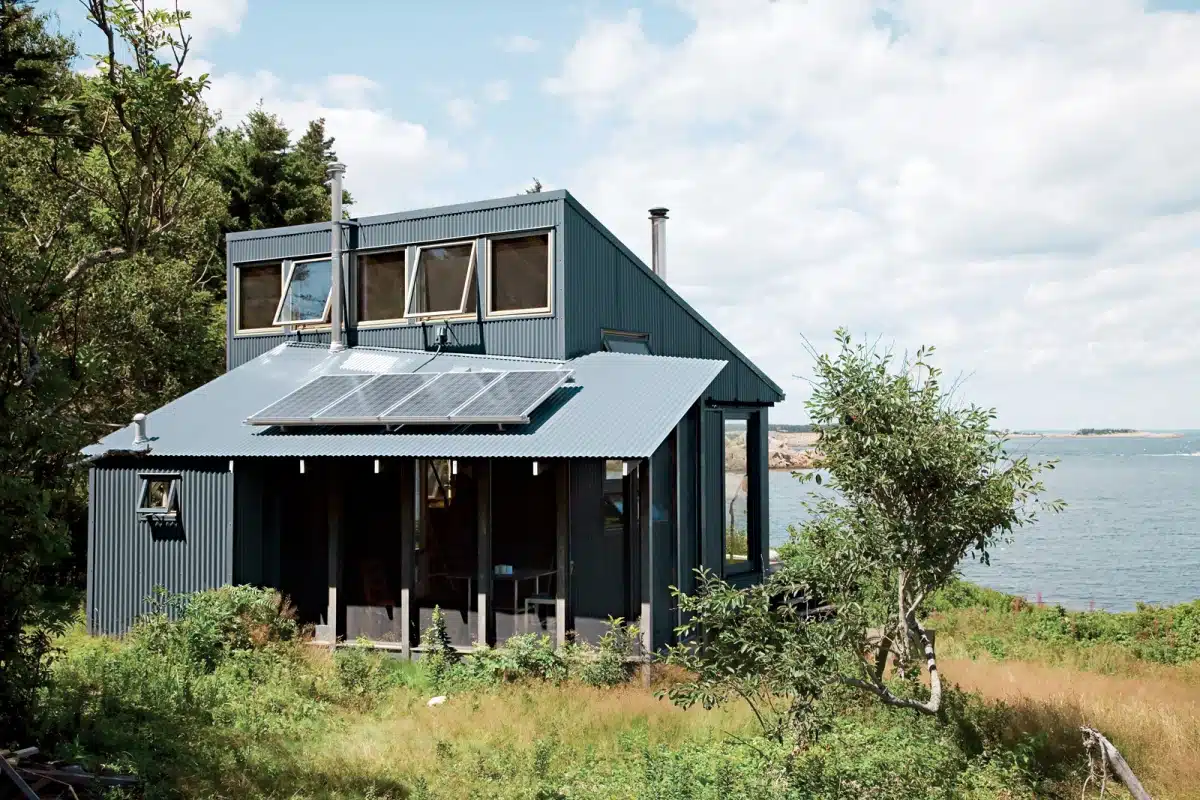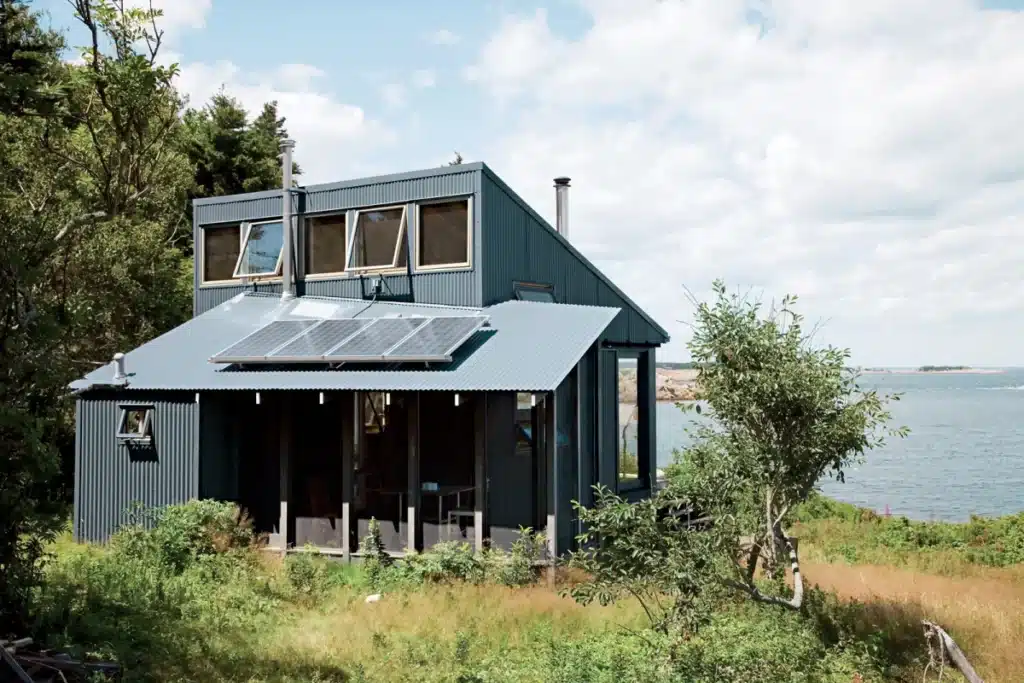 This cottage is named for its location on Criehaven island off the coast of Maine. A professor of journalism from Columbia University Graduate School commissioned it to serve as a retreat for writing during retirement. Its look is at once modern and cozy.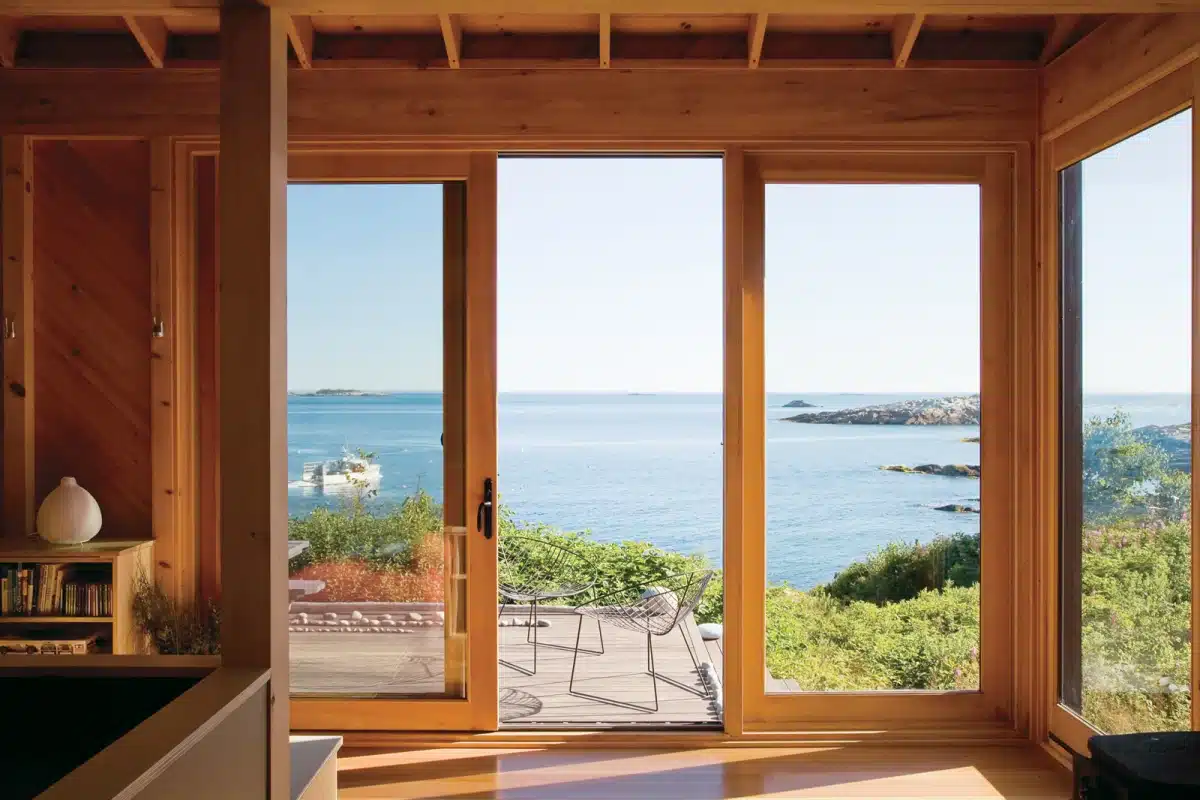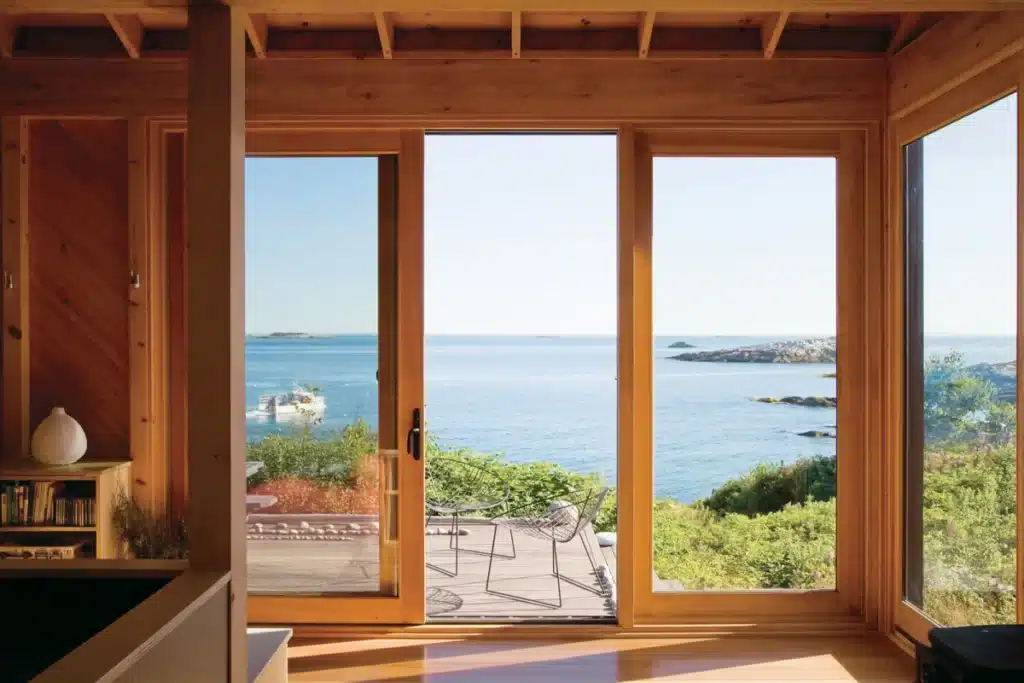 It was actually the journalist's daughter Alex who ended up coming up with the design for the house and who helped figure out how to make it function off the grid. Other homes in the area rely on generators, but this one features solar panels instead. The shape of the roof assists with rainwater collection.
Also of interest is the construction process itself. It was not easy to get the materials to the site. In the end, it was necessary to make use of some unexpected transport vehicles, including an amphibious military craft from the Vietnam era and a riding lawnmower! Moreover, the remote nature of the site meant that using power tools would have been a hassle—so most of the construction was performed using hand tools.
With such beautiful surroundings, large windows were a necessity. But the weather in this part of the world can be severe, so a solution was needed to protect the windows in case of inclement weather. That is why the building includes a set of corrugated steel panels. The owner can pull them into place to protect the windows.
4. Lost Whiskey Cabin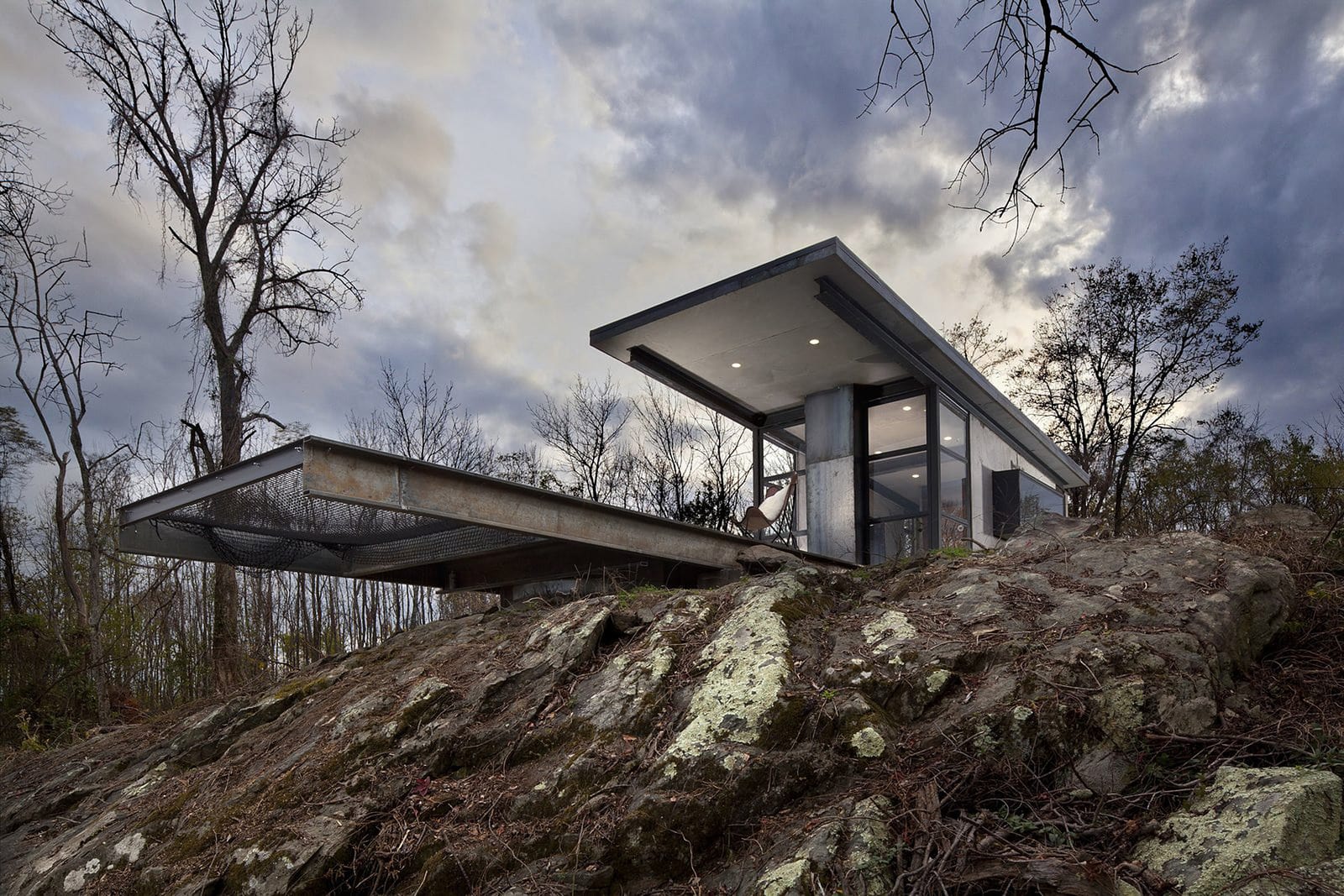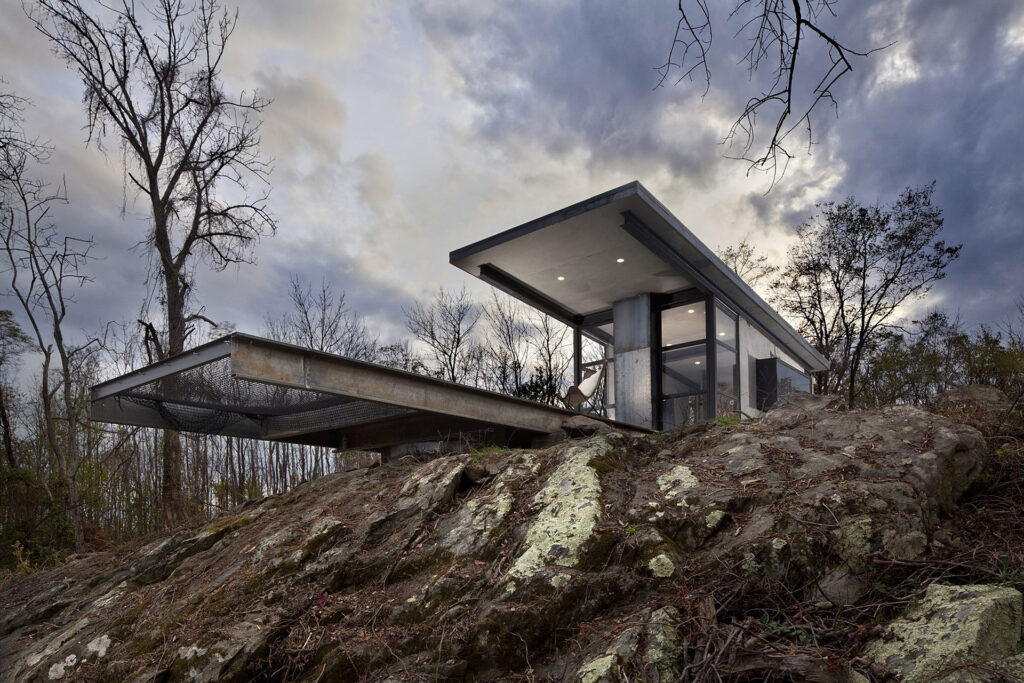 Next up, we have a gorgeous modern retreat located in Delaplane, Virginia. Describing the project, the architecture firm Greenspur writes, "The Lost Whiskey Project is about exploring our personal limits of slowing down and simplifying. It's about the value of time and experiences over information and accumulation.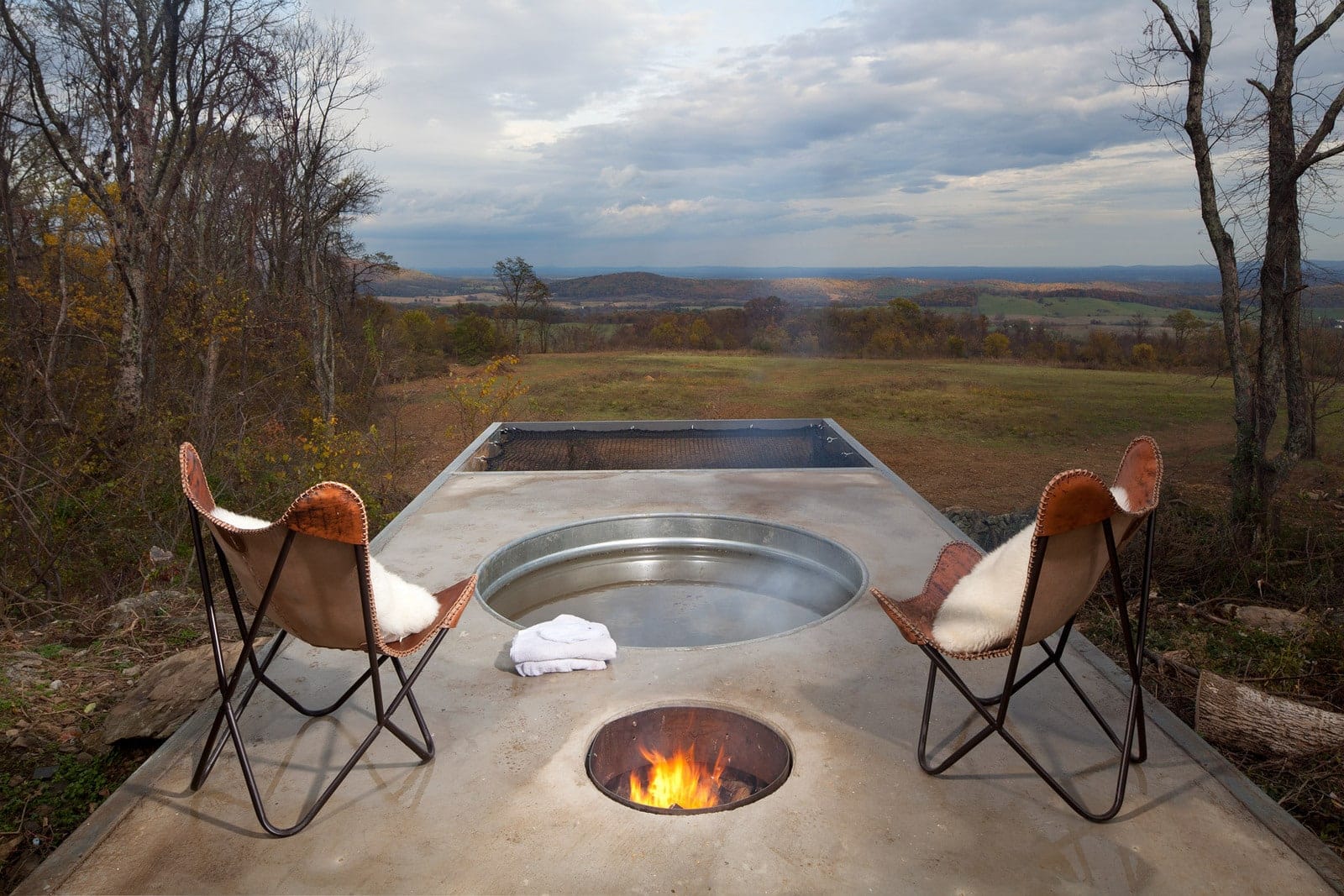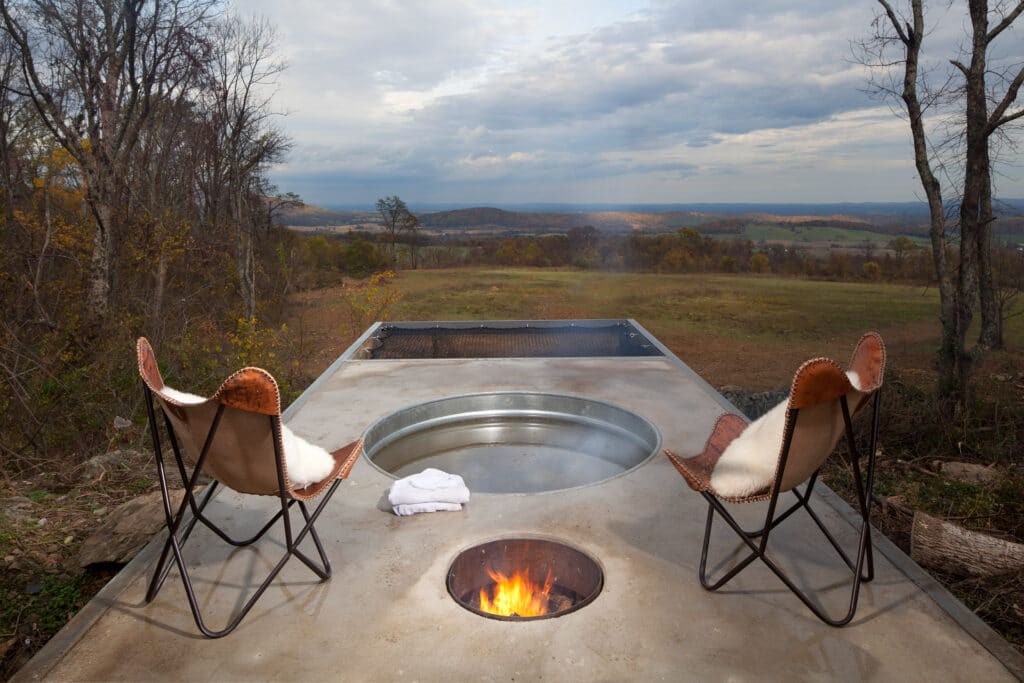 This 160 sq.ft. all concrete structure is one part Scandinavian minimalism and two part Virginia countryside."
Solar panels provide power to the home, and the bathroom features a compost toilet. There is also a fire-heated hot tub. It should take very little in the way of maintenance to keep the retreat in pristine condition.
The defining feature of the retreat is the long cantilever that extends dramatically over the edge of the hill. If desired, one can open up the glass at the front of the living space to connect indoors and outdoors. Indeed, in a way, the cantilever is a direct extension of the interior of the home out into the world.
So, when you think about it, you can see the cantilever almost as a functional metaphor. The home's design opens its interior out into the exterior—but that also mirrors its purpose, which is to connect the interior life of the individual back with the external world.
5. Folly by Malek Alqadi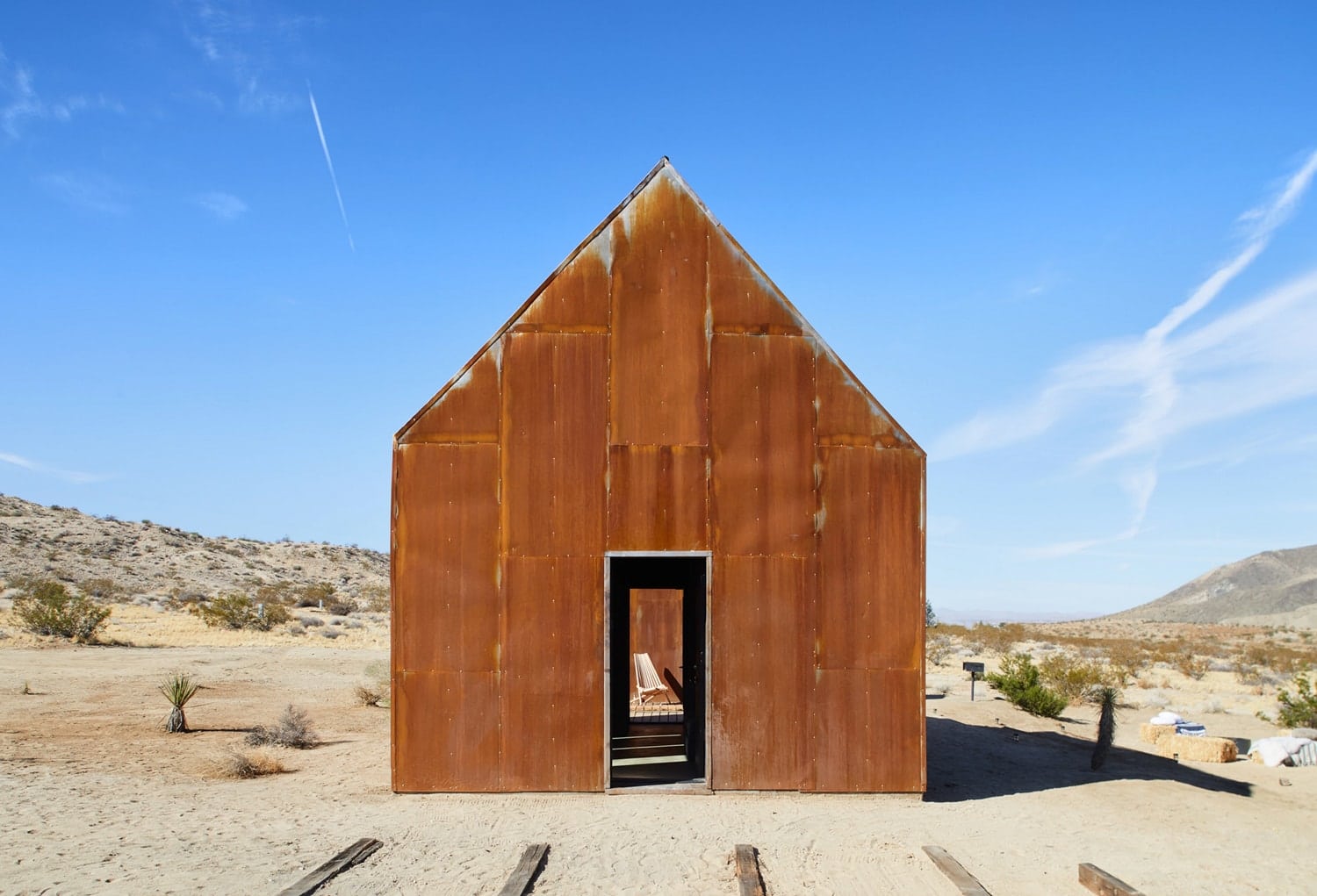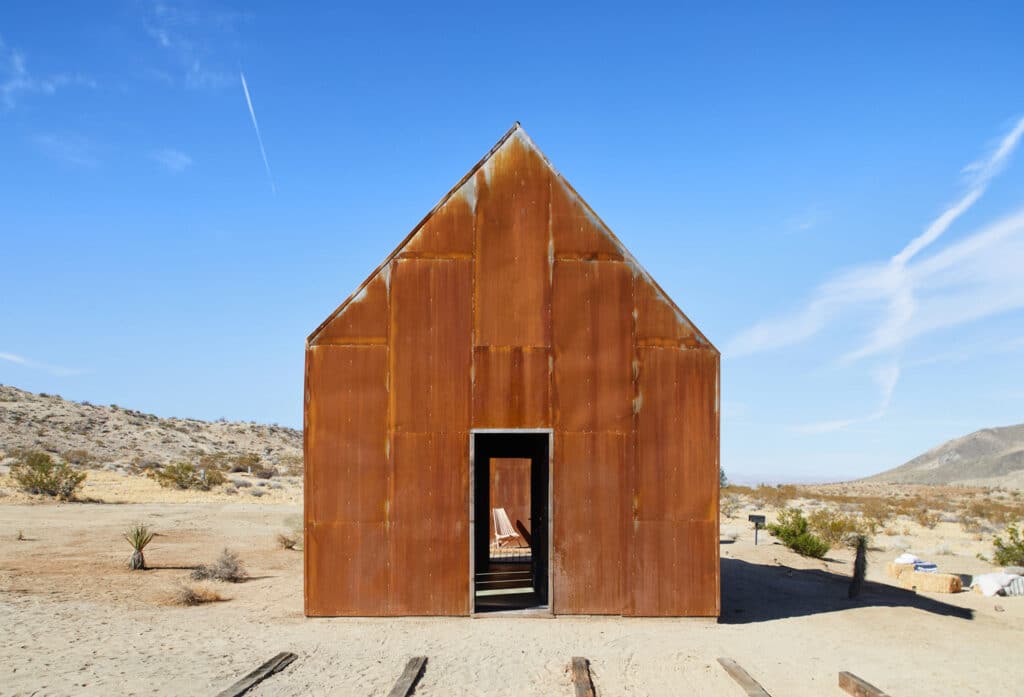 At a glance, you might think that these two red cabins in the lonely desert landscape have long sat abandoned. In truth, the Folly cabins by Malek Alqadi were constructed in 2018. They were simply made to look old, evoking the idea that the wind and sands of time had long been weathering their facades.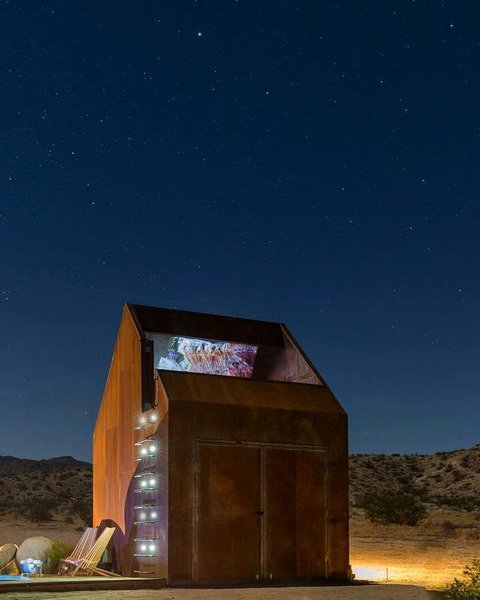 Actually, you will discover that their interiors are quite luxurious, providing a modern minimalist haven to restore body, mind and spirit.
Perhaps the most striking feature is the ability to open up part of the roof of one of the sheds directly across from the bed. Imagine being able to drift off under the stars, the gentle desert breezes lulling you to sleep.
6. Rural Ontario House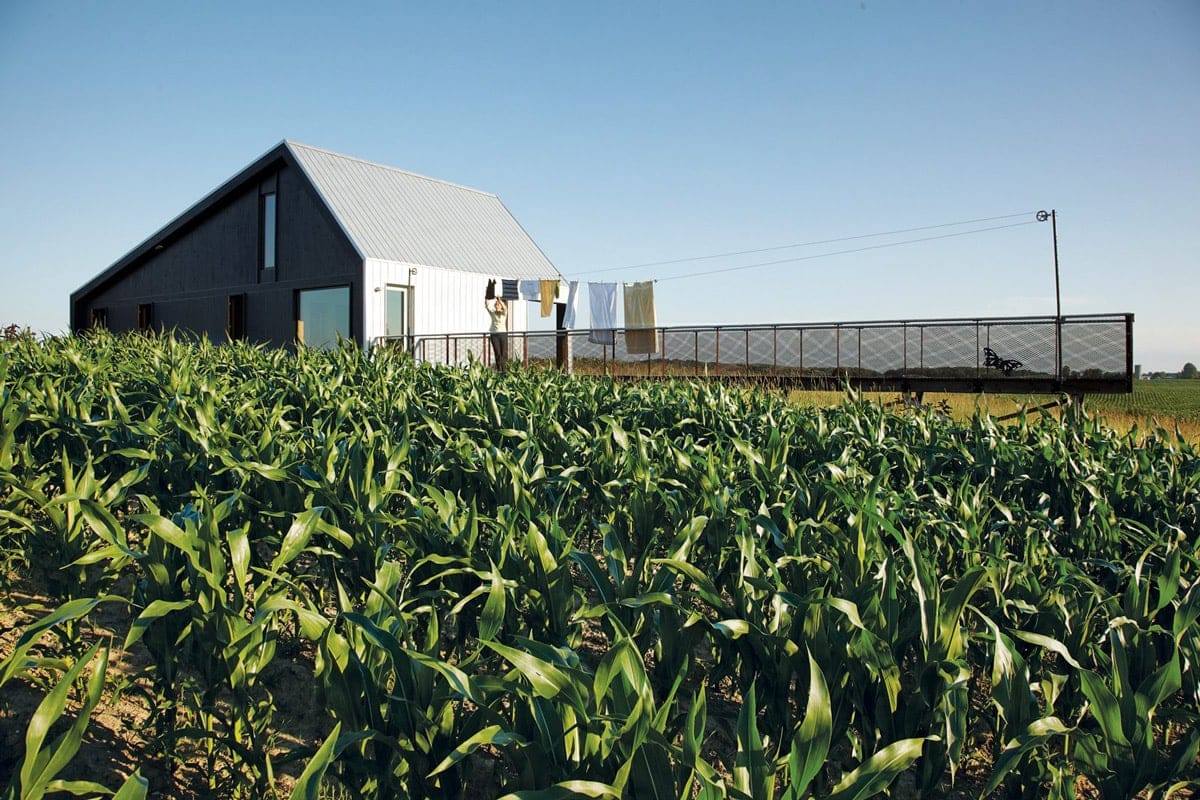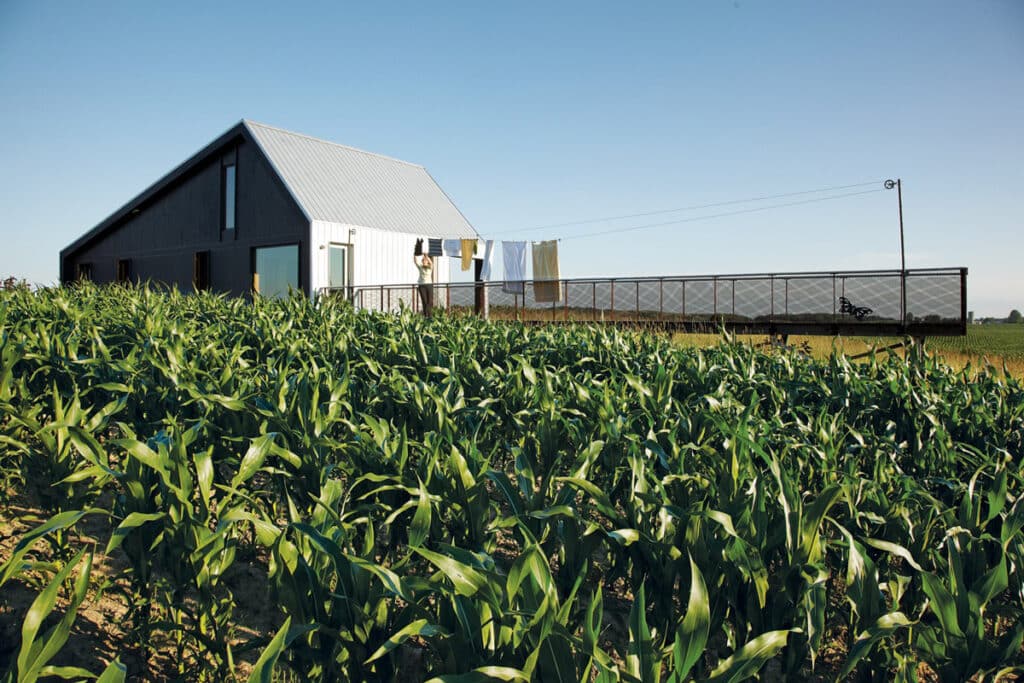 Maggie Treanor dreamed of a life without the hustle and bustle of the city. After discovering a rural part of Ontario that she loved, she decided to make it happen with an off-the-grid house.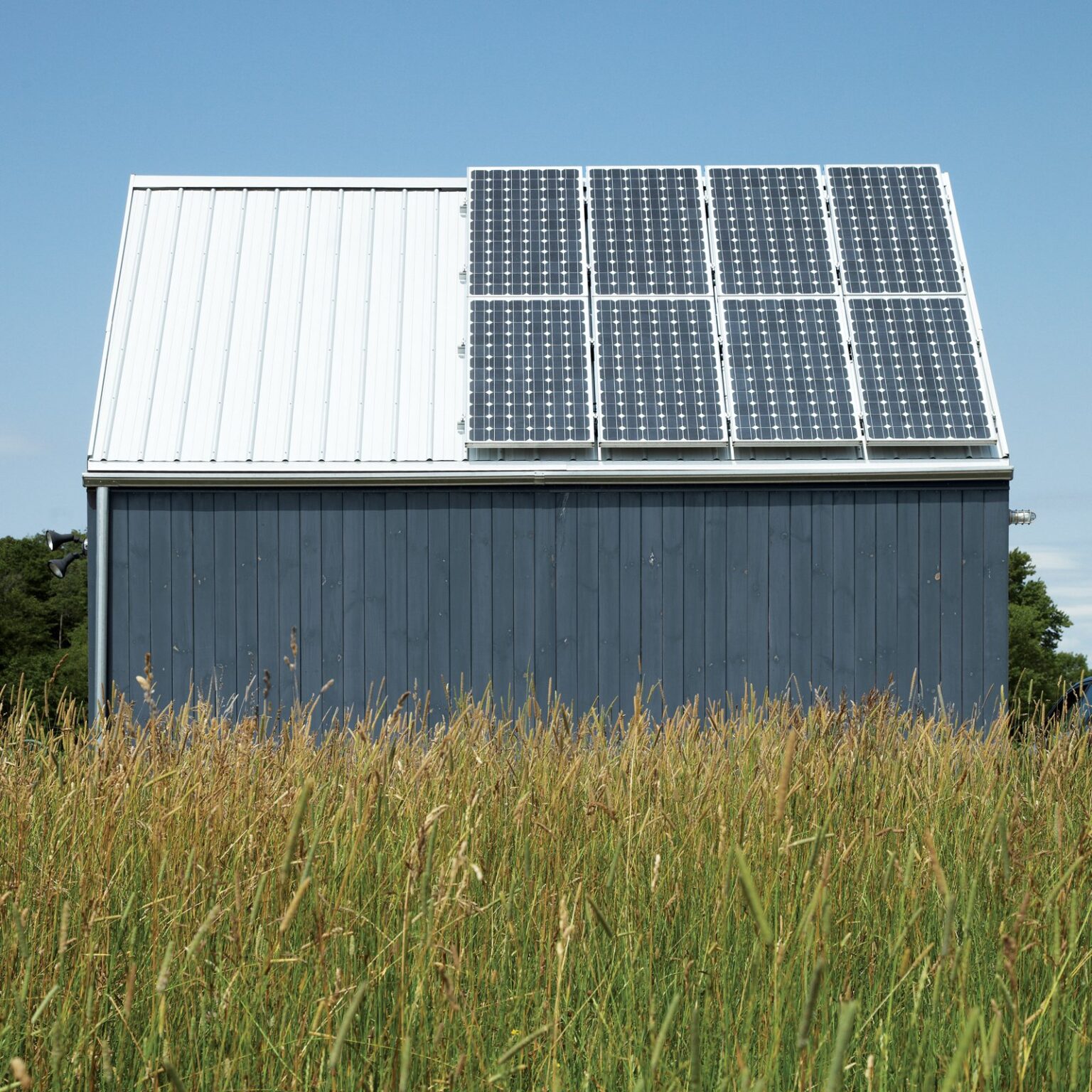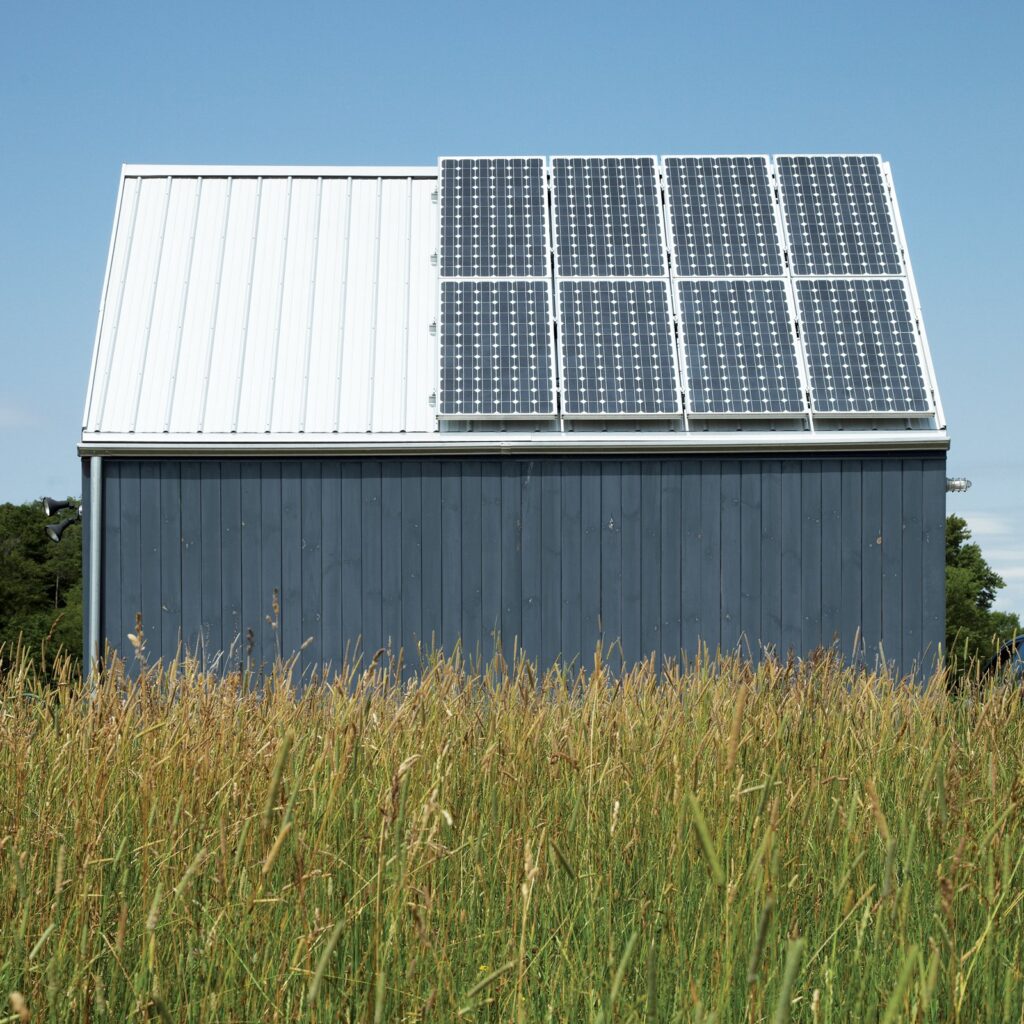 The clean lines of the metal roofing and siding give the structure a simple, modern look with a hint of traditional rural design. A wide awning makes for a sheltered porch where the owner can enjoy spending time with her dog.
Designer Lisa Moffitt said, "There's a presence to that place—it's vast, and constantly shifting. It was clear that this house should be an observation shed for the changing landscape beyond."
The home's source of power is a 1.4-kW solar array. Radiant heating is installed throughout the floors, powered by propane. By using high-R value insulation, an open design, and by angling the home efficiently at the site, Moffitt was able to minimize the energy required to keep the interior temperate in all seasons.
7. Off-Grid IT HOUSE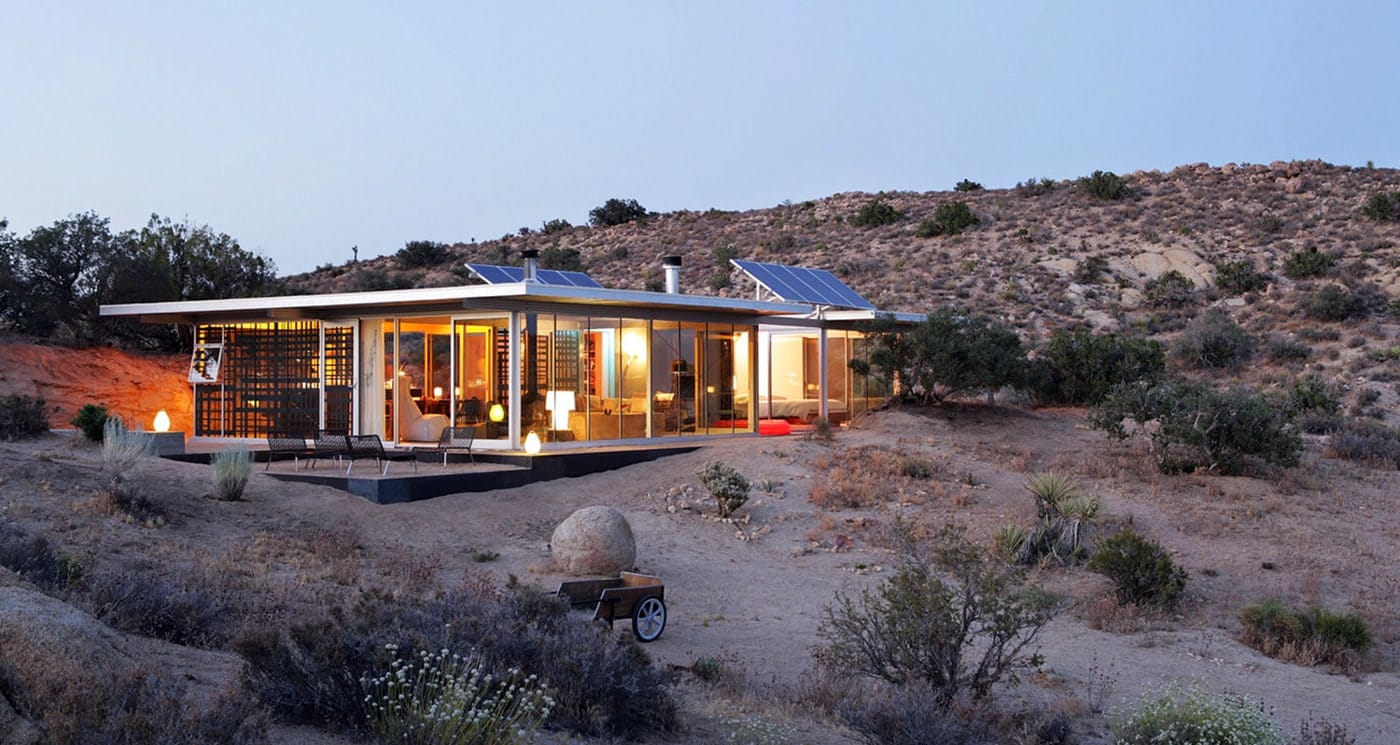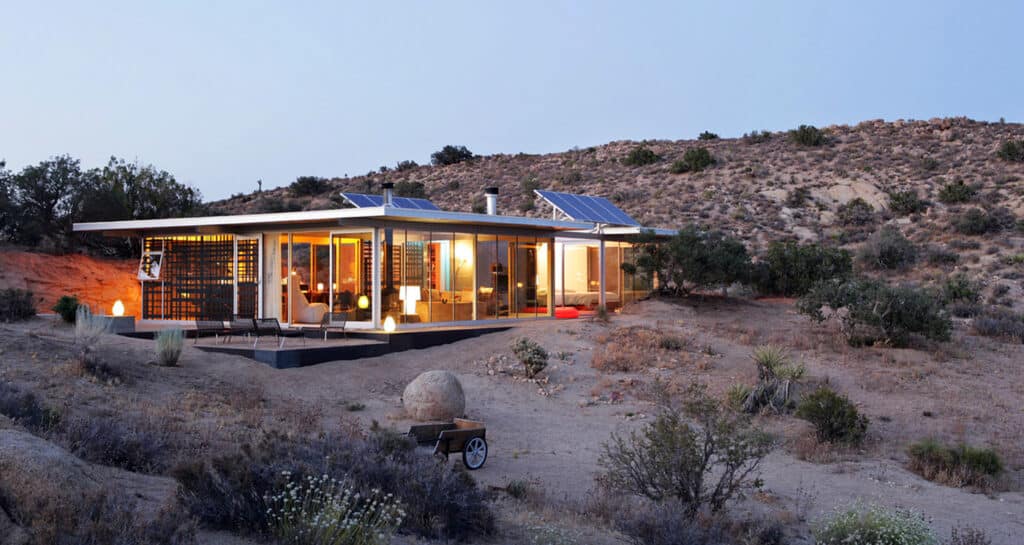 This beautiful off-grid house is the work of Taalman Architecture. Outside of the fact that it is located near Pioneertown, CA, we don't know much about this particular home. The architect did not include any descriptive information in their portfolio.
The home features walls of windows, making for a relatively unobstructed visual flow between indoors and outdoors. You can also clearly see the solar panels in the exterior shots.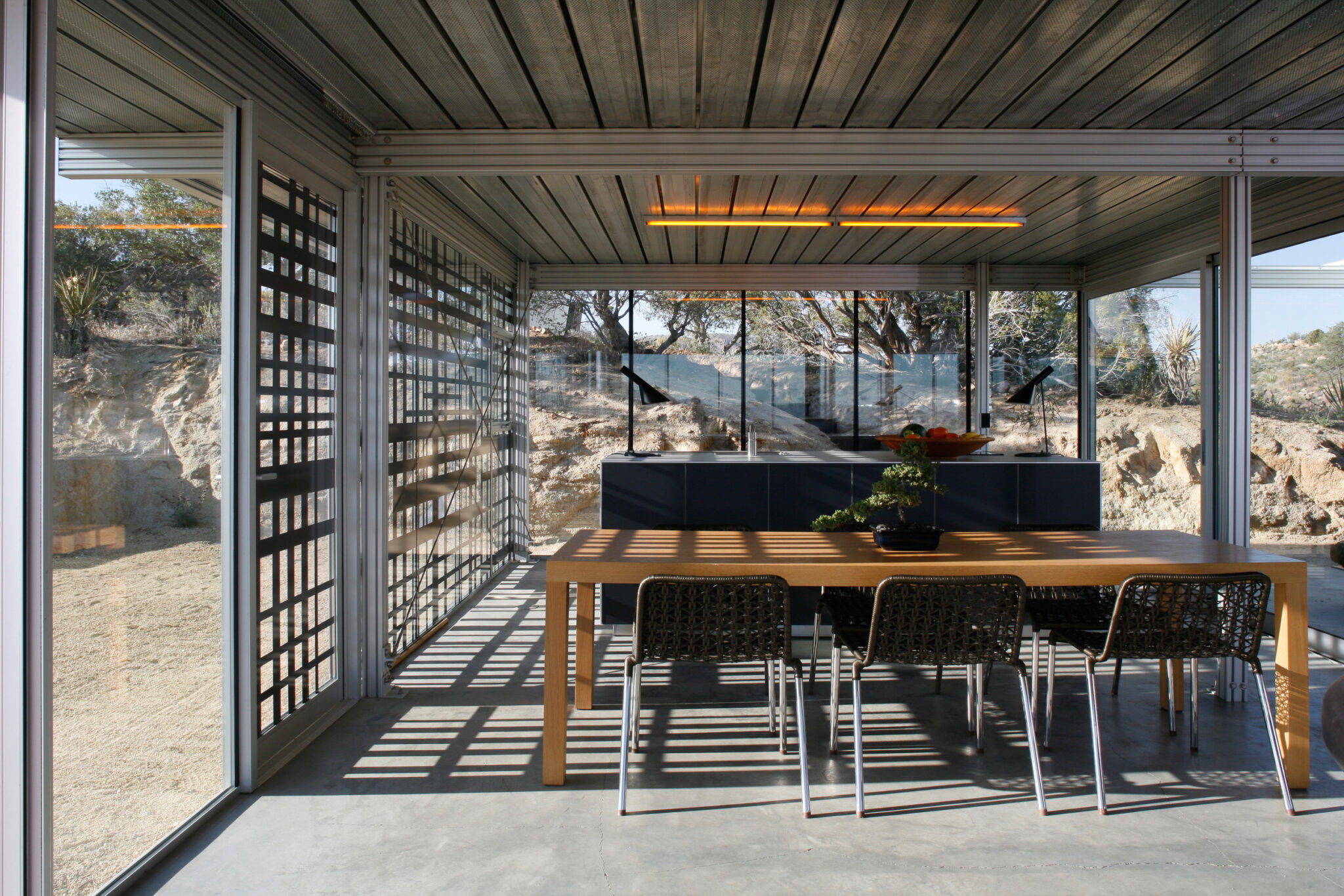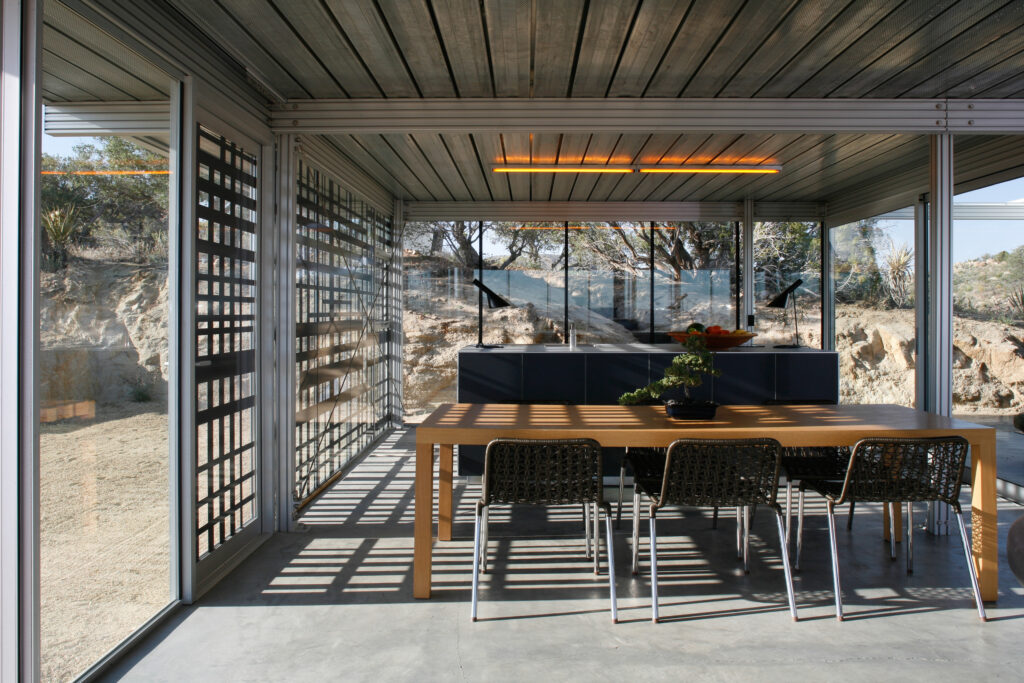 One eye-catching feature is a decorative screen formed of crisscrossing lines of varying thicknesses and lengths. This decorative touch casts interesting shadows that move about the room as the sun rises and sets each day.
There is a separate site specifically dedicated to the IT Houses, but we are not certain which of the IT models this house is.
With regard to all its IT Houses, the company writes, "The IT House's adaptable building system—off-site fabricated and on-site assembled—creates a solidly efficient and minimally serene aluminum and glass structure … Embedded within the simplicity of the design is an environment for maintaining connections with one's environment and the natural world."
8. Ecocapsule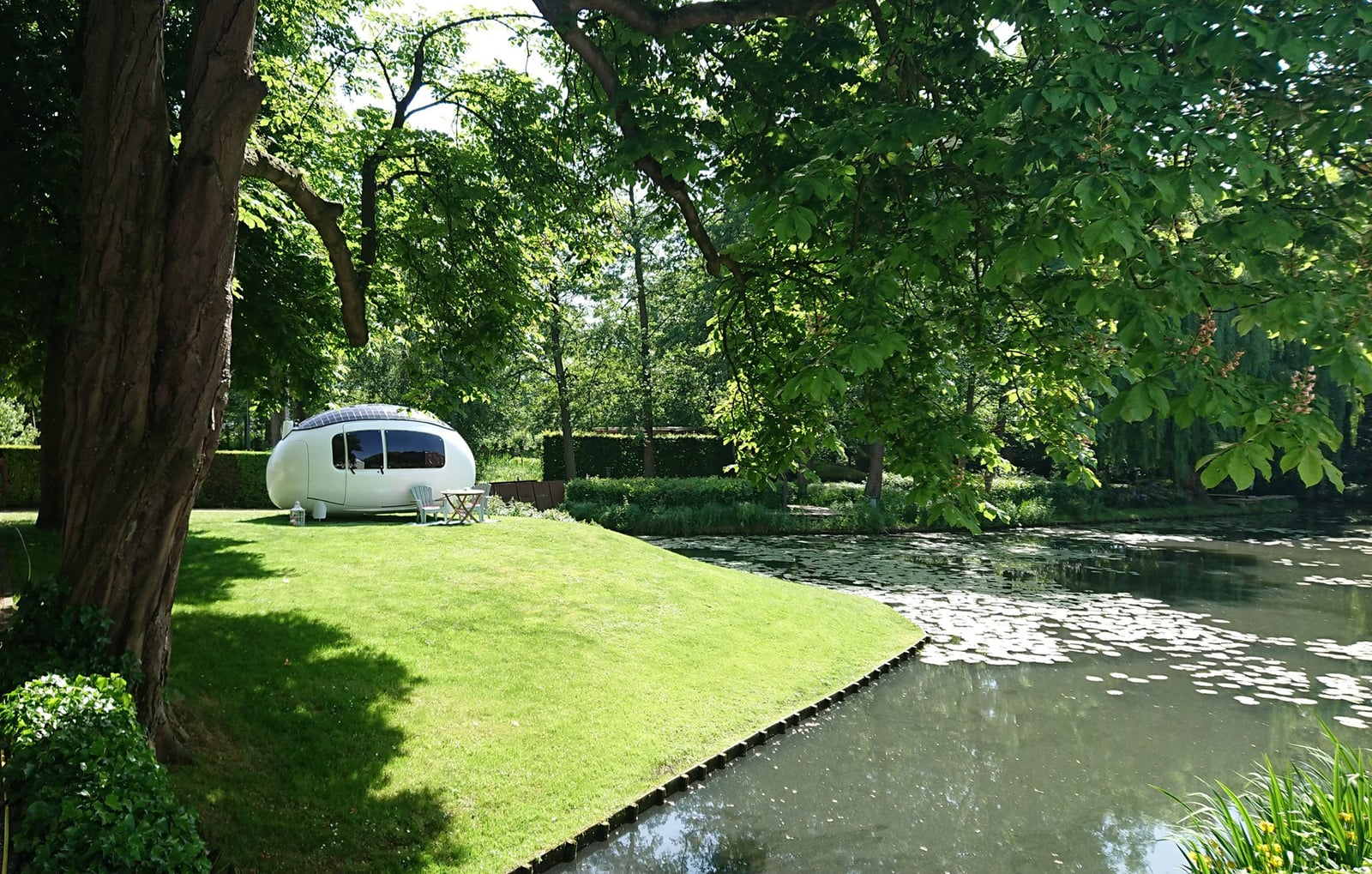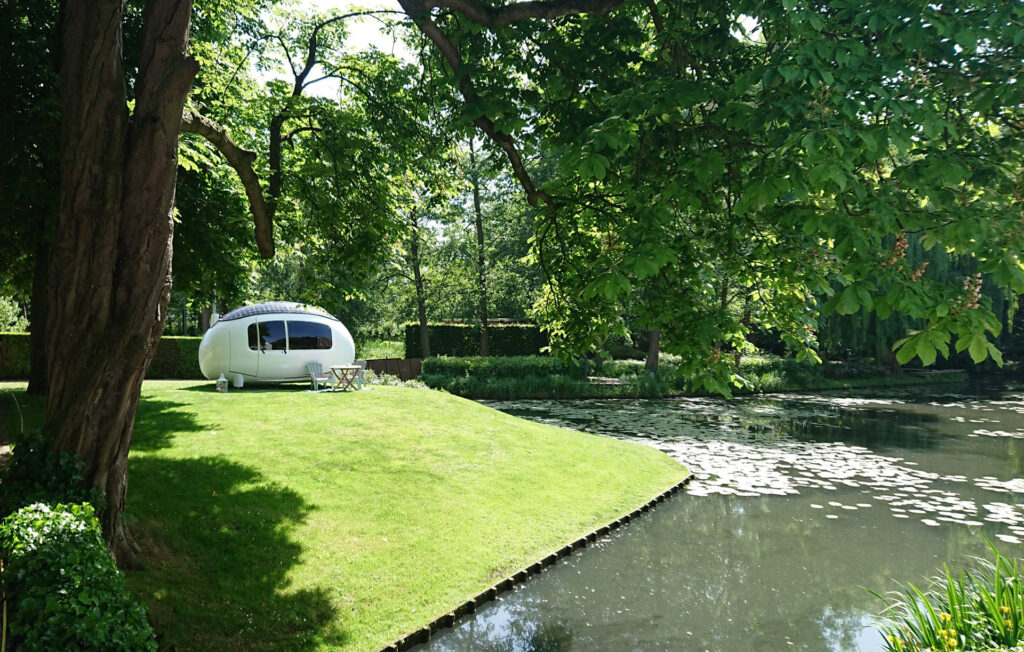 And now for something completely different—a glimpse of the future called the Ecocapsule.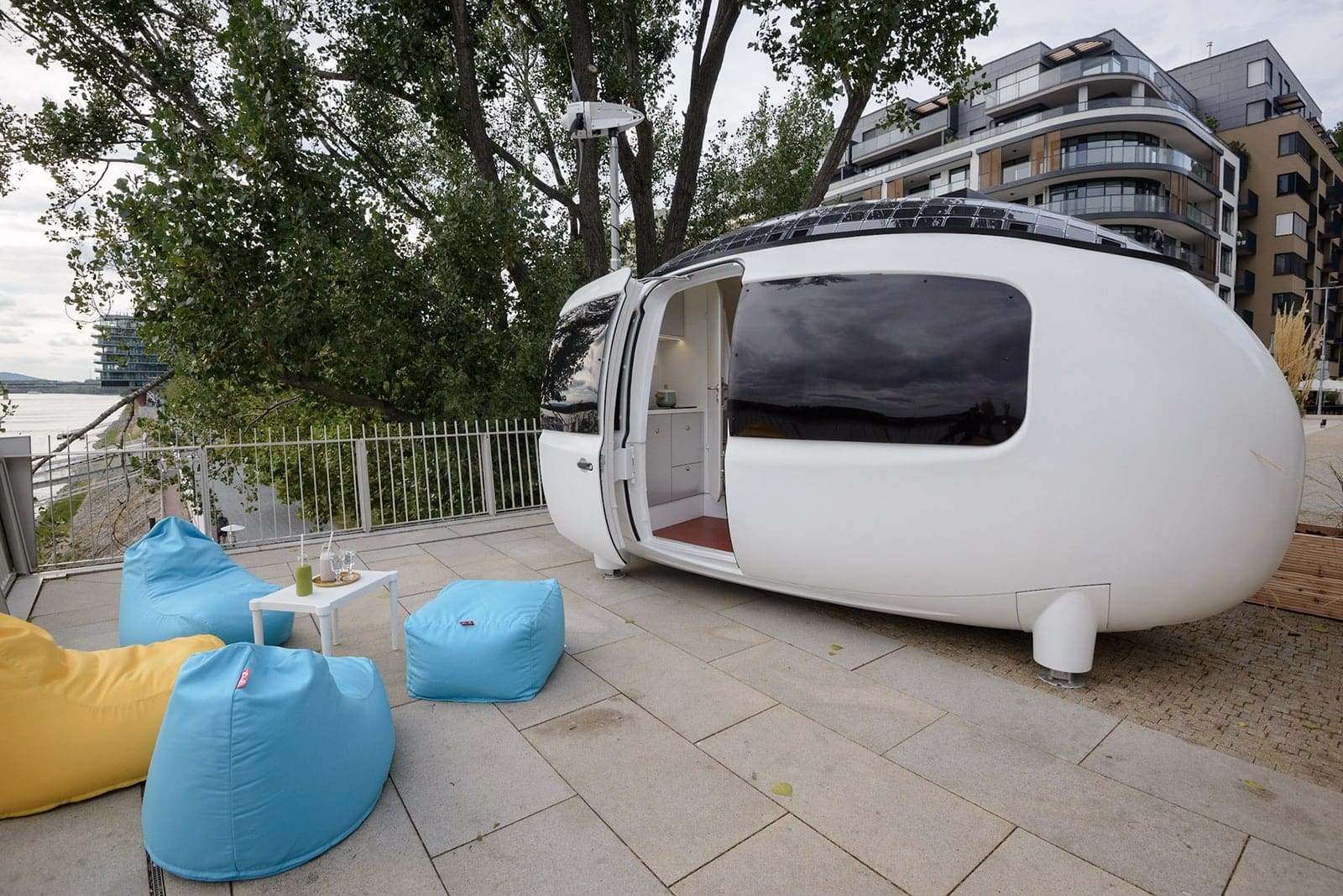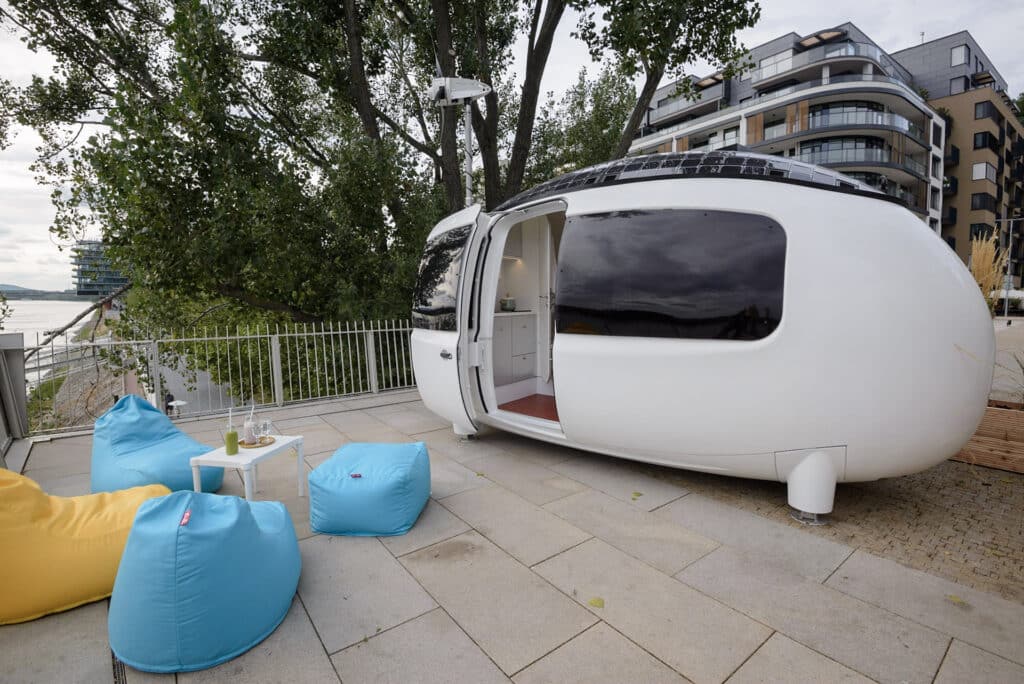 These little pod homes are built on sturdy steel frames and covered in fiberglass shells. This little unit has everything you need for off-grid power. Along with solar panels, it includes a retractable wind turbine. The batteries offer high capacity so that you can hold onto a large amount of energy.
What will really intrigue you is the reason for the shape of the home. You might think it is just an unusual futuristic-looking design, but its purposes go far beyond aesthetics. The shape is all part of a rainwater catchment system that also can collect condensation. The system filters your water and delivers it to you inside your home.
How much space is inside the Ecocapsule? Just 86 square feet. While that is not a lot, it is surprisingly comfortable thanks to a space-efficient layout that provides the occupant with a kitchenette, toilet, shower, dining area, and folding bed. Up to two people can comfortably reside in it. The company that manufactures these capsules offers options for personalizing the look of the interior.
9. MRTN Architects Off-Grid Australian Retreat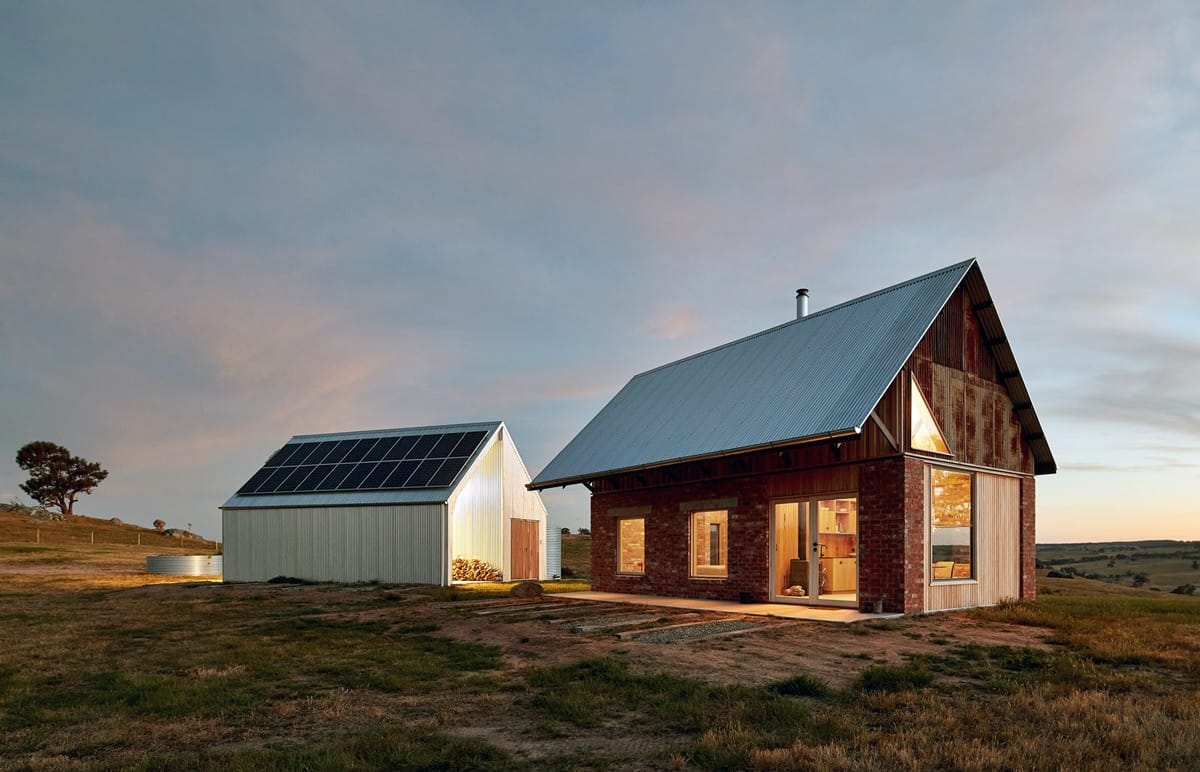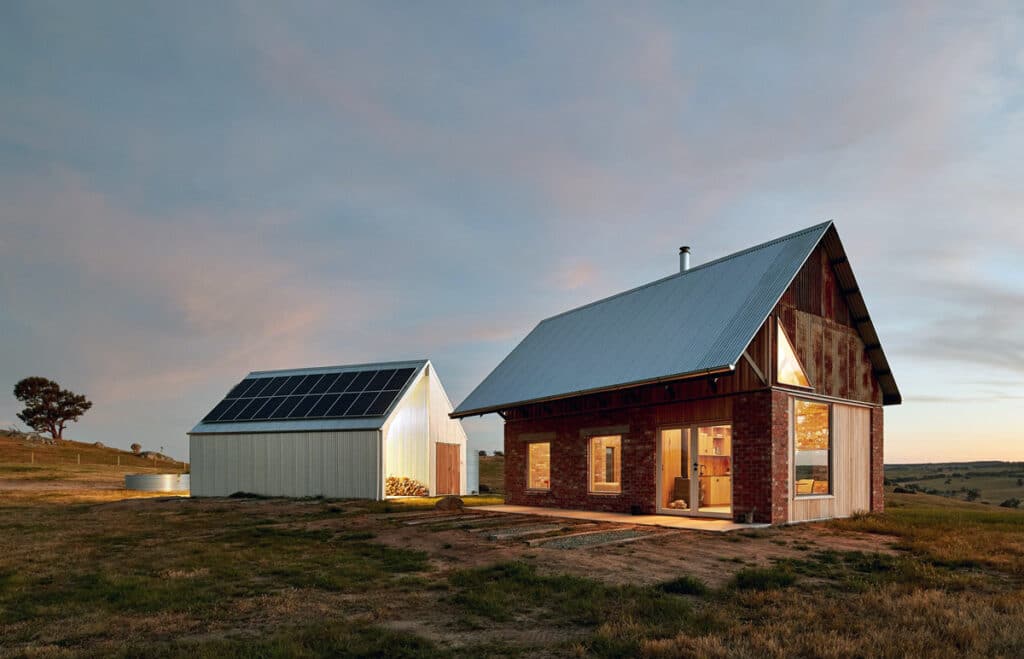 There is something vaguely surreal about this off-grid Australian retreat designed by MRTN Architects. The buildings look and feel old in some way—yet their modern lines suggest that they are, in fact, not old at all.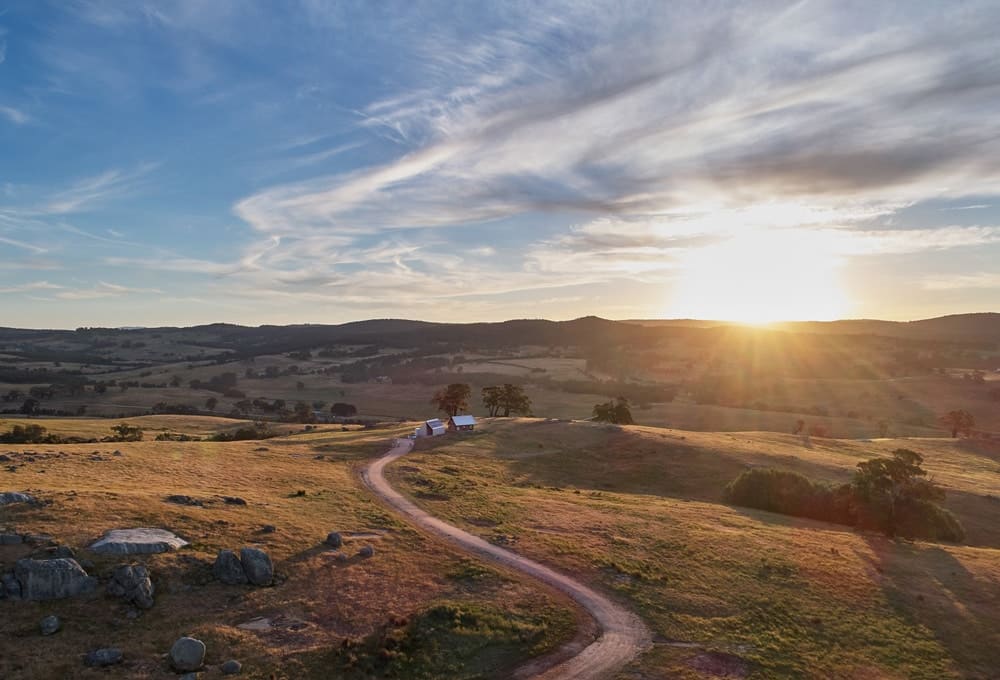 Indeed, the clients' request was for architecture that would "eventually be incorporated into a more permanent home, appear to have weathered with the site, and be of a familiar form when viewed from a distance."
A combination of galvanized roof sheeting, radial sawn timber and recycled brick helped to create a weathered look. The interior is much like the exterior, with a modern, minimalist style, but rustic materials.
The retreat is able to provide its own water and power, and has an off-grid sewer as well.
We hope you enjoyed checking out these beautiful examples of off-grid architecture. If you are excited to take the next steps in building your own metal off-grid house, click on any of the links in this post to visit our recommended builders and designers.
Compare Prices & Save Up To 33%