Method Homes – Modular Prefab Builder
Method Homes are built with sustainability and innovation in mind. Built in less than four months, prefab homes from Method are built 60% faster than traditional stick-built homes. And unlike other companies, Method offers fully integrated construction services, including site coordination and engineering.
With the ability to design and customize your home, Method stands out from the crowd. But are their homes worth the cost? What types of floorplans do they have?
Method Homes Models and Floorplans
Method Homes offers eight models and floorplans, with a variety of styles and materials used for each series. Whether you want your home to be one with nature, or a modern home with sleek, clean lines, Method offers something for everyone.
M Series
The M Series offers numerous exterior and interior finishes, and is completely adaptable for a variety of locations and home sites. Both predesigned and customized prefab options are available.
Featuring a modern design with floor-to-ceiling window walls, this series is ideal for homeowners who want to bring the outdoors inside.
Sizes range from 834 square feet to 1,740 square feet, with costs ranging from $250,000-$500,000.
Cabin Series
The Cabin Series offers thoughtful design features that take advantage of the home's surroundings. Fully customizable, these homes range in size between 1,200 square feet and 2,800 square feet. Prices range between $460,000-$720,000.
Both daylight basement and full basement options are available, making this series a good fit for a variety of property types. Both predesigned and customized prefab options are available.
Homb Series
The Homb series offers a unique design based on triangular modules that are 100 square feet. These modules can be configured however you please, and can easily be expanded upon.
A wide range of interior finishes are offered, including minimalistic and wood designs. The Homb is designed to bring the beauty of the outdoors indoors by offering large floor to ceiling windows on both levels of the home.
Home sizes span between 900 square feet and 3,100 square feet.
Paradigm Series
A collaboration between Method Homes and Bogue Trondowski Architects, the Paradigm series offers an open floorplan that creates a sense of openness indoors. The large windows and sliding doors help homeowners stay connected to the outdoors.
There are three models in this series, and they offer a wide range of options for personalized configurations.
Paradigm homes are some of the best modern prefab homes on the market.
Home sizes range between 656 square feet and 1,868 square feet. Costs range between $220,000 and $550,000.
Elemental Series
The Elemental Series from Method Homes is efficient and modern in design, with six floorplans available for customization. The great thing about this series is that Method offers a range of hand-selected finish and interior palette options. Sustainability packages are also available.
Both predesigned models and custom prefab designs are available.
Home sizes range from 912 square feet and 1,821 square feet. Prices range from $230,000 and $510,000.
Option Series
The Option Series is a collaboration between Method Homes and Grouparchitect, and includes a series of efficient and customizable modular homes. From sustainability upgrades to roof styles, floor plans and finishes, there is something for every homeowner's taste.
Option is one of Method's most inexpensive prefab homes, but there is no compromise on quality or aesthetics.
There are three types of floorplans:
1 Story: 922-1,338 square feet. Costs range between $250,000 and $355,000.
2 Story: 1,746-2,320 square feet. Costs range between $420,000 and $565,000.
3 Story: 1,372-2,216 square feet. Costs range between $380,000 and $560,000.
SML Series
If you're looking for a smaller home or a cozy vacation getaway, the SML Series is a great option. These compact, prefabricated homes allow you to enjoy your own personal retreat without having to sacrifice on aesthetics.
The great thing about these homes is that they arrive at the home site 95% complete. The entire home is complete within 2-3 months.
There are three models in this series:
Model S: 565 square feet. Costs range from $130,000 to $180,000.
Model M: 655 square feet. Costs range from $200,000 to $250,000.
Model L: 860 square feet. Costs range from $210,000 to $260,000.
Cottage Series
The Cottage Series offers a collection of homes with a traditional design. Efficient and classic in design, these homes are highly customizable and easy to expand in the future.
Home sizes range from 1,436 square feet to 2,265 square feet. Costs range from $239,052 to $600,000.
For homeowners who prefer a traditional look over a modern look, the Cottage Series is the right choice.
How Does the Building Process Work?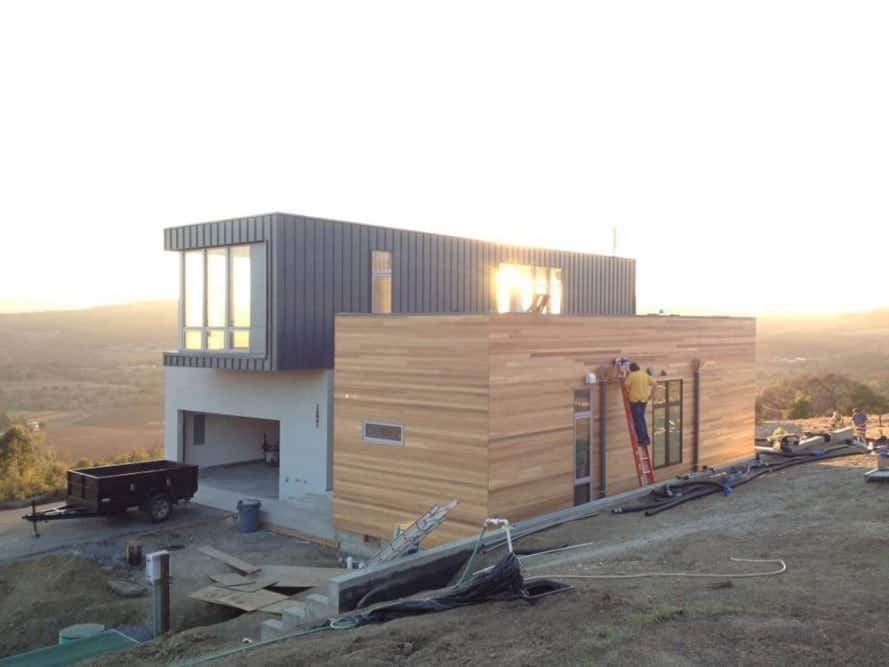 Method Homes uses a comprehensive and streamlined process to design, plan and construct homes.
Once you have selected a piece of land and obtained the financing you need, Method will work with you to conduct a Feasibility Study. The study identifies everything that needs to be done to move the project into the next phase. At the end of the study, you will receive a turnkey cost estimate for your home and an official review.
After the Feasibility Study is complete, Method will work on design and engineering plans to obtain the permit set.
Method will take care of submitting local permits as well as factory construction permits. Once the permits are submitted, the contract is carried out. Once the permits are issued, Method will start the construction process.
In the final stages of the building process, the home is fabricated, delivered and assembled at the home site.
Here is a nice time lapsed video of their process:
Coastal Large Set from Method Homes on Vimeo.
How Much Do Method Homes Cost?
As of 2019, you can budget between $170 – $300+ per square foot for just the modular build and between $350 – 500+ per square foot for complete site development (modular build, permits, pre-construction devsales tax, delivery costs, land development, etc..).
These estimates are a good starting point but will vary for each project depending on location, local taxes, and design options.
There are three main costs that make up the total cost of a Method home: soft, modular and site.
Soft costs include:
Site survey
Feasibility study
Permit coordination and fees
Utility connections
Geotechnical analysis of the soil
Structural engineering
Some fees, like the cost of coordinating permits vary, depending on jurisdiction.
Modular costs include:
Cabinets
Flooring
Siding
Plumbing
Tile
Countertops
HVAC system
Lighting and plumbing fixtures
Site costs include:
Utilities
Site prep
Home installation
Foundation
Shipping
Site-built components, such as stairs, paint and decks
Zero Energy Homes
Method Homes are affordable, and offer a great mix of modern and traditional design. These homes are also highly efficient and intelligently designed. Method calls them Zero Net Energy homes, and they're designed to save homeowners money on their energy bills.
Tight Construction
Method uses blower door tests to determine how much air escapes a building. A special tape is used to seal off the seams of plywood when framing the home.
More Fresh Air
Cycling in fresh air keeps your home comfortable, but when living in a climate that's especially hot or cold, you end up cooling or heating the outdoors.
Method uses an ERV or an HRV system, which recovers cold or hot air as it exits the home. The recovered air is then transferred to incoming air.
Efficiency
Method is all about efficiency, and that is evident in both the HVAC system, appliances and lighting in your new home.
A Dalkin Altherma system comes with the home for efficient heating and cooling all year long.
From the washer to the dryer and refrigerator, Method Homes also have highly efficient appliances.
ZNE homes also rely on a photovoltaic solar, or PV, array to produce energy. These arrays often produce more energy than you'll use throughout the year. Passive solar design is also incorporated to further help you save on energy bills.
If you were impressed by the extensive list of prefab home designs, you'll love the efficiency and savings these homes offer.
Method Homes are modern, efficient and sustainable, so homeowners can enjoy a personalized living space that doesn't sacrifice on style and design. Method will work with you throughout every step of the building process (including financing) to ensure that you get the home of your dreams. With prefab houses being built in 2-3 months, you can be living in your brand new home in no time.
Method Homes Custom Projects Gallery
Truckee, CA
All Images Courtesy Of Vance Johnson & MethodHomes.net
Random Recent Projects
All Images Courtesy Of Vance Johnson & MethodHomes.net
Compare Metal Building Prices & Save Up To 33%