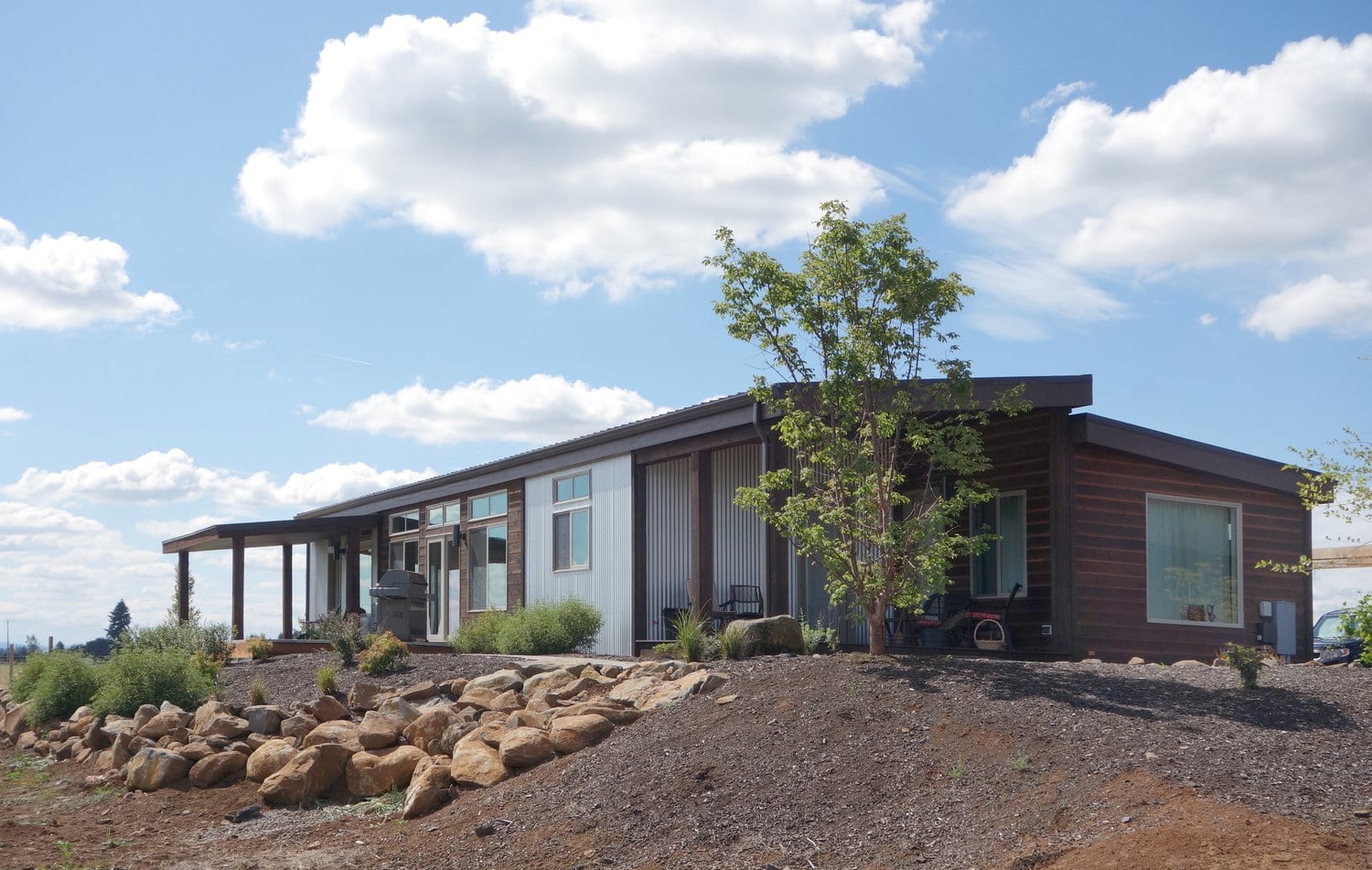 Modular homes make it easy to build an affordable, new home that suits your lifestyle. Ideabox plays off of this idea to bring home buyers eco-friendly, prefab tiny homes that blend the outdoors with the indoors.
over 27,000 kits delivered
Compare Kit Prices & Save Up To 33%
Let us help get you wholesale pricing on your metal kit.
Ideabox reviews in magazines and the media sound promising. And if you're looking for an eco-friendly, affordable modular solution, this may just be the right home designer for you.
Who is Behind Ideabox?
Jim Russel is the man behind Ideabox. Russel has always had a passion for building. In fact, he built his first modular "home" at the age of eight – right in the driveway of his home. His goal, he says, was to make a fort that he and his friends could move around.
Russel was pretty elaborate with his design, using his sister's red wagon as a chassis and 4′ x 4′ wood posts for the frame. To build the walls, he used 4′ x 8′ sheets of plywood. Felt was used to make the roof of his portable fort.
The ambitious young builder didn't just stop there: he bought bike blinkers at the local hardware store and attached them to the trailer to use as turn signals. Handlebars were attached to the front of the wagon for easy steering, and a boat battery allowed the fort to have an electrical system as well as a small camp stove.
While his fort-on-wheels didn't last long (it went 200 yards before the tires fell flat), Russel's career in the modular home business has.
After earning his Master of Architecture from the University of Colorado and gaining some experience in the business, Russel opened Ideabox in 2005. Today, he helps homeowners bring their dream homes to life.
The Ideabox Process and Building Philosophy
You supply the site and foundation, and Ideabox will take care of the home. The concept is simple, and it makes the building process as stress-free as possible – for everyone involved.
The Philosophy: Environmentally Friendly
Ideabox homes feature an eco certified construction, with energy efficient lighting, appliances, design and fixtures.
To save on energy costs, homes offer the following features:
Low-e, dual pane windows: U-value of 0.28 or better
Well-insulated: R 21-27 walls; R 40-50 roof; R 30-33 floor
Open web engineered trusses: minimal thermal bridging; continuous insulation
Ideabox homes are built with high ceilings and tall windows to maximize natural light – another energy saver.
The Building Process: Step-by-Step
Every Ideabox home is built in controlled conditions to ensure the highest quality and durability.
Get to Know Your Site
Ideabox will look at your site using a 3D modeling program. This will allow the designers to take into account your views, the slope of the land, access, shade and sun.
All of your site information will be used to find the best spot for your home on the property.
Building to Code
Ideabox can build to both local building codes for modular homes as well as the federal Manufactured Code. The federal code streamlines the permitting and building process while saving on cost. The local code makes it easier to get financing and allows for more roof options.
Regardless of which route you take, the quality of the home and your experience will be the same.
Your Budget and Deposit
Ideabox will discuss your budget, which should take into account site work, the construction of the home and transport. Other things, like carports and decks, should also be included if you want those added after the home is built.
A $5,000 project deposit is required once you decide that you want to design your home with Ideabox. Don't worry – that deposit will be credited back to you in your final invoice.
A 30% deposit will be required just before the building process begins.
Work Your Site
This phase will be handled by your general contractor, who will be in charge of getting the permits, installing the foundation and taking care of the utility hookups.
Designing Your Home
A home can be designed using Ideabox's current models, or you can have a custom design made to fit your needs. Custom designs are charged at an hourly rate and will be deducted from the deposit.
Streamlined Building
Once you've settled on a design, your home will be built at the same time your foundation is being laid. This streamlines the building process to get your new home up as soon as possible.
Ideabox homes are built in a controlled environment – out of the elements.
The company will work with your contractor to schedule the delivery of the home. The home is then installed on your permanent foundation.
The final finishing touches will be taken care of by your general contractor.
IdeaBox Gallery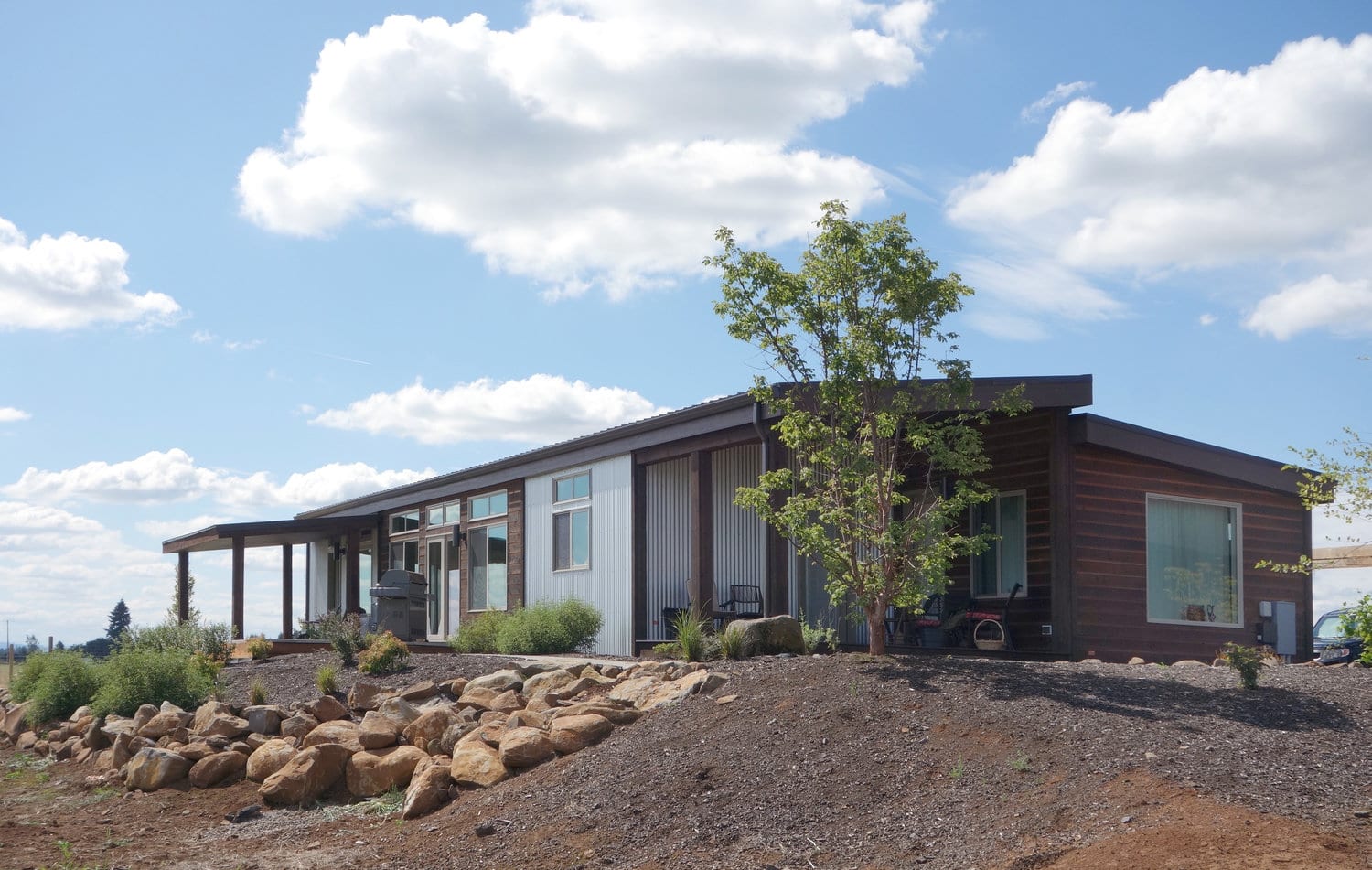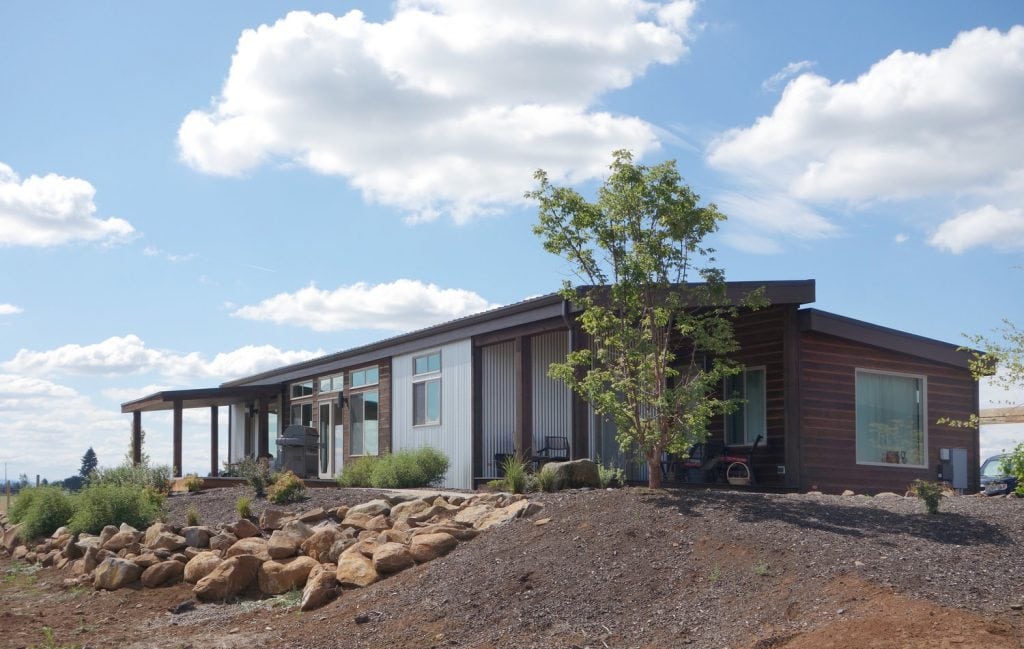 All images courtesy of Ideabox.us
The Homes
Ideabox has three series of homes and several individual floor plans to help meet the needs of just about any home buyer.
Confluence Series
There are three home plans in this series:
Confluence – The Original
The original Confluence home uses an expansive living space (30′ of kitchen and living space) to separate the home's two bedrooms. This layout creates a more open feel.
2 beds
2 baths
918 square feet
Montana timber siding (optional)
8′ sliding glass doors
High ceilings
Acres of windows
C.2+
The C.2+ features a dedicated kitchen, which becomes the focal point of the home.
2 beds
2 baths
1,269 square feet
Montana timber siding (optional)
8′ glass doors
High ceilings
Expansive windows
L-shaped kitchen with 8ft island
Additional pantry and closet space
C.3
Called "The Full House," the C.3 plan has an additional bedroom, and a more expansive living area. All other features are the same as the classic and C.2+ models.
Getaway Series
The Getaway series features three home plans:
Studio
1 bath
590 square feet
236 square feet of covered decks
Expansive windows
Getaway 1
1 bed
1 bath
650 square feet
236 square feet of covered decks
Expansive windows
Getaway 2
2 bed
1 bath
826 square feet
236 square feet of covered decks
Expansive windows
Fuse Series
The Fuse series blends the outdoors and the indoors. Two plans are available
Fuse
2 beds
2 baths
1,430 square feet
Covered porch
Mono and standard roof options
Open floorplan
Fuse 3
3 beds
2 baths
1,455 square feet
Mono and standard roof options
Individual Floorplans
Sage: 2 beds; 2 baths; 1,320 square feet
Roadrunner: 2 beds; 2 baths; 1,320 square feet
Orchard: 1 bed; 1 bath; 560 square feet w/covered porch
Haven: 1 bed; 1 bath; 765 square feet
Northwest: 1 bed; 1 bath; 560 square feet
How Much Do These Prefab Tiny Homes Cost?
Ideabox wasn't lying when they said their homes were affordable.
While the company can't provide exact prices, they do give averages for each of their home plans:
Confluence: $139,100 – $193,900
Fuse: $177,980 – $217,300
Getaway: $116,980 – $143,900
Sage: $164,500
Roadrunner: $174,700
Haven: $131,800
Orchard: $115,500
Northwest: $113,400
These prices do not reflect the cost of the site, site work and contractor fees.
Building your dream tiny home is affordable with Ideabox. With so many plans to choose from you're sure to find one that suits your lifestyle and your needs. All that's left to do is find the right site for your humble abode.
Visit them online at Ideabox.us for more info.
Compare Prices & Save Up To 33%