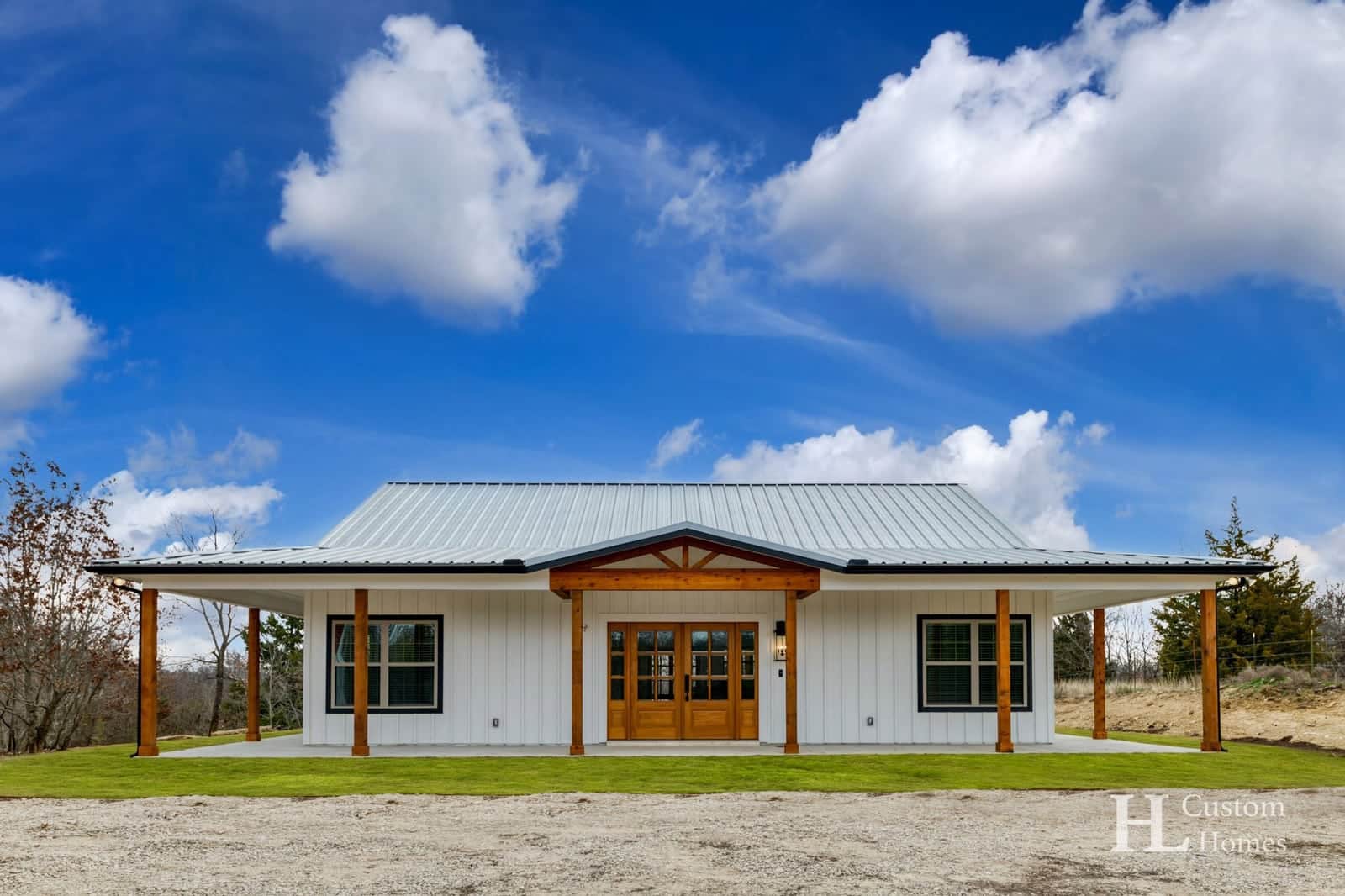 If you want to build a metal house but you prefer a traditional style, one option you might consider is a metal building bungalow home.
Indeed, bungalow houses offer a classic look and feel. While they are especially popular in American neighborhoods, they also can be found throughout the world.
Although "bungalow house" is probably a term you have heard a lot, you may not be sure exactly what it means.
In this guide, we will introduce you to the bungalow style, going over its history and basic characteristics. We will also discuss different types of bungalow homes, and what is possible when you use metal as a building material for a bungalow residence.
What is a Bungalow House?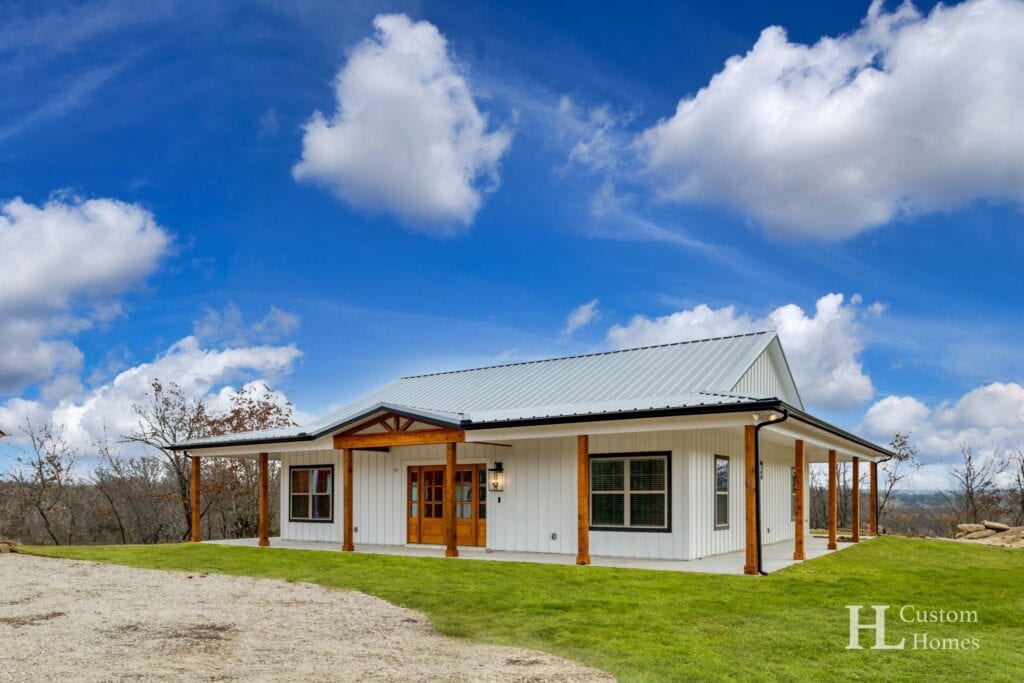 Driving through a traditional neighborhood, you might notice a number of small cottage houses, most of them with just one floor, but some with a second floor built into the roof.
The roof itself has a sloping angle, and may feature dormer windows.
On the lower floor, you will find large windows in the front of the home, bringing in natural light to open floor plans. Wide, sheltered front porches overhung by the sloping roofs offer lots of space to sit out front and relax.
Master Class writes, "The Arts and Crafts movement ushered the American-style bungalow into prominence during the early twentieth century, and variations of this style continue to be sought-after by homeowners around the world."
Although we associate the look of the bungalow house largely with classic Americana, its origin actually is from overseas.
Indeed, before they were known as "bungalow" houses, they were known as "Bangala" or "Bangla" houses.
Translating from Hindustani to "belonging to Bengal," those names reflected their original location. British colonial officers chose this style of home because it was cost-effective to construct, and offered lots of shade out front.
Master Class explains how the style became popular in America, saying, "In the early 1900s, the bungalow became the dominant architectural style in the United States. Bungalows would rise in popularity for the next three decades thanks to the influences of the American Arts and Crafts movement, which favored a more simplistic aesthetic than the eclectic Victorian-style of the British Arts and Crafts movement."
Common Characteristics of Bungalow Homes
Based on the description above, you should have a pretty good idea of what a bungalow house looks like. But let's go into a little more detail about their common characteristics.
Bungalow homes are small. This style of house is ideal if you are looking for modest square footage.
These homes feature one or two floors. Even with a second floor, a bungalow home tends to have a low profile.
A bungalow house is usually either symmetrical or at least gives an impression of balance.
Construction is raised. Several steps will lead up to the porch, and from there, you can enter the house.
The roof is sloped. Gabled and hipped designs with deep eaves are both compatible with the bungalow style. If you check where the roof of a bungalow home connects to the façade, you may notice a triangular knee brace, which is also a common feature.
Open floor plans make for an interior flow of space. Floor plans like these are more typical of modern homes than traditional ones, which makes the bungalow design a good choice if you want something that evokes the best of both worlds.
Windows let in the light. Single-hung or double-hung windows are the traditional choice for bungalow homes, but you can also find bay windows and casement windows on some. This feature works with the open floor plan to bring light throughout the interior of a bungalow house.
There is a large front porch. If you are driving past a bungalow house, the feature most likely to grab your attention is the wide front porch and the deep shade it offers.
Bungalow Pros:
An open flow of space and light throughout the interior as well as the large outdoor living space provided by the porch makes the bungalow somewhat "modern" in terms of its functionality, despite its traditional look.
The single-storey design of many bungalow homes is great from an accessibility standpoint, and safe for occupants of all ages.
Many people also choose bungalow homes for their traditional look and nostalgic feel.
Bungalow Cons:
The cost per square foot for a bungalow with just one story tends to exceed that of a two-story house.
The bedrooms in a bungalow house tend to be on the small side.
What are the Different Types of Bungalow Houses?
There are a number of subcategories of bungalow houses.
These include:
American Craftsman bungalow: The most iconic style of bungalow is no doubt the American Craftsman bungalow. Many of the famous Sears pre-fab homes fell into this category. Chances are good that if you ask a random person to picture a bungalow house, this is the particular sub-style they will picture.
California bungalow: With one or one and a half stories, the California bungalow switches out some traditional materials like bricks for a combination of wood and stucco, ideal for hot climates.
Mission bungalow: As you might guess, stucco is also a common building material for the mission style of bungalow. The roof is often tiled.
Ranch bungalow: A ranch bungalow combines features of the bungalow style with the ranch style, another low profile type of home.
Milwaukee bungalow: This is a variation on the Chicago bungalow style (see below), common in Milwaukee, Wisconsin. The principle difference is that the gable is often situated perpendicular to the street. White stucco is also a common feature.
Chicago bungalow: These one-and-a-half story buildings have a more vertical profile with their narrow design than some other bungalow styles, with gables running parallel to the street. Sometimes Chicago bungalow porches are enclosed. Brick façades are common.
Prairie bungalow: This is a subset of Chicago bungalow that features elements of the Prairie School style of architecture.
Tudor bungalow: Half-timbers and other elements of the Tudor style are surprisingly at home in the otherwise simple bungalow style.
That is not even a full list of bungalow house styles! Others include airplane bungalows, bungalow colony homes, chalet bungalows, Michigan bungalows, overwater bungalows, and ultimate bungalows. Depending on your location, you may find more examples of some types of bungalows than others in your local neighborhoods.
Metal Bungalow Homes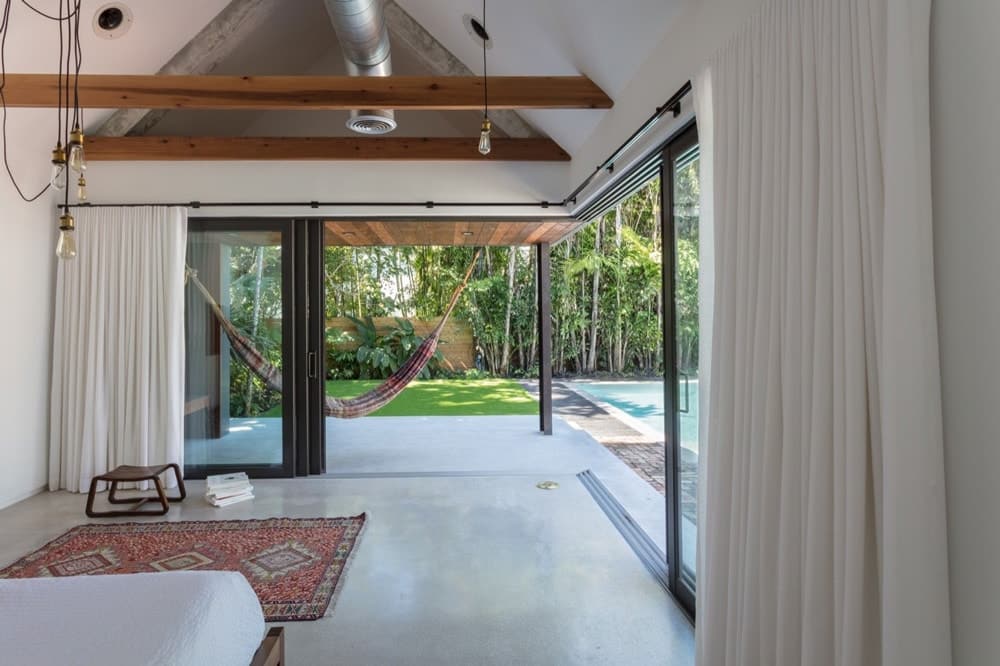 A lot of people automatically lean toward a modern style if they are going to be building a metal home. But you can design a metal home in a traditional style as well, including the bungalow style.

In fact, a good majority of our current listings are bungalow designs.
We have noticed a number of floor plans offered by metal home builders that have "bungalow" somewhere in the name. You should note, however, that in a lot of cases, the word is being used quite casually, and does not actually describe the style of the building accurately.
In terms of actual bungalow-style houses, what we see most commonly are those that feature a combination of traditional building materials and metal. Typically, it is the roof that is the metal element.
Nevertheless, there is no reason why you could not build a bungalow home entirely or mostly out of metal components if you wish to do so.
You could leave the metal exposed on the exterior, or you could finish the exterior with brick or another traditional material to capture a more old-fashioned look if you want.
Something else you can consider if you already have an existing bungalow home is to modernize it with some metal prefab additions.
Benefits of Choosing a Bungalow Metal Home
We have talked about some of the advantages of bungalow houses in general. But let's go over a few reasons to consider a bungalow metal home specifically.
The open floor plan of a bungalow house is a great fit for metal construction. A lot of people who opt for metal are looking for just this kind of openness, and will find that a bungalow offers just what they desire in a small footprint.
Metal brings a bungalow home superior strength and longevity. Your home should be in great shape decades down the road. Metal will preserve that classic bungalow style you love, with minimal required maintenance on your part. Indeed, metal construction is cost-effective over the long term for just this reason.
You can bridge modern and traditional styles. If you have been having a hard time deciding whether you want a house that is modern or traditional, building a metal bungalow home is a great way to combine these ideas.
Building your own home can get you around supply problems. Finally, in some locations, vintage bungalow houses are in high demand, but low supply. Building your own metal bungalow may be more affordable and opportune then waiting for the perfect property to go on sale in your area.
Build Your Own Modern Bungalow House Now
The bungalow is a classic style of architecture that conjures images of traditional Americana and all the nostalgia that goes with it. At the same time, the bungalow offers a modern open floor plan and a connection to the outdoors.
For those reasons, the bungalow style has stood the test of time, and doubtless will continue to endure over the decades to come.
While many bungalows are built out of traditional materials, metal bungalow houses are also starting to spring up.
Ready to build your own metal bungalow house?
Compare Metal Building Kit Prices & Save Up To 33%
For Residential buildings choose "Other" to get started