Bolt-Up Steel Frame Farmhouse Plan 16922WB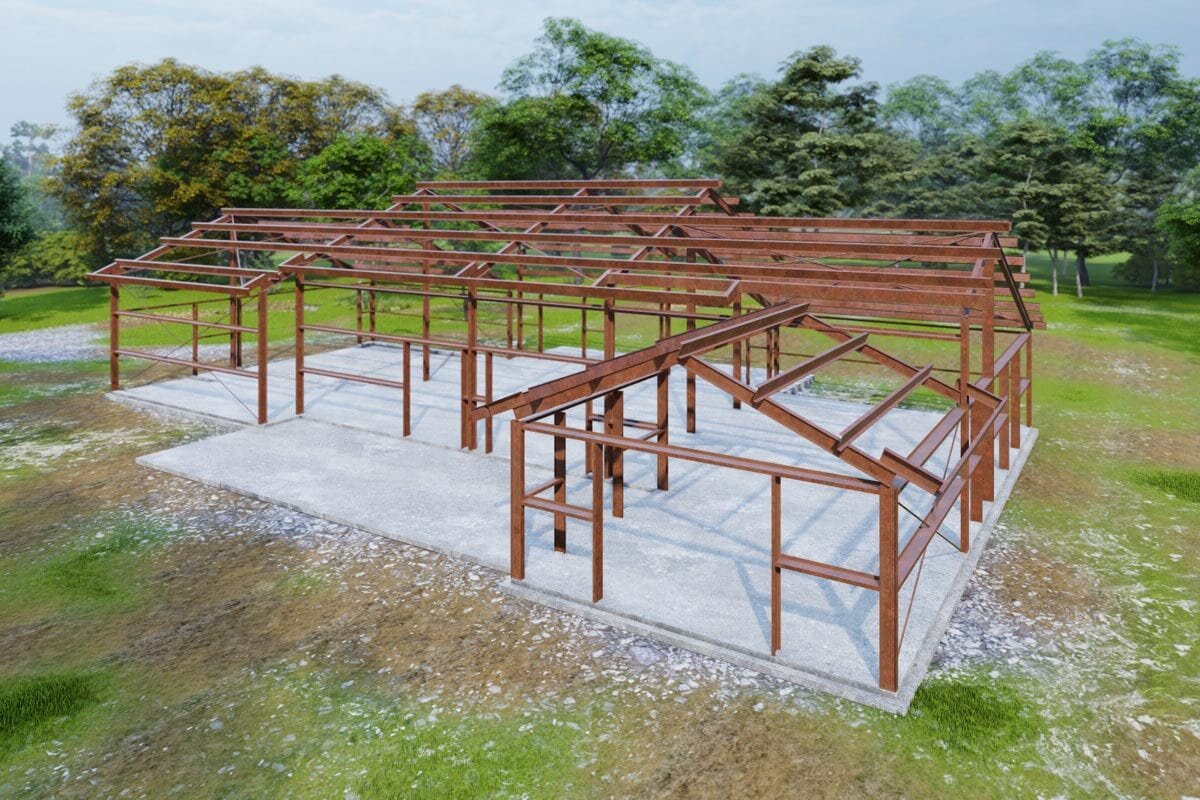 over 27,000 kits delivered
Compare Kit Prices & Save Up To 33%
Let us help get you wholesale pricing on your metal kit.
Bolt-up metal homes are a great alternative to stick-built structures. Homes designed in the bolt together style are prefabricated and then assembled using bolts on-site.
Architectural Designs offers a few plans using this construction method, and this new Steel Frame Farmhouse Plan is a popular choice.
Steel Frame House Plan 16922WB
2,486 Square Feet
3 bedrooms, 2.5 bathrooms
2-car garage
1 story
Front Porch: 313 Square Feet
Rear Porch: 473 Square Feet
Side Porch: 45 Square Feet
Dimensions: 82'11" W x 60'10" D x 22' H
Ceiling Height: 14'8" Max
The Steel Frame Farmhouse offers an alternative to traditional stick-built homes. Metal is a cost-effective and attractive option for a home, and this plan still offers the traditional home look.
This particular plan is designed to be constructed using bolt-up technology. Bolt together steel buildings are, essentially, pre engineered steel buildings. The entire frame is constructed in a factory and then delivered to the site where it can be bolted together.
Instead of welding the connections, which can take weeks, bolt-ups can be put together in just a few days. The siding and roofing on a prefab metal home are also assembled much quicker than traditional construction methods.
This plan is based on the model created by Mueller Inc.
The Floor Plan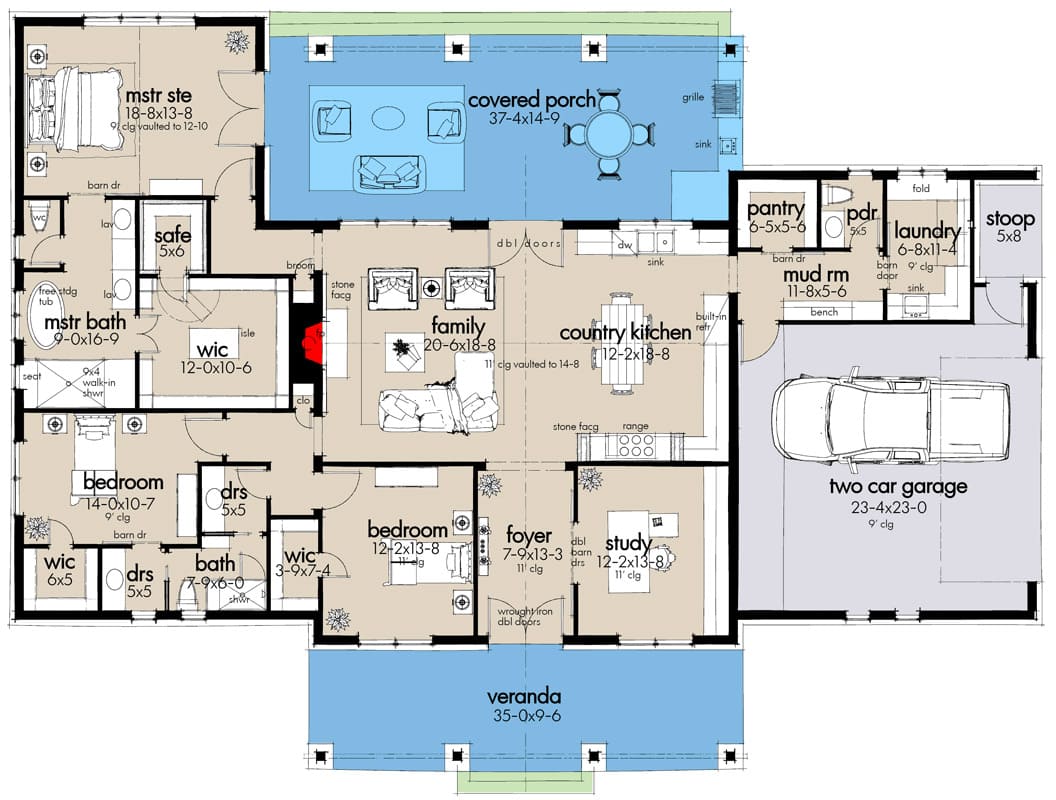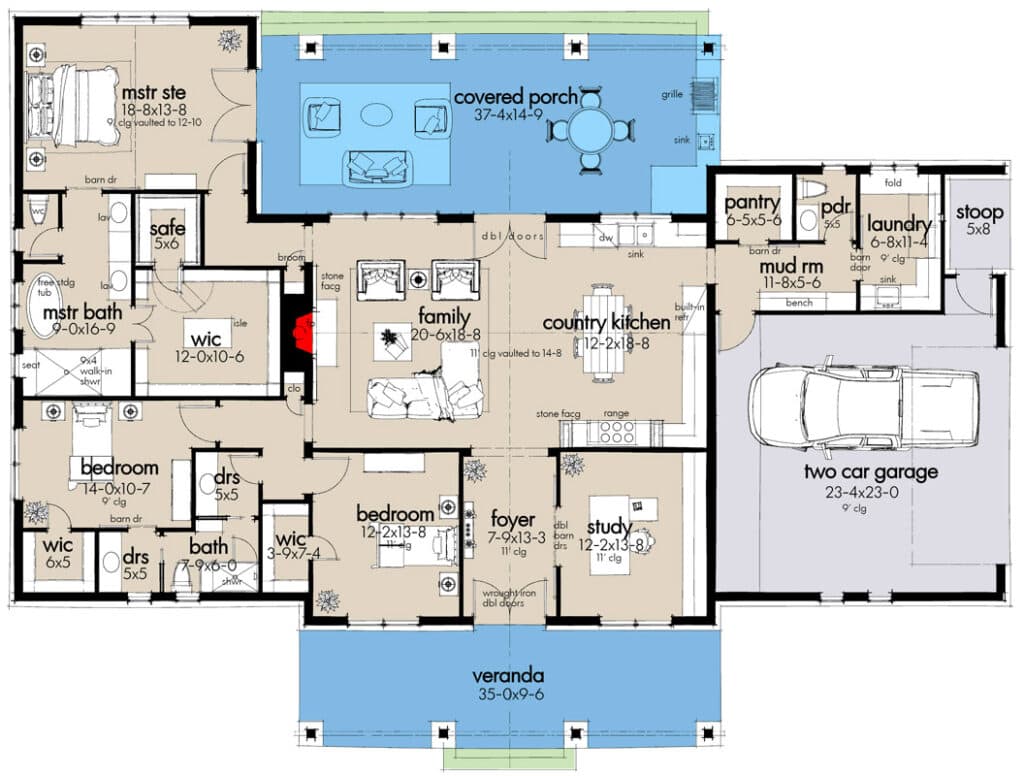 The Steel Frame Farmhouse is spacious and designed in the ranch style. A large veranda greets you as you walk through the front door into the foyer. To the right is a study, and to the left is a bedroom.
The country-style kitchen is spacious enough for a dining table. Just off the kitchen the family room with a grand fireplace. From the kitchen, you can access the pantry, powder room, mudroom and laundry room. The garage is just off this area.
Two of the bedrooms share a full bathroom and have walk-in closets. The master suite has its own large bathroom with a generous sized walk-in closet. From here, you can also access the covered porch, which provides plenty of space to relax and entertain outdoors.
What's Included with the Plan
The 16922WB comes with the following plans:
1/4″ scale plans for the:

Floor plan, which includes the frame, support members, doors, fixtures, masonry walls, cabinets and other interior items.

Exterior elevation,which includes overhangs, roof pitches, materials, plate heights, side views and other information.

Framing,which will outline the bracing, blocking and spacing between all members.

Foundation plans, which include grade beams, structural wall location, columns and additional information. It is recommended that you have a local engineer review this plan to meet local codes.

Building section plans that provides height and volumetric conditions of the home.

Electrical plans are provided with the location of all circuits, wiring size, switches, outlets and other electrical components.

3/8" scale plans for the:

Cabinet elevation plans are provided that offer the height, width and configuration of the cabinets. Components, materials and even appliance and counter surface information is provided.
FAQs About Plan 16922WB
Can the Plan 16922WB Be Modified?
Yes. If you need to make changes to the standard plan, you can modify the plan directly through the order page. Modifying the plan may add to the home's cost, so a new quote will be provided within 2 to 4 business days.
What are Bolt-up Construction Benefits?
"Bolt-up" construction is a term that many people aren't used to because most builders offer "weld-up" options. The bolt-up process allows for the entire frame to be constructed in the shop. Due to the in-factory construction, the bolt-up process offers numerous key benefits:
Faster construction time
Faster exterior and roof installation
Strict in-factory guidelines add to the durability of the structure while the bolt-up design allows for assembly in a matter of days.
Will Plan 16922WB Meet Local Building Codes?
This plan, like all of the plans in the company's portfolio, was designed to meet or exceed most building codes nationwide. Since local building codes change on a county-by-county or municipal level, it's important to discuss the plan with local building authorities.
Minor changes to the plan may be necessary to meet local code requirements.
Architectural Designs provides in-depth drawings for all areas required for the home, including drawings for the foundation, floor plan, exterior elevation, building cross section, interior elevations, roof plan, and when available, the electrical plan will be provided.
Compare Prices & Save Up To 33%