Joshua Tree Autocamp Glamping Quonset Hut by HKS
AutoCamp brings mid-century modernism to the forefront in SoCal with Joshua Tree airstream park glamping. The sprawling resort brings passive design elements, walking paths and other high-end amenities to people who want to escape the hustle and bustle of life.
over 27,000 kits delivered
Compare Kit Prices & Save Up To 33%
Let us help get you wholesale pricing on your metal kit.
The space was strategically planned through numerous studies to ensure that the site had a minimal impact on the desert environment.
AutoCamp's entire development was designed with:
Dark Sky compliant lighting
Preservation in mind
AutoCamp enlisted the help of architectural firm HKS to bring their vision to life.
Who is HKS?
HKS is an industry-leading firm that pushes the boundaries of architectural design by testing, innovating and redefining spaces. The company focuses on rejuvenating the planet with areas that aim to conserve the natural beauty of the outdoors with stunning design concepts.
HKS worked along the amazing Narrative Design Studio to create the clubhouse at AutoCamp Joshua Tree.
The Joshua Tree Autocamp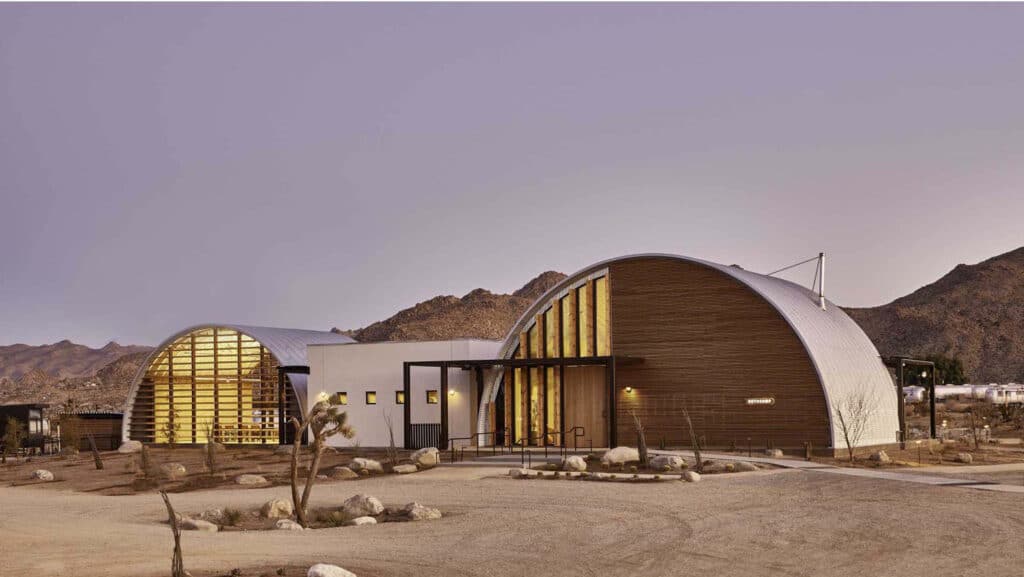 AutoCamp Joshua Tree is a 25-acre site with 55 units, each with new custom textiles and some with outdoor showers. The camp aims to take Joshua Tree airstream park glamping to another level.
The dual-arched Quonset hut clubhouse is an impressive example of mid-century modernism and is the focal point of the camp. The huts are designed to provide a seamless transition from the indoors to the outdoors.
HKS aimed to create a space that felt both private but encouraged community interaction. The clubhouse is strategically oriented to be sheltered from winter winds while taking advantage of summer breezes. Shading elements on all sides supply cover from the sun, and high windows maximize natural light.
The interior boasts natural colors, with golden and caramel walls and black steel. A massive fireplace heats the indoor space while a local painter helped create an abstract representation of the sun setting, which spans a massive 6-foot in radius.
Local businesses and artists were a major part of the resort's design and concept.
Furniture inside of the Quonset is also designed to be minimal and comfortable. You'll find:
Plywood lounge chairs that are made to be extra wide for added comfort and have large armrests to sit your drink on.
Leather cushions are placed near the fireplace to allow guests to warm up and talk about their experience in Joshua Tree.
Automobiles are not allowed on the property, so guests are asked to park their vehicles in the adjacent lot. All guests receive videos about check-in explaining how the park works and what to expect inside their Airstream.
Contactless check-in services are integrated into the park's design, with concierge service available via text messages.
The campsite was designed to minimize environmental impact while providing impressive amenities. AutoCamp and the team behind the construction of the camp took care to respect and protect the desert.
Minimal Environmental Impact
Like its other resort locations, AutoCamp Joshua Tree is designed to minimize its environmental impact. They accomplish this through:
Native plantings
Reduced water use
Using on-site water treatments
Xeriscaping to avoid irrigation
Solar power
Dark sky-compliant lighting
A Modern Clubhouse Resort with Impressive Amenities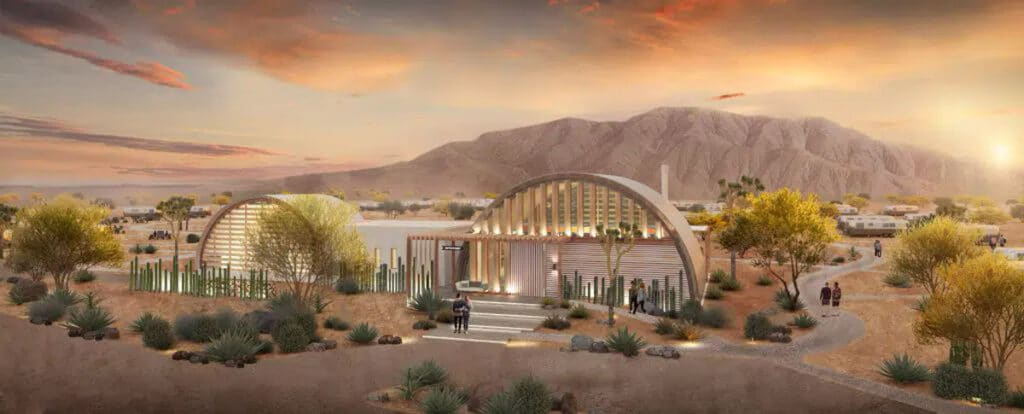 The park resort was designed to provide privacy through its Airstream suites while encouraging community at its Quonset hut clubhouse. Guests can gather inside the clubhouse to mingle, purchase essentials at the general store and relax by the fireplace.
The space features a network of courtyards and firepits. Walking paths allow guests to take in the beauty of the surrounding desert landscape.
Some of the resort's impressive amenities include:
Poolside bar
Dinner series prepared by partner chefs in their mobile kitchen
Movie nights under the stars
Fireside chats
Yoga and sound healing
Heated concrete furniture
Complimentary bikes
Wine tastings
Live music
S'mores bars
The midcentury modern clubhouse is open 24/7, so guests can always gather, grab what they need or just relax.
State-of-the-Art Pool
Guests enjoy a stay at the resort, which has a minimal impact on the local environment while also providing all of the comforts of a luxury resort. The resort understands the ever-changing seasons and has designed its pool to change with them.
For example, when you head into the pool during the hot summer months, the pool is cool and refreshing.
Come winter, the pool turns into a heated spa, allowing guests to take a nice, warm dip in the hot tub.
Dog-friendly Design
The desert metal design is perfect for guests that want to bring their dog along for the occasion. All well-behaved dogs are welcome. However, strict rules apply. Dogs must be kept on a 6-foot long or shorter leash and dog receptacles are placed around the area to keep spaces clean.
Dollar-a-Night Program
AutoCamp Joshua Tree's Dollar-a-Night program will donate $1 for each stay to the Mojave Desert Land Trust (MDLT), a nonprofit land conservancy. MDLT will work with AutoCamp to educate visitors on Leave No Trace principles.
The program is part of AutoCamp's commitment to protecting the environment.
AutoCamp Joshua Tree's midcentury modern clubhouse is a fine example of how steel and wood can play together to create a durable, environmentally friendly structure, even in the middle of the harsh desert.
Visit https://autocamp.com/joshua-tree/ to plan your glamping trip.
Compare Metal Building Prices & Save Up To 33%