Prefab homes are all the rage in the home industry, but finding modern prefab homes under 150k can be challenging. Enter ArchiBlox, a company that focuses on building sustainable prefab homes in a variety of price ranges.
over 27,000 kits delivered
Compare Kit Prices & Save Up To 33%
Let us help get you wholesale pricing on your metal kit.
Who is ArchiBlox?
The ArchiBlox team consists of sustainable architects, builders, creators and collaborators.
Sustainability is at the heart of their principles.
Their designs focus on:
Incorporating natural elements into the built environment.
Working with natural systems. Homes are designed around the wind, sun and weather patterns of each specific building site. Designs may include solar power, green roofs, rainwater treatment, grey water use, natural lighting.
Positioning the home to take advantage of the site's natural beauty.
Using sustainably-sourced materials, and low-VOC paints, sealants and adhesives.
The company works on both residential and commercial projects. For residential projects, they offer an end-to-end service that includes a Project Manager and a team. For commercial projects, they work directly with clients or other architects to meet the project's demands and fast-track the results.
ArchiBlox's modules are prefabricated in a controlled environment in Laverton.
ArchiBlox Project Galleries
ArchiBlox offers a variety of residential modular homes to suit your tastes and budget.
Of course we are drawn to their use of steel and here are some of their past projects that caught our eye.
Avalon Beach House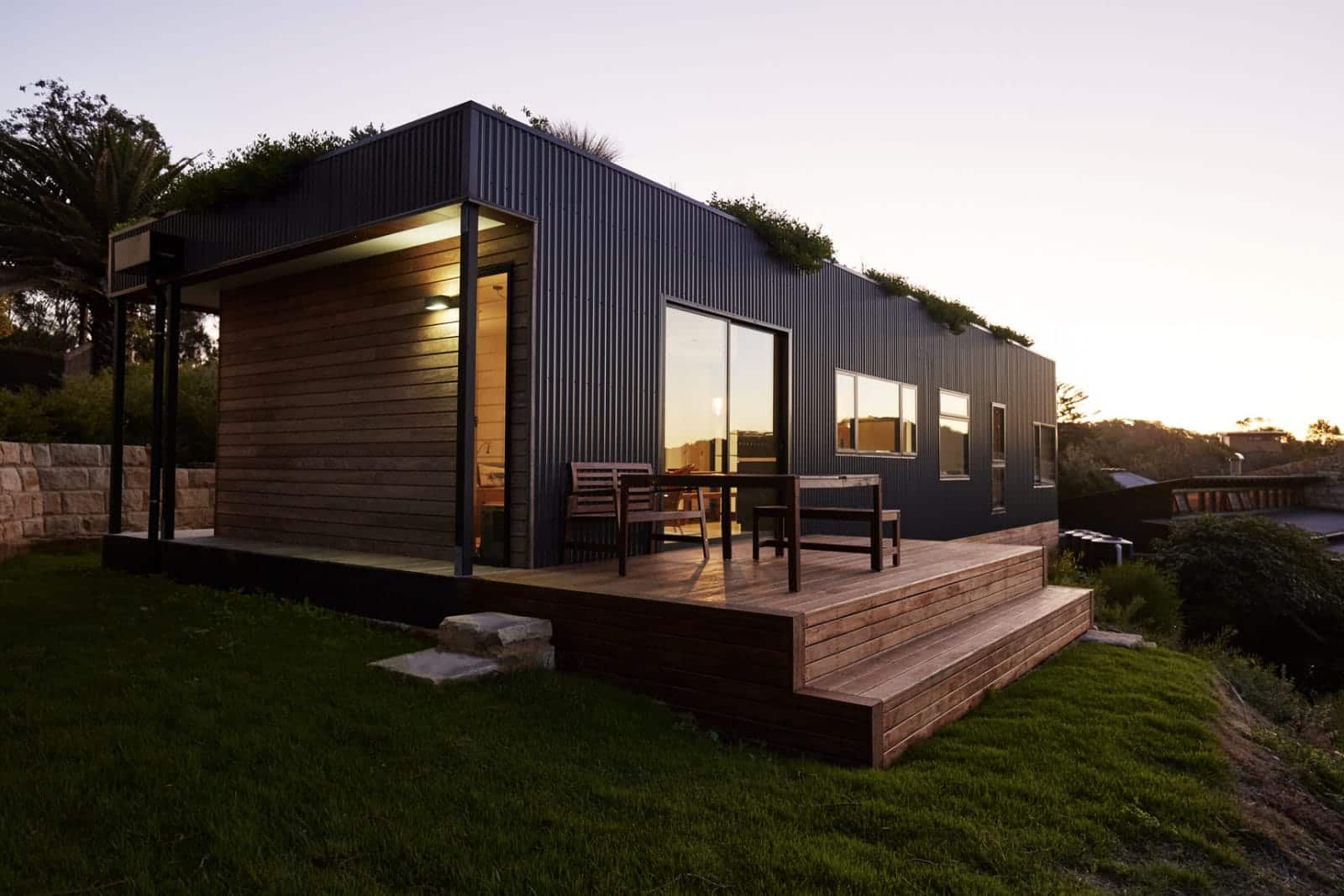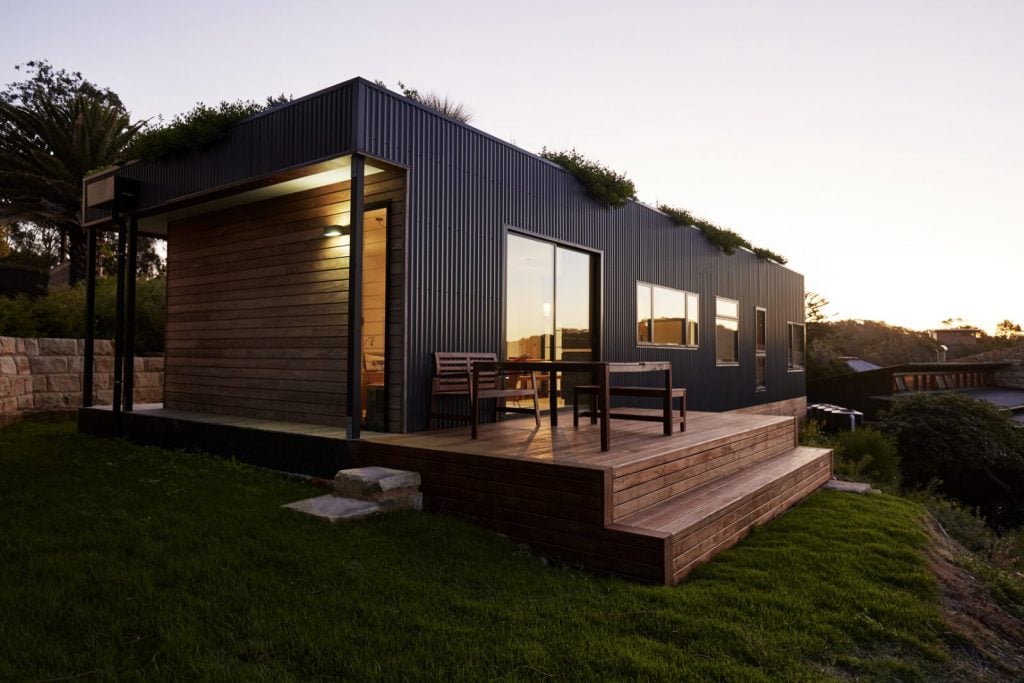 This two-bedroom, beach-style home is situated on a sloping site. The 106 m2 home features a green roof with plants that help insulate and regulate the home's internal temperature.
The interior is smartly designed to maximize the beauty of the beachfront location. The minimalistic bathroom offers stunning views of the ocean and nearby cliffs.
The home has a lineal structure with an east-to-west orientation that allows for cross ventilation and minimizes the need for artificial cooling. North windows allow for northern sun exposure.
Construction of the home includes FSC-certified external timbers milled using sustainable forestry methods. Double-glazed windows feature powder-coated aluminum.
The rainwater from the roof is directed to a 7,500-liter above-ground tank which provides water for garden irrigation.
Fish Creek Off Grid House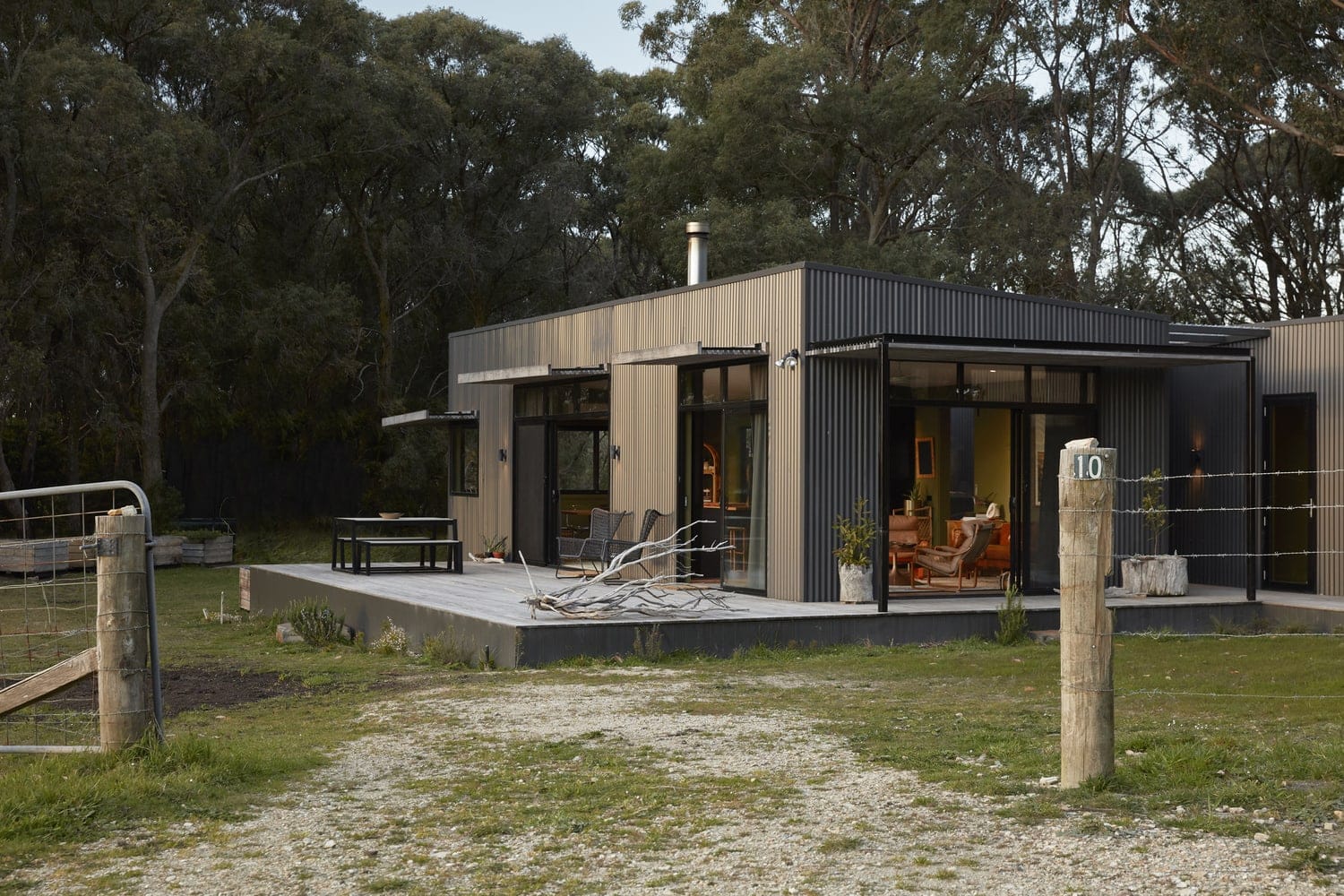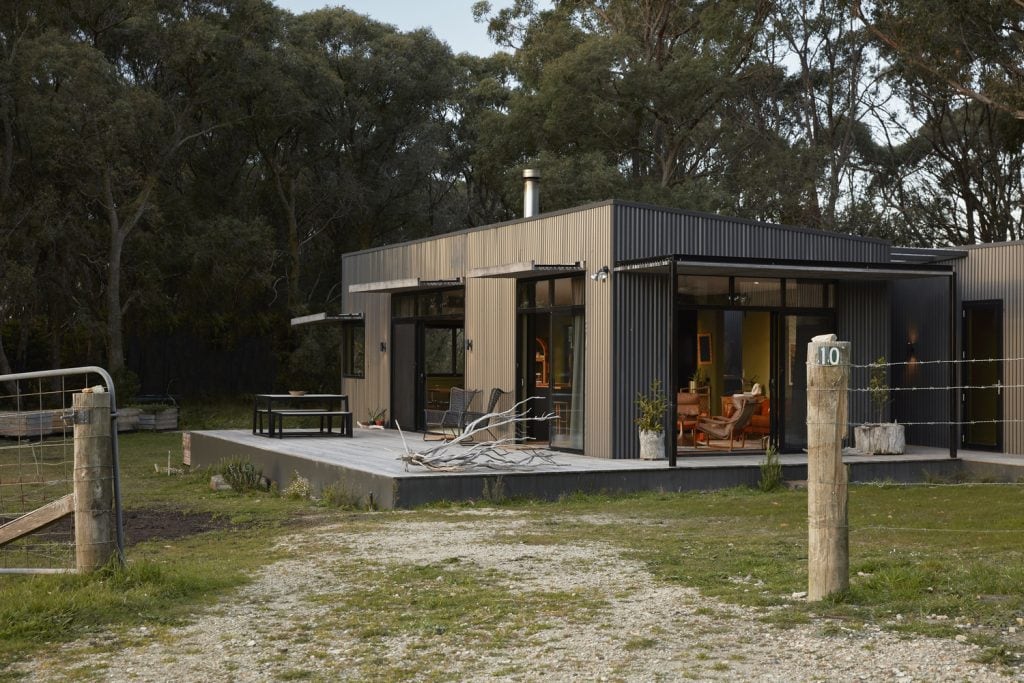 A three-bedroom, beach-style home that features two separate wings: a living zone and a sleeping zone. These zones merge at the entry space which serves as an airlock between both areas to maximize heating and cooling efficiency.
Glazed walls allow for complete immersion in the home's natural surroundings, offering framed views of the sea and paddocks. The home is positioned towards the north, and its ceilings and windows maximize natural light in the living, dining and kitchen areas. Eaves and awnings block the hot summer sun.
The Building Process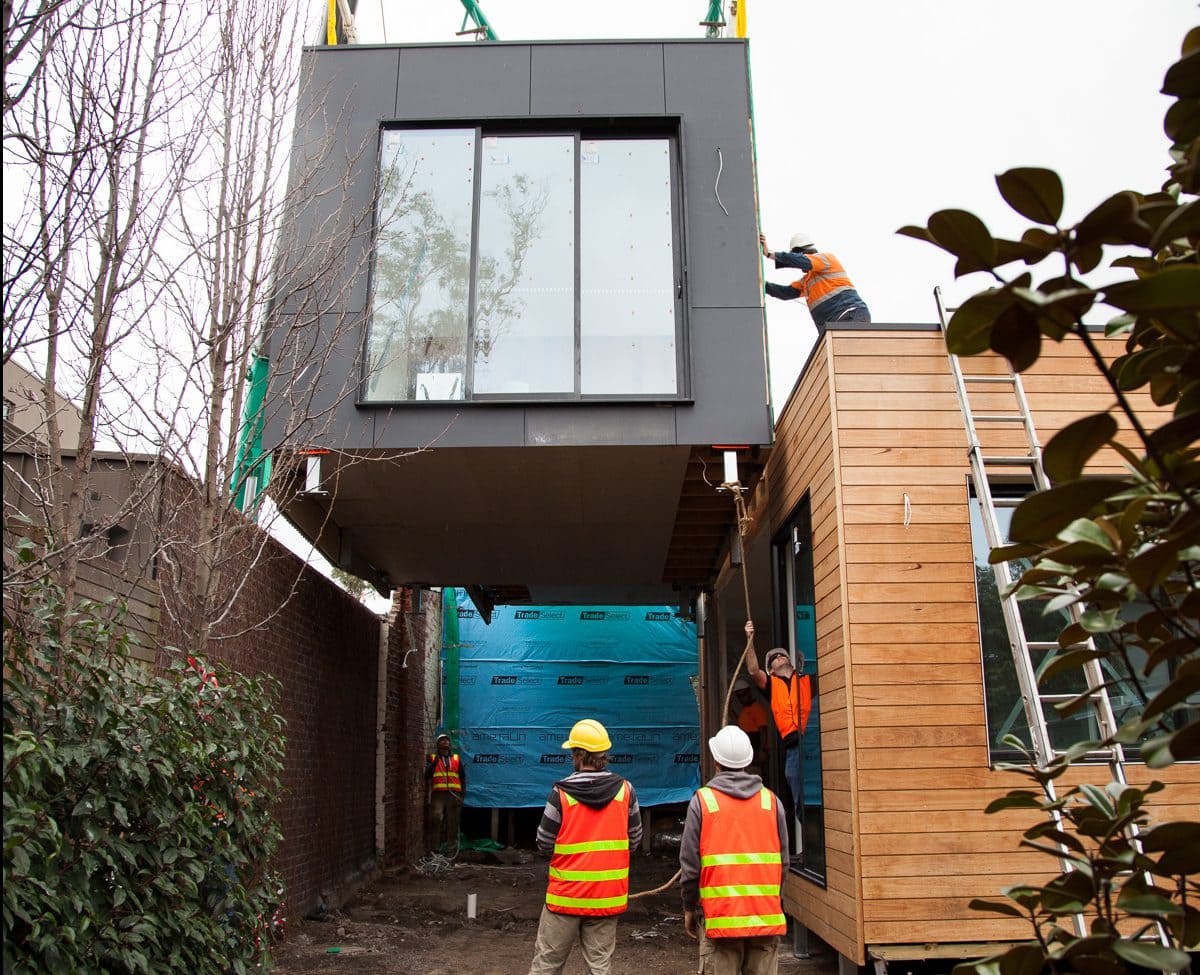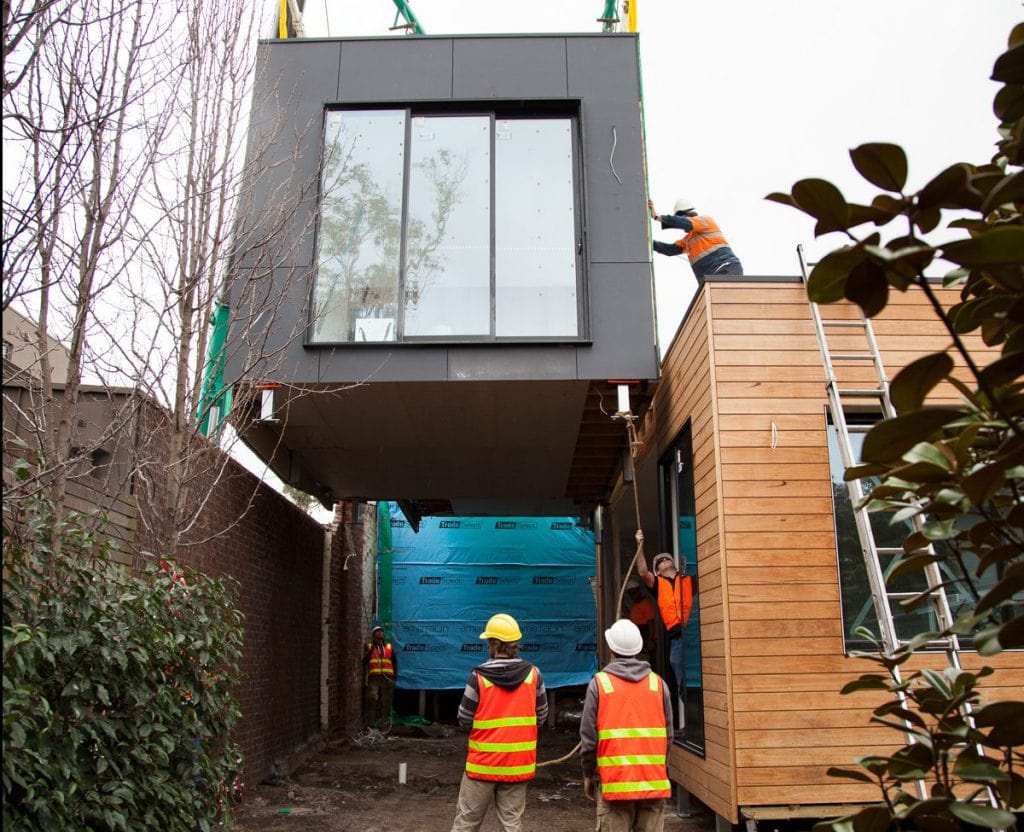 ArchiBlox is transparent and thorough about their building process.
Preliminary Design
In the preliminary design phase, ArchiBlox will discuss your ideas and desires. Once you have an idea of what you want and are ready to move forward, you can schedule a site visit.
An ArchiBlox Architect will visit your site and its surrounding area. At this time, they'll also discuss your chosen Smart Design or the direction for your Custom Design.
Within a few weeks (2-5 weeks, depending on whether you need a survey), ArchiBlox will present your design package which will include 3D external renders, standard specifications and any upgrades that have been integrated thus far. In addition, the company will include a breakdown of the costs which includes fees from external consultants and reports.
Once you've reviewed your design package, you can start making adjustments – if necessary – to ensure that your home is just right for you. ArchiBlox will provide a round of revisions free of charge.
Documentation & Contracts
The next stage involves documentation and contracts.
If the project requires formal council approval, ArchiBlox will prepare and submit all of the necessary documentation on your behalf. The company will coordinate surveys and reports that may apply to the project. This process can take 2-4 months.
Not all projects will require approval. In this case, clients can move straight to the next step, which is Interior Design and Engineering.
The in-house interior designer will show you all of the available finishes and fixtures to help bring your vision for your home to life. At this time, ArchiBlox will also be coordinating the last few reports needed for the project as well as the final consultants and engineering. The costs for all of these services is calculated on a per-project basis.
The final step in the stage is to finalize the documentation and contracts.
Once signed off, it's time to start building the home.
Construction & Delivery
Construction of the home can finally begin. Smart Designs typically take 12-20 weeks to build. Custom designs may or may not take longer, depending on the complexity and scale of the project.
Your Project Manager will be keeping you up to date with progress photos and phone calls.
Once constructed, the home is delivered to your site. ArchiBlox sends in their experts, who will spend the day craning your house in. Once set, it will only take a few weeks (usually 4-6) to add the finishing touches, connect your services and build outdoor decking (if necessary).
ArchiBlox homes have a 90-day defects period in which you can ask questions or have problems fixed.
Why Choose ArchiBlox?

Why choose ArchiBlox over other prefab home manufacturers?

Well, if their image galleries didn't sell you on the build quality, consider these points…
Custom and Smart Design homes available.
Homes are built with the best of sustainable materials using advanced prefabricated building technologies.
Costs are accurately estimated and adjusted as necessary to keep a tight lid on costs.
Smart Design homes are built in just 12-20 weeks.
Homes are carbon positive, so they generate more energy than they consume.
ArchiBlox is ranked and awarded as one of the most innovative architecture firms in the world.
Hard floor surfaces are used to reduce allergens and molds.
Delivered materials come in minimal packaging.
One of the main advantages that ArchiBlox homes offers is energy efficiency.
Their high-performing homes include efficient technologies, such as:
Thermal efficiency, with designs that block out high summer sun and optimize cool summer evening breezes. The sun can penetrate the home in winter, heating the home naturally.
Double-glazed windows to help maintain internal temperatures.
Light-colored roofing materials to reflect the sun's radiant heat.
Solar power systems to capture and use as much natural energy as possible.
Efficient spatial design to maintain a smaller footprint while maintaining a comfortable home.
Strategic wiring for data and electrical cabling to minimize electromagnetic radiation exposure.
---
For more information, contact ArchiBlox directly on their website: https://www.archiblox.com.au/
Compare Metal Building Prices & Save Up To 33%