40×60 Metal Building with Living Quarters
Metal buildings offer many advantages over their stick-built counterparts, including size flexibility. One of the most common sizes you'll find is 40×60 metal buildings with living quarters. These buildings have many applications and come at an affordable price.
over 27,000 kits delivered
Compare Kit Prices & Save Up To 33%
Let us help get you wholesale pricing on your metal kit.
How Big is a 40×60 Metal Building?
A 40×60 metal building will provide you with 2,400 square feet of space, which is more than enough room to fit:
Several cars
A workshop
Several bedrooms (if you want to build a barndominium)
You'll find plenty of 2,400 sqft floor plans online with living quarters, storage space and more. Because most metal buildings of this size are clearspan, you can make full use of the interior space.
40×60 Metal Barndominium Example
What does a 40×60 barndominium look like?
Here's a great example of a barndo of this size that's for sale in Vanleer, TN.
From our featured listing (Sold on 2/16/23)
This stunning barndominium sits on 47 sprawling acres and is a prime example of the potential of a 40×60 metal building's use.
The open living space makes the home feel even bigger. The living area boasts a gas fireplace. There's a large kitchen area with a bar and pantry, as well as a dining area. These living spaces open up to a large outdoor patio.
The concrete flooring adds to the farmhouse charm of this barndo.
The barndo boasts several bedrooms and bathrooms, a mudroom/laundry room, a large garage space and more.
Key Benefits of 40×60 Metal Buildings for Residential Homes
Barndominiums are just one of many uses for a metal building, but they're becoming an increasingly popular one. Why? Because 40×60 barndominiums offer many advantages, including:
Affordable Housing Option
Overall, metal buildings are a more affordable option for housing compared to traditional stick-built homes and even existing homes that are on the market today.
In 2022, the average home price in the U.S. hit $348,079. You can build a barndo for less than this cost or around this cost in many cases.
Quick Construction
One of the biggest benefits of metal buildings is that they're quick to construct. Prefab metal buildings can be "built" 30% times faster than a traditional stick-built home. Modern kits also eliminate the need for welding on-site, which saves even more on construction time.
Design Flexibility
A 40×60 metal building can be customized however you like to meet your needs and lifestyle. You're free to put the bedrooms wherever you wish, along with any other room in the house. Want to add a loft? No problem. Would you prefer a large eat-in kitchen? You got it!
With a metal building of this size, you have near-infinite design flexibility.
Highly Durable and Low Maintenance
Two other big advantages of a 40×60 barndominium, or any metal barndo, are the high durability and low maintenance of these structures.
In general, steel buildings have fewer issues compared to stick-built or even concrete homes.
They can last 50-100 years with ease
They're resistant to corrosion
They're fire- and pest-resistant
Metal buildings can stand up to extreme weather and require minimal maintenance to keep them looking their best.
What Is the Average Cost of a 40×60 Metal Building?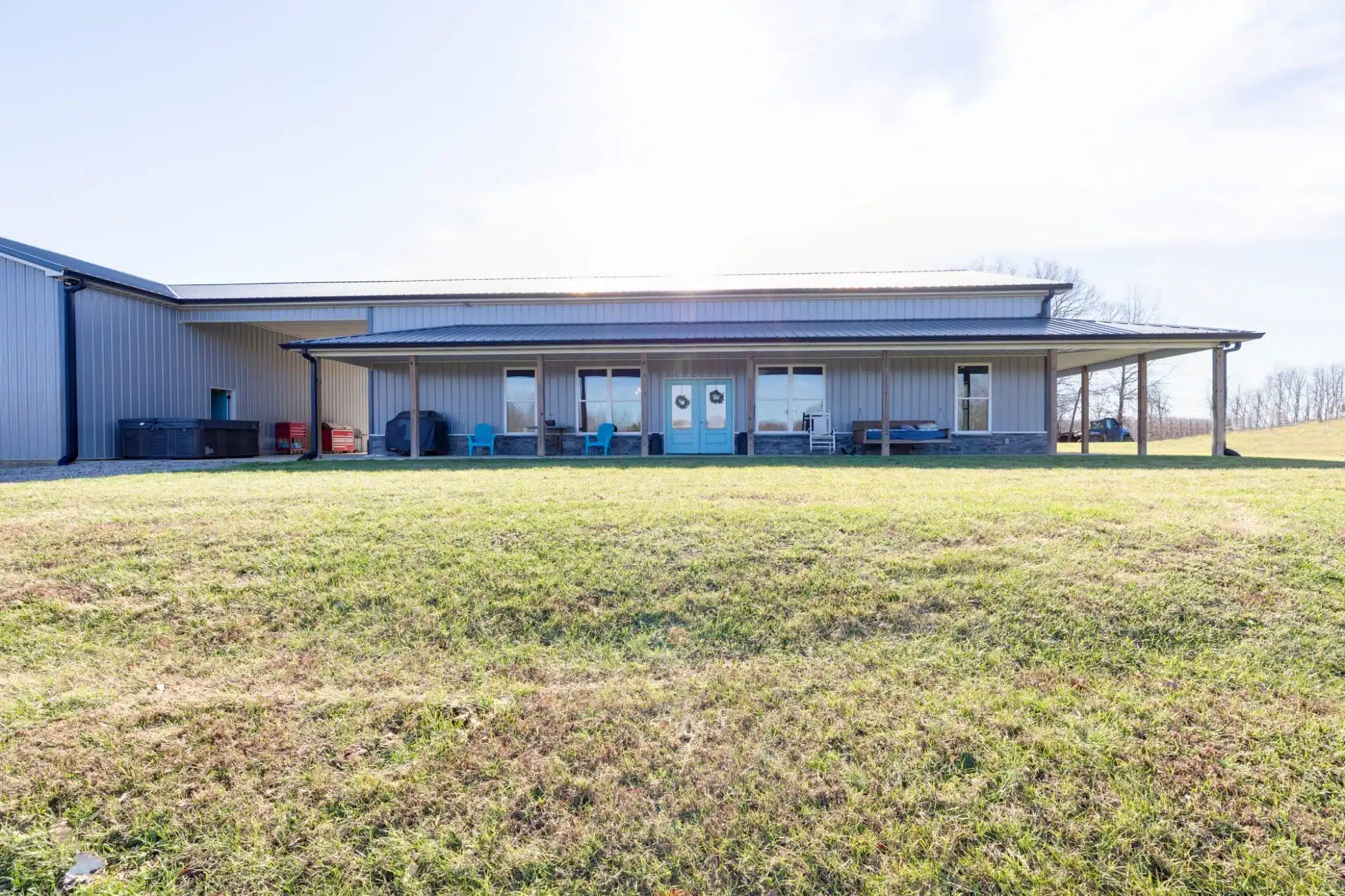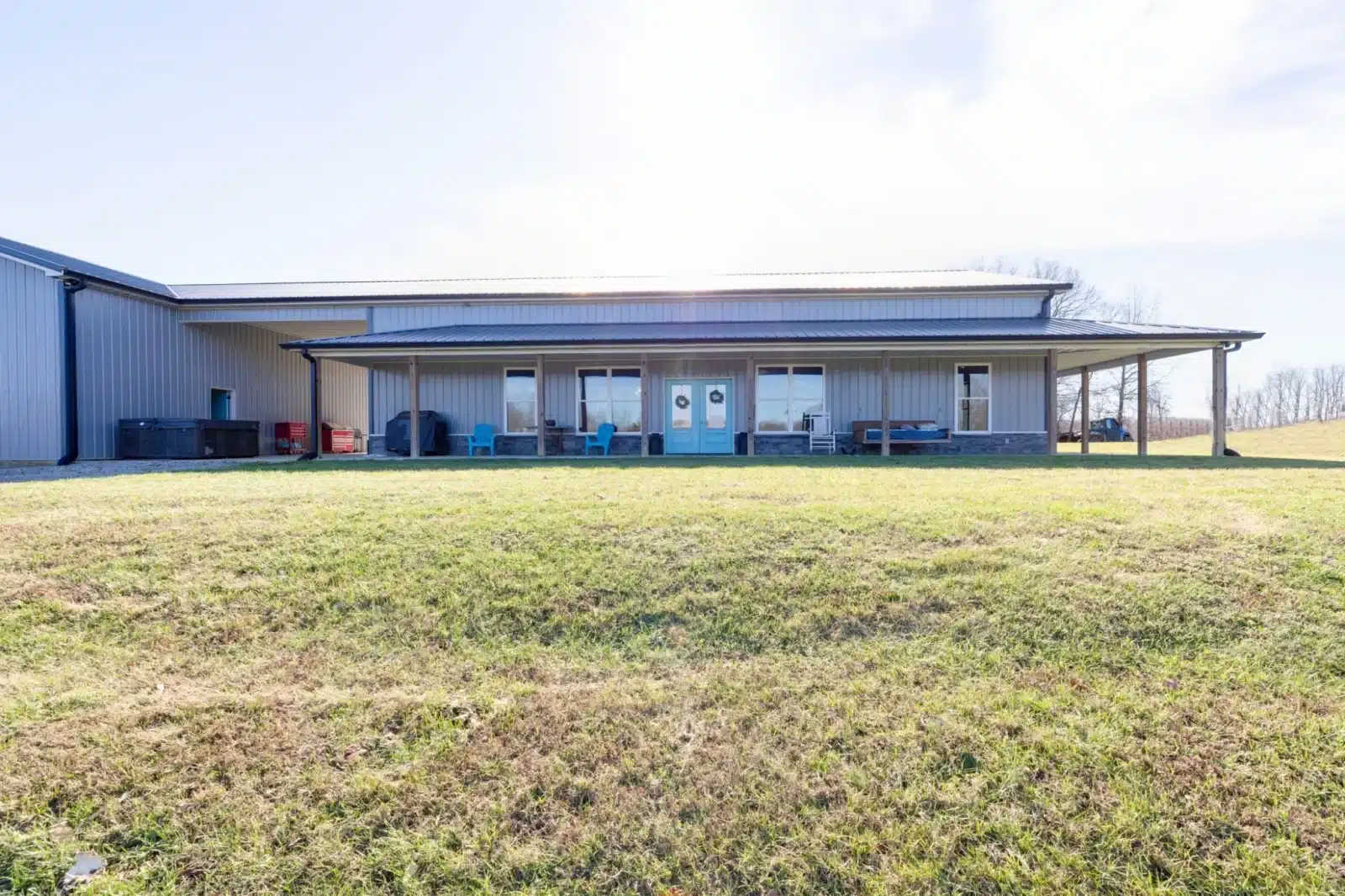 Metal buildings are an affordable option for virtually any application. But no matter whether you're planning to build a home, shop or commercial space, one of the first questions you'll have is: how much will this cost?
Like most other building types, steel buildings are priced by the square foot. On average, metal buildings cost:
$25-$30 per square foot for simple designs
So, for a 40×60 building that's 2,400 square feet, the cost would range from:
That may sound like a steal – and it is – but keep in mind that this cost does not include:
The foundation
The construction of the building (in most cases)
Customizations or upgrades you may want
Plumbing and electric
Appliances
Finishing work
Site work (clearing trees, excavation, etc.)
Utilities (electricity, water, sewer and internet)
Keep in mind that some of these additional costs will only apply if you're using the building as a home or apartment. If you only need a basic shop or agricultural building, you can likely eliminate many of these expenses.
That said, these additional costs can easily add another $60,000 or more to your project if you need all of them. Still, the overall cost of a metal building of this size is much cheaper than their stick-built counterparts.
Common 40 x 60 Building Uses
A 40×60 metal building is highly versatile, offering enough space for a variety of applications without taking up too much of your lot space. They are about the size of an average residential home, but the unobstructed interior means that you can maximize all of the interior space.
From metal barns with living quarters to full workshops and agricultural spaces, there are many uses for 40×60 metal buildings.
Let's take a look at some of the most common applications for buildings of this size.
Residential Homes
Today, one of the most popular uses for 40×60 metal buildings is for residential purposes. Many people are using this building size to build their own barndominiums. The open interior gives homeowners more flexibility when it comes to their home's layout. You can add as many bedrooms and bathrooms as you want or even add a loft to maximize the interior space.
Not surprisingly, manufacturers of 40×60 metal buildings often include living quarters in their plans to meet the demand for these living/working spaces. Many of these plans have separate workshops and living areas, allowing you to run your own home business or engage in your favorite hobbies without having to build a separate structure.
Hobby Shops and Personal Storage
Along with residential home use, 40×60 shop buildings can also be used for other personal purposes, such as:
Hobby shops
Man- or woman-caves
RV garages
Boat storage
Mother-in-law suites
Storage
These structures are large enough to suit most personal and residential purposes.
Agricultural
Historically, 40×60 metal buildings have been used for agricultural purposes. They're the perfect size for use as:
Barns
Equipment storage
Hay sheds
Shelters for livestock
Stables
Arenas
You'll find many 40×60 metal buildings on farms because of their versatility, durability and low maintenance.
Industrial
Large metal buildings of this size can also be used for industrial purposes. For example, you can use a 40×60 metal building as a:
Warehouse
Small manufacturing plant
Shops (machine or welding)
These buildings provide plenty of open floor space that can be used for industrial activities.
Aviation
A 40×60 metal building can also be used for aviation purposes, such as:
Aircraft hangars
Aircraft shade shelters
Aviation offices
Aircraft park hangars
More
A building of this size may be suitable for storing small- and medium-sized aircraft.
Commercial
Metal buildings of this size are an excellent choice for commercial use because of their high durability and low maintenance. They may be used for:
Office space
Retail space
Auto repair and shops
Specialty stores
The fully open layout of these buildings makes them ideal for retail space and repair shops, but it's just as easy to add traditional offices for service-based businesses.
Event Venues
If you dream of owning your own event or wedding venue, a 40×60 metal building is a great option for small- and medium-sized events. They can be used as:
Wedding venues
Banquet halls
Party venues
More
Depending on your plans, a 40×60 metal building may be one of many structures that guests can use to bring their big event to life.
Restaurants
Building a restaurant doesn't have to cost a fortune. A 40×60 metal building provides enough interior space for a small- to medium-sized restaurant. They're great for use as:
Coffee shops
Sit-down restaurants
Fast-casual establishments
Sandwich shops and more
You can also plan to have space for live music and other events to attract more customers to your doorstep. Adding an outdoor patio space for serving customers will add to the return on your investment.
Compare Metal Building Prices & Save Up To 33%