Stillwater Dwellings Modern PreFab Homes
Offering innovative, efficient, and contemporary designs, Stillwater Dwellings is changing the prefabricate homes market.
over 27,000 kits delivered
Compare Kit Prices & Save Up To 33%
Let us help get you wholesale pricing on your metal kit.
Stillwater's goal is to streamline the building and design process to get custom homes built faster, and save customers money. Designed by architects, these prefab homes offer a level of sophistication and style that could, at one time, only be found with custom stick-built homes.
StillWater Dwellings Project Gallery
What makes Stillwater so unique, and how much can you expect to spend on your prefab home?
Stillwater's Three-Stage Process
Part of the appeal of choosing Stillwater's prefab modern homes is that the company uses a proven and efficient system for design and construction.
All Stillwater homes are built using the company's three-stage process. This process includes the design and construction phases, so your new home is move-in ready after the final stage.
Here's how it works:
Phase 1: Design and Pricing
The process starts with the design and pricing phase. You'll meet with Stillwater's project managers and architects to create a plan for your building site, and you'll choose your new home's design.
The project manager will determine the building permit and zoning requirements, while the architect will get busy drawing up plans for your home (along with any modifications).
Stillwater's architects will also create a document that outlines all of the necessary materials, and finishes. Stillwater will use this information to produce a fixed price for all of Stillwater's components, and an estimate for the cost of all the elements provided by other professionals.
Phase 2: Permitting and Engineering
Once the Home Purchase Agreement is signed, architects will develop the final floorplan, and manage the production of permit and engineering drawings.
The project management team will also work with the local building department to apply for all necessary permits.
Phase 3: Fabrication and Construction
Next, Stillwater will begin the manufacturing of your home in a climate-controlled facility. The local contractor will start work on the foundation, utility hookups and driveway.
Once complete, all fabricated components will be delivered to the site.
Along the way, Stillwater will work closely with local contractors to ensure you have the most up-to-date estimate on costs.
You're in Control: Finishes and Modifications
Other companies that offer prefabricated homes offer limited modifications to their floorplans, but Stillwater allows all floorplans to be customized to your liking. You'll work closely with the company's architects, so you can ensure your home is exactly as you want it.
Stillwater also gives you three options when it comes to finish packages (i.e. the final touches):
Natural: Features a rich and natural color scheme with aluminum clad windows and natural finish siding. Maple floors and fir cabinets with a vertical grain add to the earthy feel. Showers are fully tiled, and slab countertops give a contemporary look. Smart home automation and premium appliances complete the package.
Modern: The modern package offers the same options as the natural package, but the style is minimalist, contemporary, and clean.
Original: The original package offers painted and batten siding and vinyl windows. Elegant and smart in design, the colors are light and airy. All appliances are stainless steel.
Maximum Efficiency
Stillwater homes are energy efficient, which helps you save money on your monthly bills.
How efficient are these prefab homes?
All homes are highly insulated and sealed tightly to minimize energy costs.
Stillwater evaluates efficiency throughout all stages of the design and specification process.
The modern fabrication system minimizes waste by up to 50% compared to traditionally-built homes.
Flexibility in Building Systems
To further meet the needs and budgets of customers, Stillwater offers two options when it comes to building systems: traditional modular, and panelized prefab.
With the traditional modular option, your home is built in Stillwater's climate-controlled facility, and shipped to your site. Modular homes are quick to assemble, and nearly all elements are included – from flooring to lights.
The panelized prefab system will include all the major framing components, which are manufactured with precision in Stillwater's facility. The local contractor will take care of the finishing work on site. This route allows for more flexibility with modifications and design, and typically comes with a lower price tag.
How Much Does a New Stillwater Dwellings Home Cost?
It's impossible to know how much a home will cost, as local contractor fees will vary depending on the location and the scope of the work.
With that said, Stillwater offers an estimate that will give you an idea of how much your prefabricated home will cost:
$350-$450 per square foot
Stillwater says their homes cost 25%-50% less than premium architect-designed stick-built homes.
All homes can be customized to your liking, so you have more control over the design than what the competition offers.
Contemporary Design Meets Affordability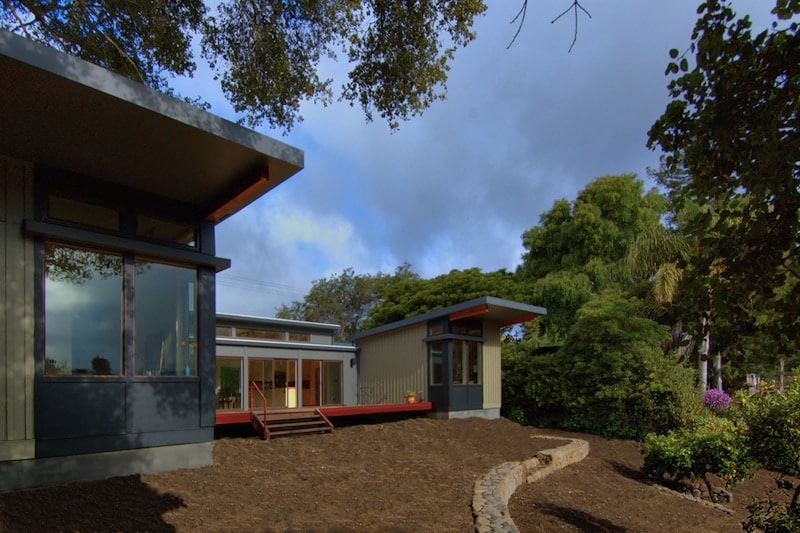 Stillwater homes are elegant, contemporary, and environmentally friendly. Designed by talented and experienced architects, your new home will look custom-made – not like a cookie-cutter home built on an assembly line.
With the ability to modify floorplans and choose a finish package that matches your personal style, everything about your new home will reflect your personality. There are more than a dozen floorplans to choose from, so you're sure to find one that meets your needs and budget.
If you're looking for a prefab home with a unique look and energy-efficient design, Stillwater Dwellings is a great place to start. Plus, their helpful customer service staff is always on hand to answer any questions you may have about their homes and the building process.
To get started on your own custom prefab home, visit StillWaterDwellings.com
Compare Metal Building Prices & Save Up To 33%