MOBO Shipping Container Office Now Available from Honomobo
Honomobo is known for offering modern homes that blur the lines between indoor and outdoor living, but their new line-up of mobile offices brings their same design practices to the home office.
over 27,000 kits delivered
Compare Kit Prices & Save Up To 33%
Let us help get you wholesale pricing on your metal kit.
MOBO's design is simple, but its simplicity is its greatest asset. Honomobo makes it as easy as possible to use their mobile office wherever you need.
What is MOBO?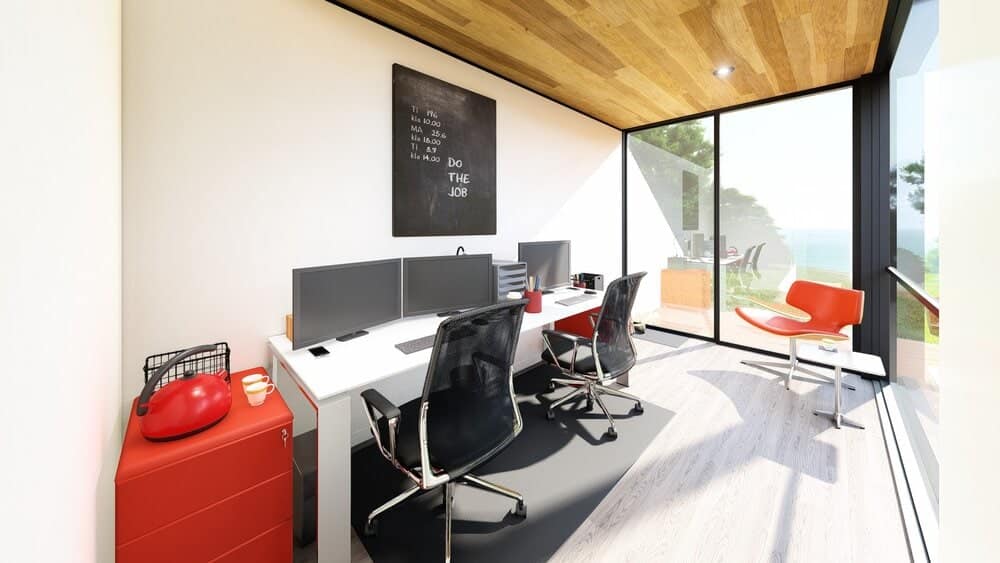 MOBO is a shipping container office for sale that offers 96 square feet of space.

Honomobo calls it a "plug and play office for your yard," and that's exactly what it is. It's a quick and easy solution for your home office needs.
To create their new office, Honomobo takes 1/3 of a shipping container and transforms it into office space. You can choose to have one end of glass or two.
All you have to do is plug your MOBO into an outlet, and you're ready to start working. The great thing about this mobile office is that it's just 96 square feet, so it's a movable structure. This means that you likely won't even need a permit to place it in on your property.
It takes just 6 weeks to deliver your office. Honomobo makes it easy as filling out an online order form to get your new MOBO office. All MOBO offices are backed by a 1-year warranty.
The Process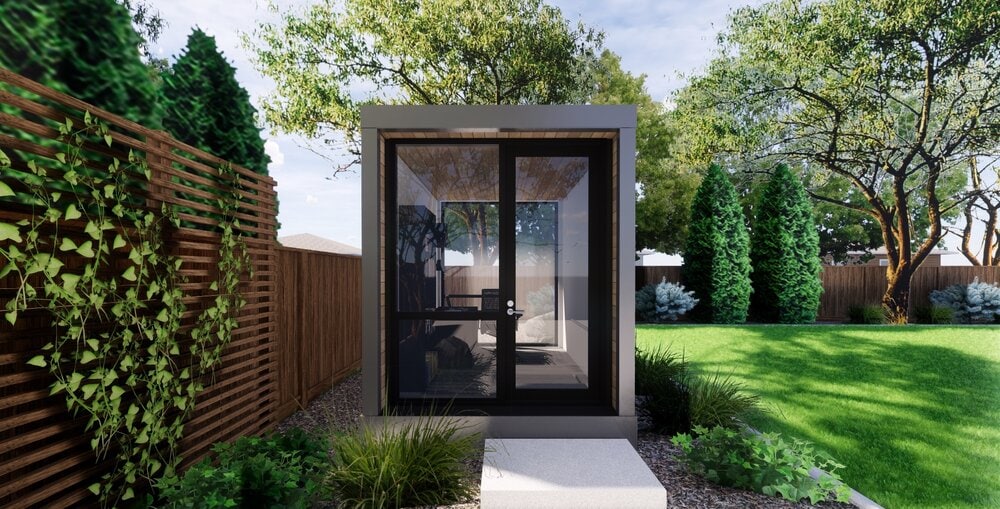 The ordering and delivery process is quick and easy. Here's how it works:
Put down a $2,500 deposit to confirm your reservation.
A Honomono representative will contact you to confirm the shipping and install options.
Pay the remainder of the cost of your MOBO and shipping costs.
Build your MOBO (6 weeks).
Delivery and unloading.
Start working.
MOBO offices are delivered on flatbed trucks. A crane, forklift or zoom boom can be used to place your office in your desired location. The office will sit on 4×4 blocks.
Honomobo will even take care of the coordination from the factory to your property for an additional fee of $1,000 and cost plus 15%.
What About a Foundation?
Honomobo designed its MOBO to be as easy to install as possible. Their mobile office can be placed on a slab foundation, foundation blocks or even crushed gravel. Because it's not a permanent structure, you likely won't need a permit to place the office on your property.
Shipping Container Office Options and Upgrades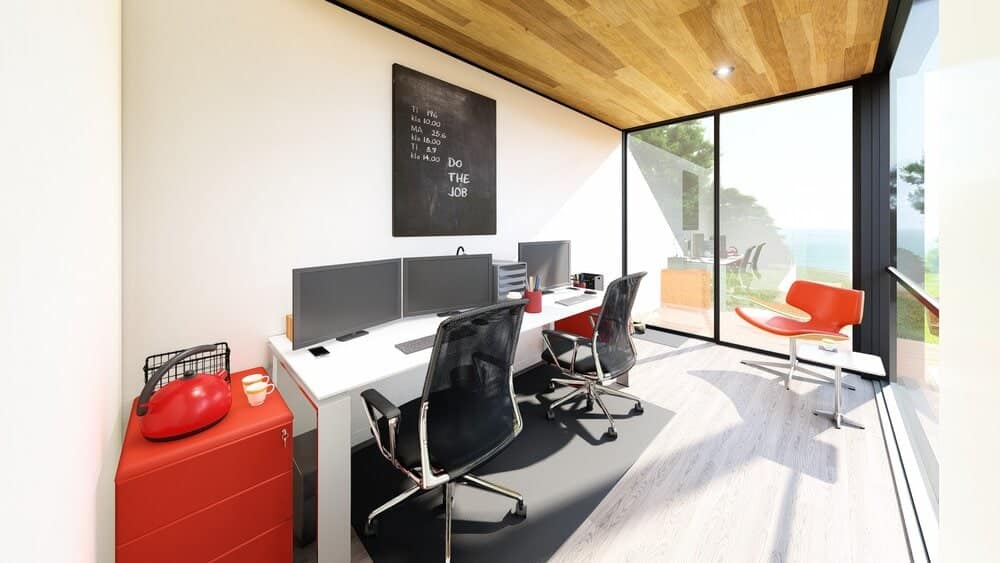 Honomobo makes it easy to figure out the cost of your MOBO and is also transparent about the options and upgrades available.
To make your life easier, Honomobo offers a simple cost estimator.
The estimator takes into account the shipping distance, cost, upgrades and other features that affect the cost of the office.
Floor Plan Options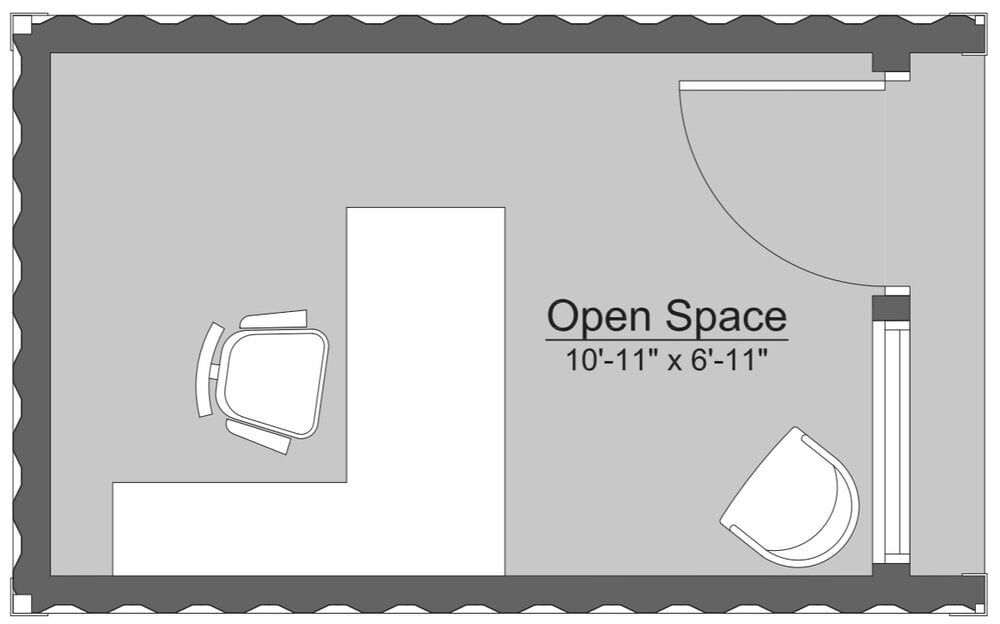 There are two floor plan options:
MOBO 1
Cost: $22,185
Size: 8' W x 13' L x 9.5' H
Flooring: Vinyl plank
Glass: One wall
MOBO 2
Cost: $27,965
Size: 8' W x 14' L x 9.5' H
Flooring: Vinyl plank
Glass: Two walls
As you can see, the only real difference between the two is the number of glass walls, which affects the length of the structure.
Color Options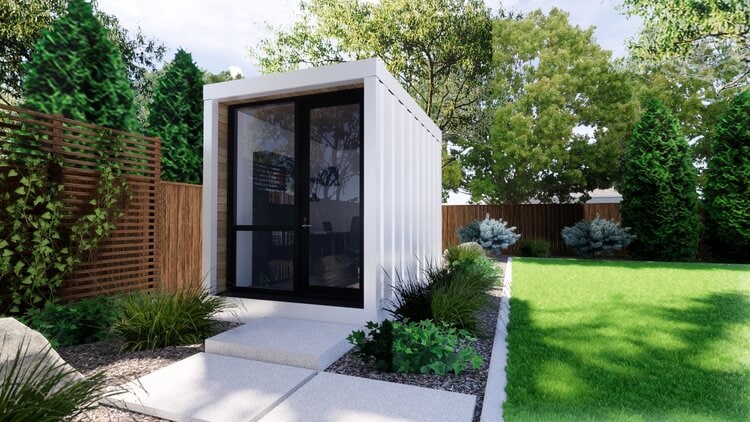 There are three main color options to choose from:
Honomobo doesn't offer many color or style upgrade options to allow for a streamlined, predictable process. However, once the office has been delivered to your site, you can decorate it however you please.
Heating and Cooling
You can also choose from heating and cooling upgrades with your MOBO:
Extra Insulation Upgrade: $1.006. MOBO comes with standard R12 insulation in the ceiling and walls. This upgrade adds an extra R12 insulation.
Heating/Cooling Upgrade: $3,260. Add an HVAC system to your office to keep your space comfortable all year long.
MOBO Rentals
Honomobo will also be offering their MOBO for rent to those who need a mobile office temporarily. Their rental program will launch in:
Seattle, Washington
Austin, Texas
San Francisco Bay Area, California
Denver, Colorado
Los Angeles, California
Rentals only require a $250 reservation deposit, and then you pay monthly for your office. Both floor plans are available for rent:
MOBO 1: $525+/month
MOBO 2: $625+/month
Delivery and unloading will start at $250. The cost will depend on where your property is located, and the equipment needed to place the MOBO.
If you are interested in ordering your own, please visit Honomobo online.
Compare Metal Building Prices & Save Up To 33%