How Much Does a 30×40 Metal Building Cost?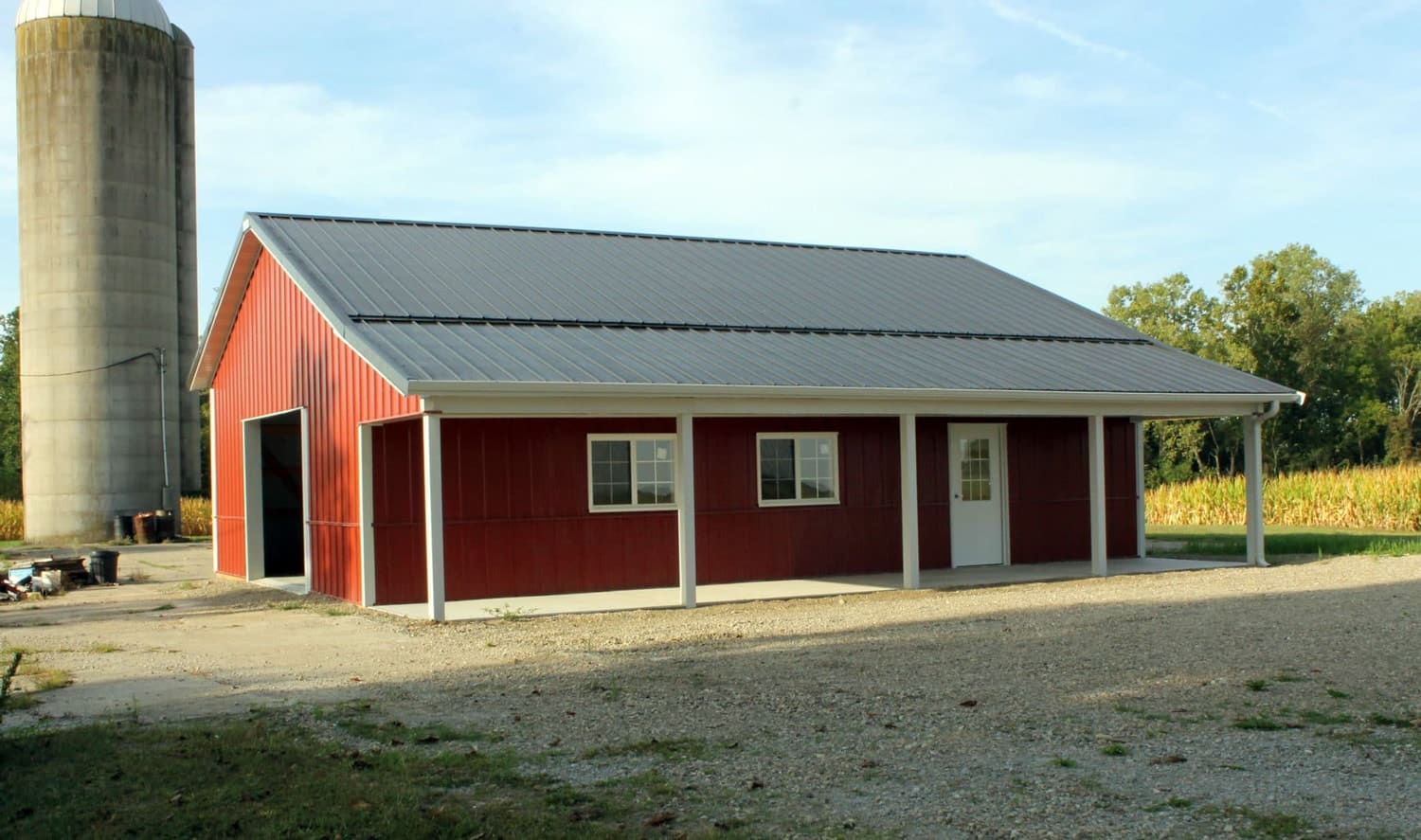 A 30×40 metal building provides 1,200 square feet of space, making it a great building size for a variety of applications. If you're planning to construct a metal building of this size, you may be wondering how much it will cost.
over 27,000 kits delivered
Compare Kit Prices & Save Up To 33%
Let us help get you wholesale pricing on your metal kit.
Let's look at the average cost of a 30×40 metal building and the many uses for this building size.
Real World 30×40 Metal Building Prices
The cost to build a 30×40 will depend on several factors, including the height of the building and your site.
However, just for the building itself, you can expect to spend:
A 30×40 building will give you 1,200 square feet of space, so the cost would range from:
Here are some example prices for 30×40 metal buildings:
30x40x14 garage with a 10×40 lean-to: $24,320
30x40x15 garage: $23,150
30x40x12 garage: $20,800
30x40x12 garage: $21,690
30x40x14 garage with dual 10×10 doors: $20,900
30x40x10 garage: $16,110
Keep in mind that these figures are just for the building itself. Unless you have a pristine build site that doesn't require any grading, you'll likely incur other costs.
Other costs that will affect your project are:
Customizations. The more customizations and upgrades you have, the higher the cost will be. Doors, windows and other features will add to the overall cost of the building.
Surveying and grading. Depending on your property, you may need to have the area surveyed. Grading will likely be needed. Both services will need to be acquired on your own, although some turnkey services may include them.
Wind and/or snow loads. Depending on your location, you may need your building to be constructed with wind and snow loads in mind.
The slab foundation. You'll need a foundation for your building, and a concrete slab is the go-to option. Expect to spend $4-$8 per square foot, so about $4,800 to $9,600 for a 30×40 building.
Utilities and finishes. If you're planning to add electricity, plumbing and other finishes, these will add to your costs. Even if you're only building a simple garage, you will likely want to add insulation to make the building comfortable.
If you want a building that has a lean-to, you can expect to pay more for your building.
When pricing your building, it's important to take all of these things into consideration. Unless the company is offering a turnkey service, you'll need to procure these services on your own. Some you may be able to do on your own, but for most, you will need a skilled professional to do the work.
Also, keep in mind that you will likely need to pay for permits to build your building.
Common 30 x 40 Metal Building Uses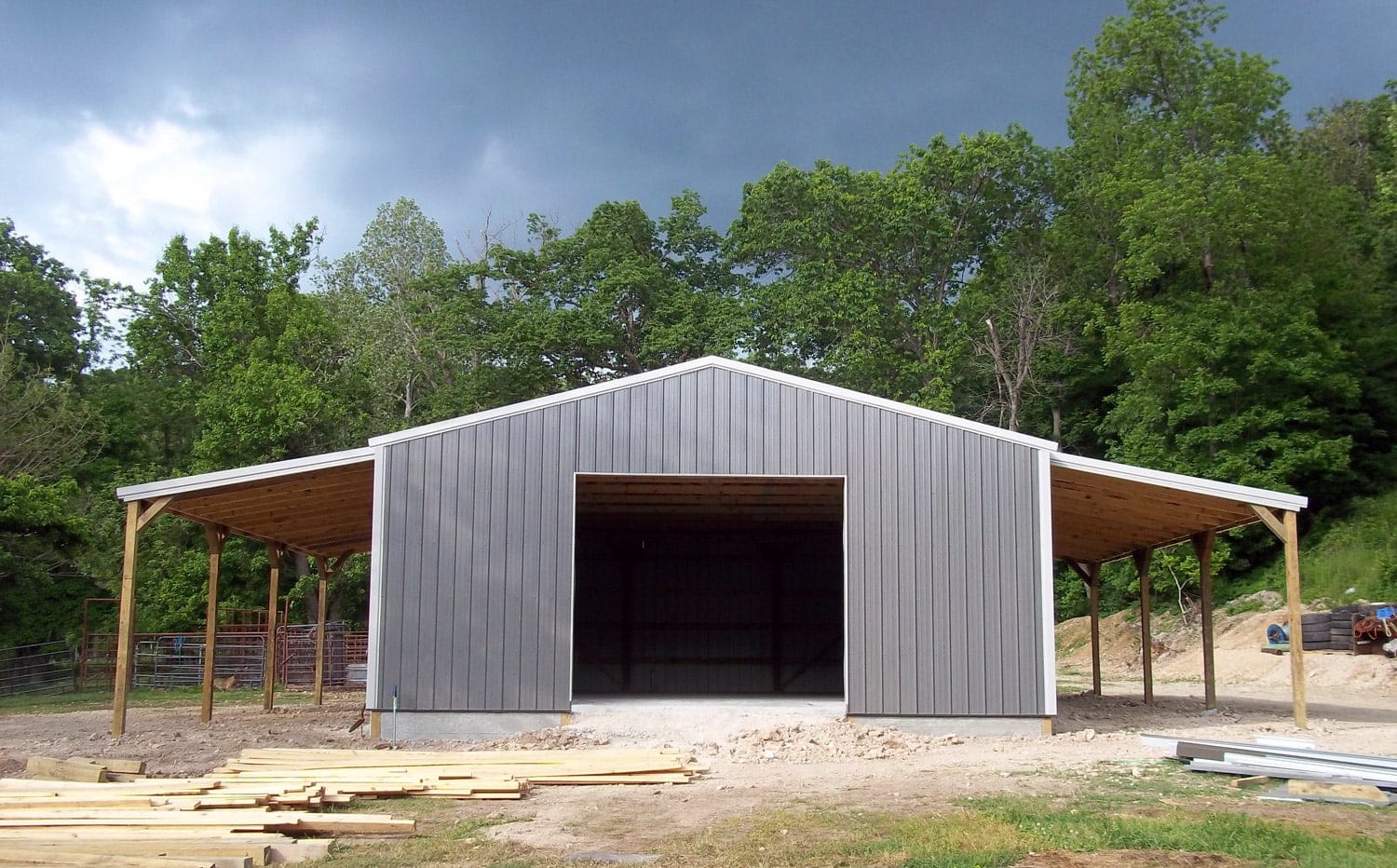 With 1,200 square feet of space, a 30×40 metal building can be used for many purposes. Some of the most common uses for this building size are:
30 x 40 Pole Barns
It's common to see 30×40 pole barns. Pole barns have a variety of applications, from agricultural buildings to run-in shelters and pavilion-style buildings. They can also be used for equipment storage and even hay storage if it's a fully enclosed structure.
30×40 Garage Kits
Many metal building manufacturers offer garage kits for 30×40 size buildings. Most garages and workshops of this size will have two garage doors and at least one walk-in door.
For residential purposes, a garage of this size offers ample storage and space to park your vehicles. You can easily store all of your outdoor lawn equipment and even a tractor in a building of this size.
30×40 Workshops
You can also use a 30×40 building as a workshop and for a variety of other purposes. With 1,200 square feet of space, there's room for:
Metalworking
Woodworking
Home auto repair
Crafts
Living quarters
30×40 Commercial Buildings
Additionally, buildings of this size can be used for commercial purposes for mechanics and even retail shops. While 1,200 square feet may not be as large as some commercial stores, it's still a great size for artisanal shops or small repair shops. They're also great for:
Real estate offices
Insurance offices
Fast food restaurants
Small gyms or yoga studios
30×40 Agriculture Buildings
For agricultural purposes, a 30×40 building is ideal. As mentioned previously, they can be used for equipment, hay or feed storage.
They can also be used for small barn buildings. However, storage is the primary use for these buildings to store items that don't otherwise have a home.
Metal buildings offer durability, weather resistance and pest resistance, making them a great option for a variety of uses.
Compare Prices & Save Up To 33%