Based in Pleasanton, Texas, WD Metal Buildings specializes in "barndominium" buildings that provide a comfortable, efficient and afforable place to hang your hat. With a wide range of floor plans, the company offers designs and layouts that meet every need.
What is a "Barndominium"?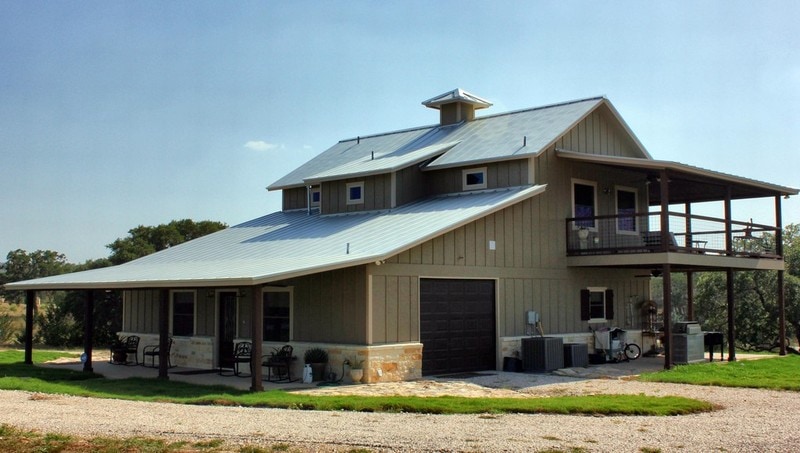 Simply put, a barndominium is a metal building with interior living quarters. Essentially, you turn the interior of a barn into a home, so you can take advantage of the cost savings without having to sacrifice comfort.
Available in all shapes and sizes, these barn-style homes are a budget-friendly way to build the home of your dreams.
As an added bonus, these homes are extremely low maintenance and energy efficient.
About WDMB
WD Metal Buildings has been in business for more than 25 years and has constructed over 1,500 buildings.
The company focuses on serving rural communities in Texas, and strives to offer affordable metal buildings.
WDMB serves dozens of counties in the Austin area.
WD Metal Barn House Plans
WD offers a range of barndominium plans to suit the needs of every potential homeowner.  From tiny barn homes to large, open floor plans, you can find a home that meets your needs and budget.
Available plans include:
Small Plans
1 bed/1 bath, 336 sq. ft.
1 bed/1 bath, 525 sq. Ft.
30′ and 35′ Wide Plans
1 bed/1 bath, 600 sq. ft.
1 bed/1 bath, 700 sq. ft.
2 bed/1 bath, 900 sq. ft.
2 bed/1 bath, 1050 sq. ft.
2 bed/2 bath, 1200 sq. ft.
2 bed/2 bath, 1400 sq. ft.
3 bed/1 bath, 1200 sq. ft.
3 bed/1 bath, 1400 sq. ft.
3 bed/2 bath, 1500 sq. ft.
3 bed/2 bath, 1750 sq. ft.
3 bed/2 bath, 1800 sq. ft.
3 bed/2 bath, 2100 sq. ft.
40′ Wide Plans
2 bed/1 bath, 800 sq. ft.
3 bed/2 bath, 1200 sq. ft.
3 bed/2 bath, 1600 sq. ft.
4 bed/2 bath, 2000 sq. ft.
5 bed/2 bath, 2400 sq. ft.
50′ Wide Plans
2 bed/1 bath, 900 sq. ft.
3 bed/2 bath, 1500 sq. ft.
4 bed/2 bath, 2000 sq. ft.
4 bed/2 bath, 2500 sq. ft.
5 bed/3 bath, 3000 sq. ft.
Each floor plan offers an open layout with all the amenities you'd find in a traditional home.
Custom floor plans can also be created with the help of the company's floor plan designer.
WD Texas Barndominium Features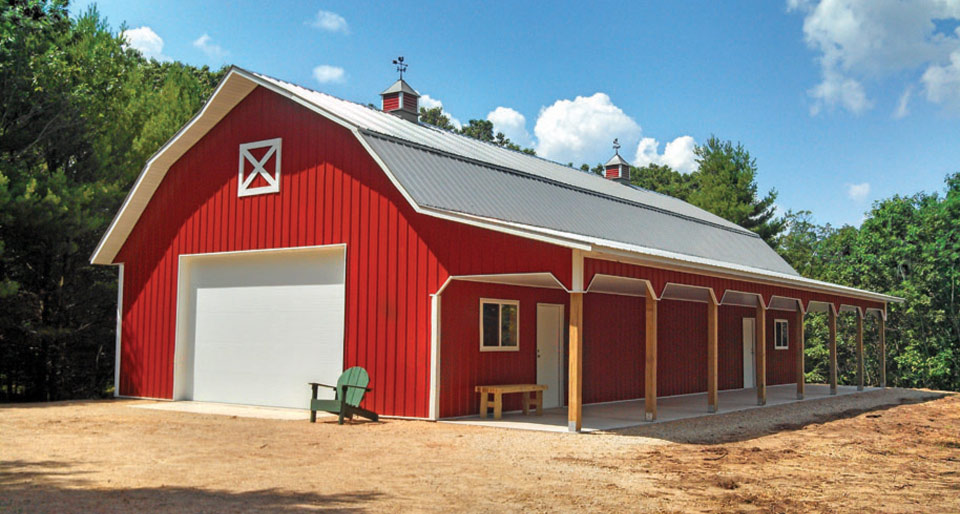 All WD Metal Buildings feature:
Concrete slab
Energy efficient windows
9′ ceilings
PEX plumbing
Concrete floors (stained)
Spray foam insulation
These core features help homeowners save money without having to sacrifice the comforts of a traditional home.
Along with these standard features, homes include walk-door frames and windows. The company will install your windows, door and trim.
Other Features
Homeowners can also choose from a range of cabinets, flooring and counter tops when building their homes.
From concrete stained flooring to wood tile and more, you're sure to find a plan that matches your design and needs.
Pre-manufactured cabinets are available, but you may also have your own custom cabinets installed by the company. A range of countertop options is also available, including:
Granite
Laminate
Butcher block
Marble
Quartz
Buildings also come with insulation. Living areas feature open cell insulation, while shop areas offer closed cell insulation.
Building a Barndominium with WDMB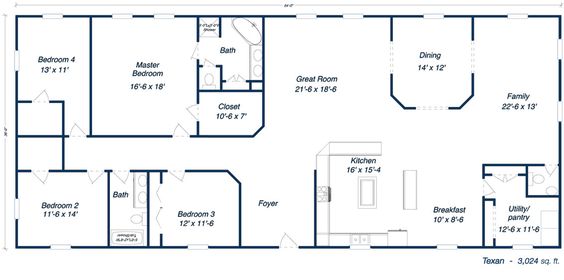 Known for offering some of the best metal barn homes on the market, WDMB offers a turnkey solution for anyone who wants to build a barndominium.
It will take the company approximately six months to construct the home, which will come complete with an engineered concrete foundation. But once the construction is complete, homeowners can move right in.
Why Choose WD Metal Buildings?
There are many reasons to choose WD Metal Buildings over other competing companies.
Installation: Unlike competing companies, WD Metal Buildings actually installs the barndominiums it sells.
Open Floor Plans: With no interior supports in the way, these buildings have truly open floor plans.
Durability: Heavy-Duty Frames on the end walls.
Continuous Roof: The roof design of these homes eliminates ridge cap, so leaks become a thing of the past and wind doesn't destroy the roof. The roof features a welded framework to create a single, solid roof.
Steel Framing: All homes feature durable all-steel framing – no wood is used.
Red Oxide Primer: Red Oxide primer is used on all of the framework in the home to extend and preserve its life.
Galvalume: The roof and walls are 26-gauge.
WDMB's erection crew has many years of experience, and the company is fully insured with commercial liability and worker's compensation.
To help potential homeowners find the right floor plan and options, the company offers build-out estimates, which include: AC and heating, framing (inside), plumbing, electricity, sheetrock, insulation, texture of the paint, stain floors, interior doors, toilet access, light fixtures, kitchen cabinets, and more.
WD Metal Buildings offers the best barndominiums around, and with quick installation, you could be sitting in your new comfortable home in no time.